Early Critical Response To Jordan Peele's Nope Is Quite Revealing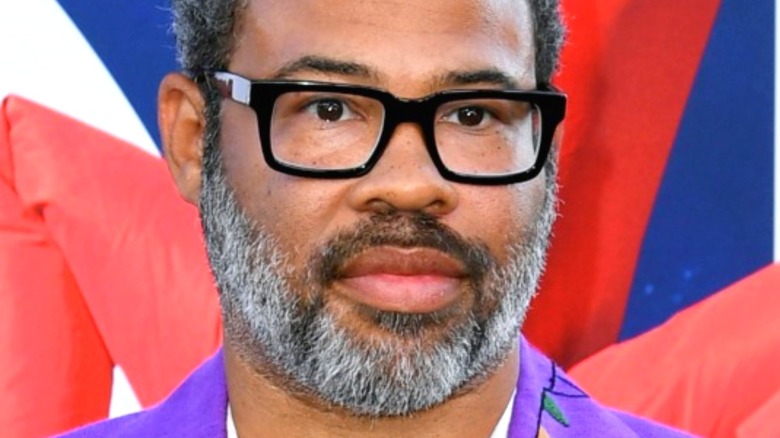 Jc Olivera/Getty
While Jordan Peele first got into the entertainment industry through the blessed art of comedy, appearing on the likes of "Mad TV" and "Key & Peele," the writer and director has displayed a strong aptitude for horror movies that tend to subvert expectations. In 2017, Peele wrote, produced, and directed "Get Out," which was met with great acclaim, and earned Peele an Oscar for best original screenplay. He followed that up with 2019's "Us," which received glowing responses from critics like Richard Brody of The New Yorker, who wrote, "It captures the transformative, radical power of a political conscience, of an idea long held in secret, as it ripens and develops over decades' worth of time. 'Us' is nothing short of a colossal achievement."
Needless to say, anticipation for his next movie has been sky-high. On July 22, Peele will release his third feature film, titled "Nope." Starring Keke Palmer, Daniel Kaluuya, and Steven Yuen, the trailer teases viewers with a mysterious story set in a desert community experiencing what looks to be visitations from extraterrestrials. But in classic Peele fashion, there appears to be far more going on than a simple synopsis could reveal. Although proper reviews for the movie have yet to be released, critics have been giving their first reactions to the film on social media, and we now know a bit more about what "Nope" has in store and how it stacks up compared to Peele's previous efforts. 
Nope looks like another big hit for Jordan Peele
Based on the first batch of reactions to "Nope," it looks as though Jordan Peele has another success on his hands. On Twitter, Shannon McGrew of Nightmarish Conjuring said of the film, "#NopeMovie is otherworldly yet indescribable. From instances of sheer terror to heartfelt moments btwn the characters, #Nope is an experience that won't be easy to shake off as you find yourself picking your jaw up from the floor. Jordan Peele has done it again!"
Others also heaped praise on Peele's latest venture, with Collider's Steven Weintraub tweeting that he doesn't want to give anything about the movie away, other than that it gets his stamp of approval. Fandango and Rotten Tomatoes writer Erik Davis said that "Nope" is one of his cinematic highlights of the year, and added, "What I love most about #Nope is the storytelling. It's Peele's biggest film yet (the sound is incredible), but the story is clever & always evolving. The characters are so well written. You're invested from the moment it starts & you'll want to talk about it long after it's over."
Eric Eisenberg of Cinema Blend tweeted that "Nope" continues the successful tradition of Peele's previous films, writing, "It's a summer spectacle about spectacle, and while there are many flavors mixed in, it's particularly an excellent tribute to Jaws. Peele is 3-for-3." Several other critics weighing in also compared the film to Steven Spielberg classics, including freelance writer Brandon Norwood, who tweeted, "Really liked 'NOPE.' Like a cross between 'JAWS' and 'CLOSE ENCOUNTERS.' Jordan has created a vert unique sci-fi horror epic." 
On the other hand, CNN's Frank Pallotta had a few different points of reference. He said the movie felt inspired by 1950s genre cinema and added, "Jordan Peele has been compared to Hitchcock, but NOPE shows he's a next-gen Carpenter. Enjoy the show and don't look up."
Not everyone is sold on Nope
While the general consensus of these early reactions to "Nope" has been mostly positive, some did offer more nuanced criticisms of the film. Critic Simon Thompson even wrote, "Jordan Peele's Nope is his most confident, unfettered, and potentially most divisive vision yet." 
Writer Shaye Wyllie offered a positive reaction to the movie, but cautioned readers to not expect another "Us." She summed up her thoughts with, "Is it intriguing? ABSOLUTELY! Is it frustrating? Just a little. Is it scary? NOPE! You can watch this! I promise! I told y'all the trailer wasn't gonna be what we thought it was gonna be!" 
Some were outright critical of the film. Journalist Nestor Cine tweeted, "Peele crafts a series of immersive scenes, and the talented cast gives a 100%. But the contrived and confounding script sinks a promising original film with shades of Jaws and Signs. My biggest question, among many: Will the audience feel challenged or trolled?" Meanwhile, critic Sharronda Williams called "Nope" the weakest of Jordan Peele's films, and specifically criticized the execution of the story.
Despite these detractors, most of those weighing in on social media thus far appear to think that "Nope" is another Peele masterpiece. As YouTuber Straw Hat Movies wrote, "['Nope'] is making a strong case for my favorite movie of the year. It's what Jordan said it was: a Spectacle!"
"Nope" his theaters on July 22.