How Better Call Saul Star Rhea Seehorn Feels About Kim's Harsh Decisions In Season 6 Episode 9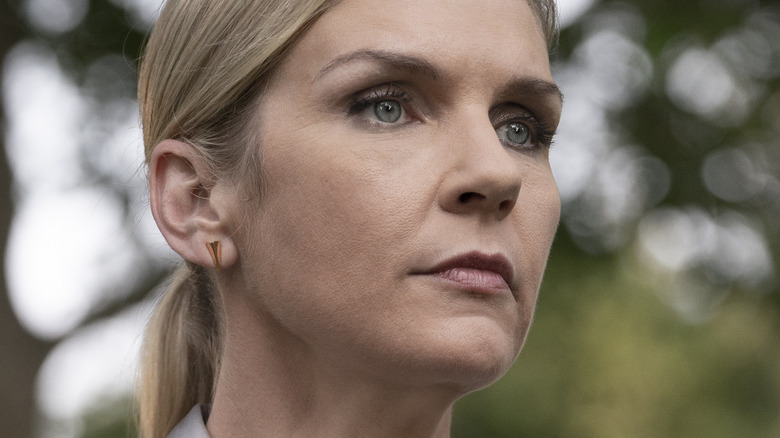 Greg Lewis/AMC/Sony Pictures Television
Contains spoilers for "Better Call Saul" Season 6.
The final season of "Better Call Saul" has been brutally tense so far, beginning with Jimmy McGill aka Saul Goodman (Bob Odenkirk) and Kim Wexler (Rhea Seehorn) teaming up for evil to take down the stuck-up but overall harmless Howard Hamlin (Patrick Fabian) in one of the series' longest cons. Once they pull it off, however, Howard comes to their apartment at the worst possible time, just as cartel member Lalo Salamanca (Tony Dalton) arrives. In the most unexpected death from "Better Call Saul" thus far, Lalo shoots Howard in the head, instantly killing him, and sends Kim on a mission to assassinate Gustavo Fring (Giancarlo Esposito).
The mission fails, ending with a climactic showdown between Lalo and Gus that ends with Lalo dying for real. The trauma of the events sticks with Jimmy and Kim until, at the end of episode 9, Kim decides that she can't continue her relationship with Jimmy — or with the law.
Because the scene leaves a lot unsaid, Seehorn spoke with The Hollywood Reporter on why she thinks her character made those two big decisions at that point, and what it means for the remainder of the series.
Rhea Seehorn thinks Kim's decisions make complete sense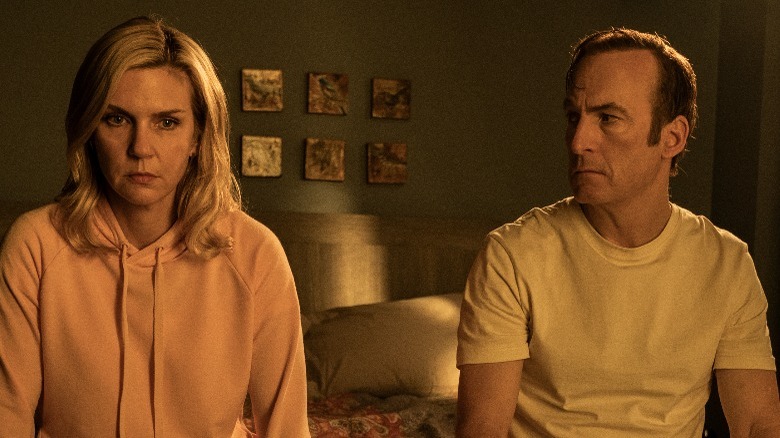 Greg Lewis/AMC/Sony Pictures Television
In the interview with The Hollywood Reporter, Rhea Seehorn talked about what it was like to resume filming after Bob Odenkirk's heart attack. She also spoke about her two recent Emmy nominations, and she delved into how, in the previous episode, she believes Kim would have killed Gus if it's what it took to save Jimmy. However, one of the most interesting parts of the interview was when she opened up about Kim's decision to break up with Jimmy and resign as a lawyer.
Seehorn told the outlet that the biggest reason she thinks Kim did these things so abruptly is because of how she and Jimmy's actions indirectly caused Howard's death, and how she believes she deserves to suffer because of it. She also acknowledged that while she was just as surprised by Kim's actions as the audience, she soon realized that it was a choice that was logically consistent with her character. "It immediately makes sense," she said. "Nothing ever feels like clever shock value."
Going further, Seehorn delved into Kim's thought process. "She's imploding, and she's absolutely desperate. She's like, 'I cannot be this person anymore. I have no right to practice law. I have absolutely no right to pass judgment on others.' And ultimately, there's an incredible amount of self-loathing in her thinking of, "I don't deserve anything.'" In the end, she explained, one of Kim's defining attributes is her integrity, and while her relationship with Jimmy has taken a big bite out of that, her actions in this latest episode are her way of trying to redeem that. 
"Better Call Saul" airs on AMC and AMC+ at 9 p.m. on Mondays.