Why Chefs Are Having A Hard Time Finishing FX's The Bear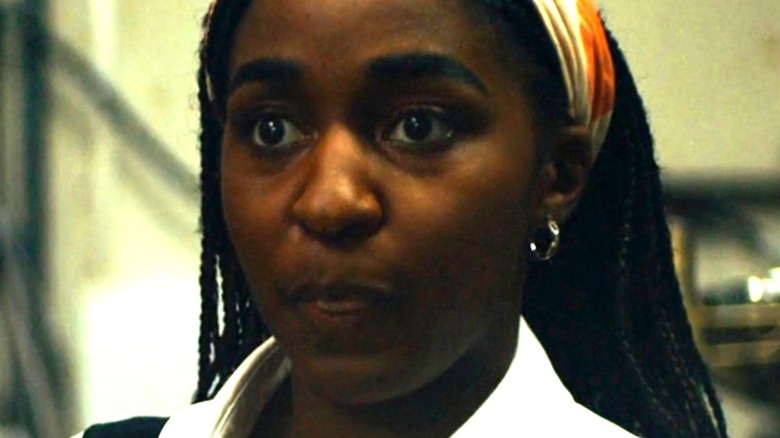 FX on Hulu
FX's "The Bear" has proven to be much more than just a show about cooking. It's a kitchen tour de force. But there's one aspect of the series that, evidently, is holding many real-life chefs back from finishing it. 
Following world-class chef Carmen aka Carmy (played by Jeremy Allen White, who went through intense culinary training for the role), "The Bear" takes a brutal inside look at what restaurant life is really like behind the scenes — both good and bad. Carmy is returning to his hometown in Chicago to try and rescue his family's dying business. Known as "The Original Beef of Chicagoland," the old-school sandwich joint was previously owned by Carmy's brother, who has died. Carmy, in the grand scheme of things, wants to transform the place into a modern and much more respectable establishment using his prior experience in Michelin star restaurants, and the show does an incredible job portraying the difficulty of making such a drastic change. 
Critics have continued to heap huge helpings of praise onto "The Bear" and its creative plate, per Rotten Tomatoes, leading to it being renewed for a second season. The biggest compliment that keeps getting tossed around is just how realistically chaotic and stressful the series can be, which is exactly the problem for many chefs.
Chefs say they can't finish The Bear because it's such an accurate portrayal of toxic restaurant culture
According to Bon Appétit, several chefs have come forward and described the harsh realities of watching FX's "The Bear" and why they ultimately can't bring themselves to finish the first season, citing its frighteningly realistic portrayal of toxic restaurant culture. Specifically, one scene that keeps driving industry people away involves Jeremy Allen White's Carmy being chewed out by a New York chef while he's attempting to construct a dish. 
"Why are you so slow? [...]" asks actor Joel McHale, who is playing the chef. "You think you're so tough. Yeah. Why don't you say this? Say, 'Yes, chef, I'm so tough.'"
Speaking to Bon Appétit, several people in the restaurant industry came forward and described being negatively affected by "The Bear" — including some who couldn't even get through a single episode due to the trauma it caused them. Alix Baker, a former cook and Chopped winner who now works as a private chef, couldn't even get through the trailer. "I feel like I'd be watching the unhealthy work environment I chose to leave," Baker said of the show. Meanwhile, former pastry chef Riley Redfern admitted that it was so hard to watch that she didn't get through to the ending of Season 1.
White and co-star Ayo Edebiri recently told Vanity Fair that the cast and crew was aware of what chefs were saying about the show's stress-inducing accuracy, and they took it as a compliment. Describing one chef who Edebiri trained with, the Sydney Adamu actor said: "She was like, 'Just so you know, I'm taking a break from watching the episodes. It's really painful to watch. But it's really good!'"