The Ending Of The Bear Season 1 Explained
FX
During a not-so-distant point in the past, we thought of summer as the season for new movies and designated fall as the time to expect fresh episodes of our favorite TV shows. However, a recent shift in consumer habits provided the perfect storm for "The Bear" to become an unexpected smash.
That's not to say the success of "The Bear" can be attributed entirely to market conditions; after all, not every program receives a perfect Rotten Tomatoes rating from critics and a 93% rating from fans. The cast and crew of "The Bear" are terrific, with "Ramy" director Christopher Storer serving as creator and actor Jeremy Allen White of "Shameless" fame leading the equally brilliant ensemble.
"The Bear" follows Carmen, a world-class chef who returns to his hometown to salvage his family's dying restaurant, The Original Beef of Chicagoland, in the middle of a quickly changing Chicago scene. The storyline, on the other hand, goes beyond the cliché paths one might expect, and rewards the audience with something original and grounded. But since we all know a story is only as good as it's ending, let's dissect the resolution of "The Bear" Season 1.
Sydney takes back her job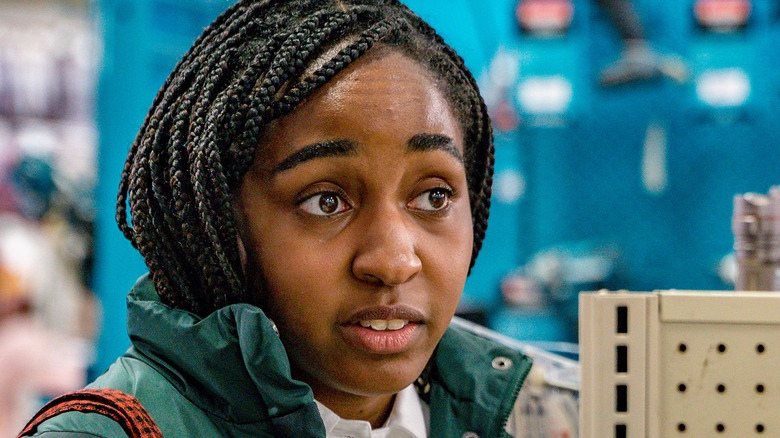 FX
When fan-favorite Sydney (Ayo Edebiri) arrives at the restaurant, her tremendous talent is immediately apparent. However, as her prior employers confirmed to Carmen, she is still a work in progress.
Before applying for a job at the show's sandwich restaurant, Sydney attended an elite culinary school in New York and launched a catering company shortly after graduation. Unfortunately, she wasn't adequately prepared for such a big move and the company went bust, leaving her in debt. Carmen, utterly aware of this, attempts to teach her patience. Unfortunately, Sydney's propensity to deliver things prematurely, along with Carmen's own shortcomings, results in an angry verbal altercation in the kitchen prompting Sydney to quit.
In "Braciole," Sydney, now unemployed, makes a meal for Marcus (Lionel Boyce) and tells him that Carmen's food is the greatest she's ever eaten in her life. She acknowledges that despite his flaws, Carmen is still highly gifted. Carmen subsequently texts her and informs her that her risotto lacks acid. With this, she understands she still could learn a lot from Carmen, and she chooses to forgive him and return to her job.
They change the name of the restaurant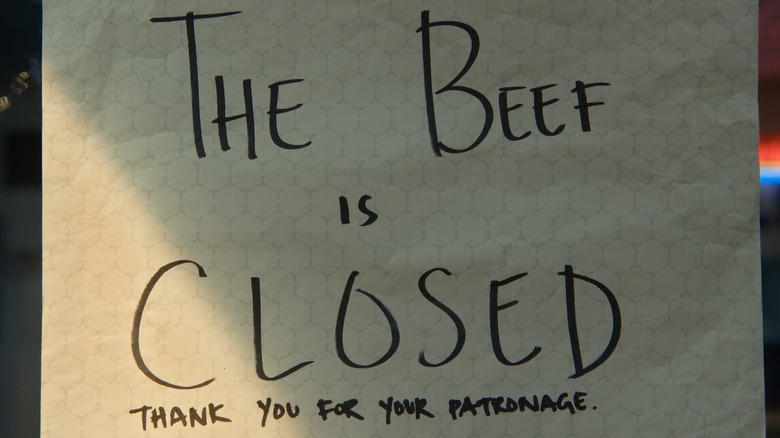 FX
The first time you watch Season 1 of "The Bear," the title is one of the most intriguing aspects of the viewing experience. It isn't immediately obvious what the name signifies. The first episode begins with Carmen attempting to tame a wild bear in a frenzied hallucination or possibly a dream of some kind, but it's unclear what this represents throughout most of the season. 
In the last episode, Carmen speaks in front of an Alcoholics Anonymous group. He tells the crowd that he and his late brother Michael always intended to open a restaurant together, and they had even decided on a name. He also informs the group that he returned home to try to rebuild The Original Beef of Chicagoland due to its importance to his family. Carmen also recalls the severely damaging fallout between him and Michael, and he wonders if the restaurant meant anything to Michael at all.
When the Carmen and his crew change the name of The Beef to The Bear at the end of the season, it's a move that signifies growth, change, and a willingness to embrace the future. Evolving and learning to work together more effectively an amicably might turn out to be a challenging process, but that's sort of the point. Bears are, if nothing else, very challenging creatures. 
The crew learn to respect each other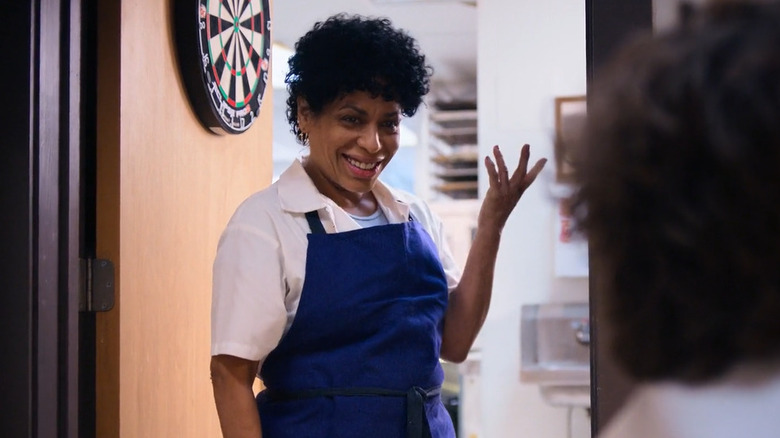 FX
Much of what makes "The Bear" so compelling is its brilliant depiction of relationships between co-workers. Nobody in the kitchen is truly a villain, and fans can appreciate the unique ways of every character. Every chef in the restaurant is unified by a common desire for respect to have room to do their work.
When Carmen takes charge, everyone feels threatened and rebels against his authority at first. Their antagonistic feelings are exacerbated when Carmen appoints fellow newbie Sydney as his deputy. She completely changes the organizational dynamic of the kitchen and presents the staff with new Navy-blue aprons. However, not all chefs are pleased with the new look, particularly Tina (Liza Colón-Zayas), who refuses to wear the new apron and opts to stick with her old white one.
But after the turmoil of the seventh episode, "Review," they all develop a newfound respect for one another. Tina reasons that Carmen's new system really benefits her work, and Sydney is not attempting to belittle anybody; rather, she wants to make her process more efficient. It's a crowning achievement when, in the last episode, Tina finally wears her Navy-blue apron, inferring that Carmen and Sydney's suggestions and changes to the restaurant's status quo have become valued, even by their harshest skeptics.
Carmen reveals he's not an addict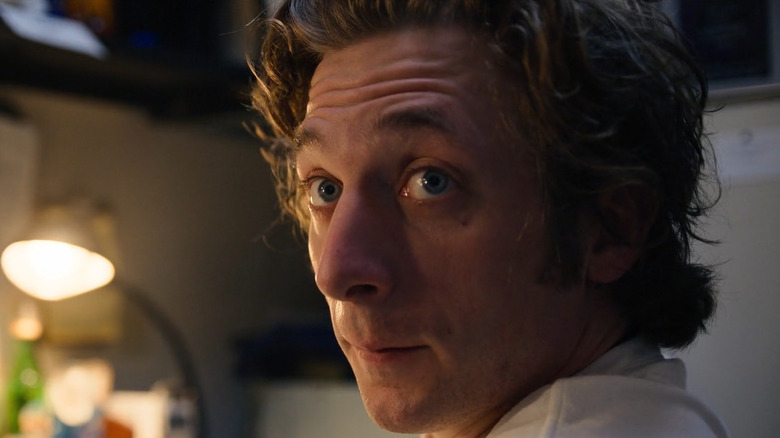 FX
When Carmen initially moves to Chicago, he isolates himself from his sister Sugar (Abby Elliott) and avoids her until he needs her assistance to pay a supplier. Every time Sugar meets him, she tells him that running from his trauma won't help him in the long run and asks whether he's started attending meetings. Carmen eventually resolves to attend Alcoholics Anonymous groups and sits in the back without speaking. Later, he informs Sugar of his decision, and she expresses relief. This leads the audience to assume that, like his brother and just about everyone else who attends AA meetings, Carmen struggles with substance abuse.
In the climactic episode of Season 1, Carmen makes up his mind to speak during the meeting. He reveals that his brother's substance abuse problem pushed him to suicide. While Carmen isn't struggling with addiction per se, he is trying to recover from the loss of his brother. The series sends a strong message that overcoming mental health issues may require some form of assistance from a community.
If you or anyone you know is struggling with addiction issues, help is available. Visit the Substance Abuse and Mental Health Services Administration website or contact SAMHSA's National Helpline at 1-800-662-HELP (4357).
The restaurant isn't the only thing Michael left Carmen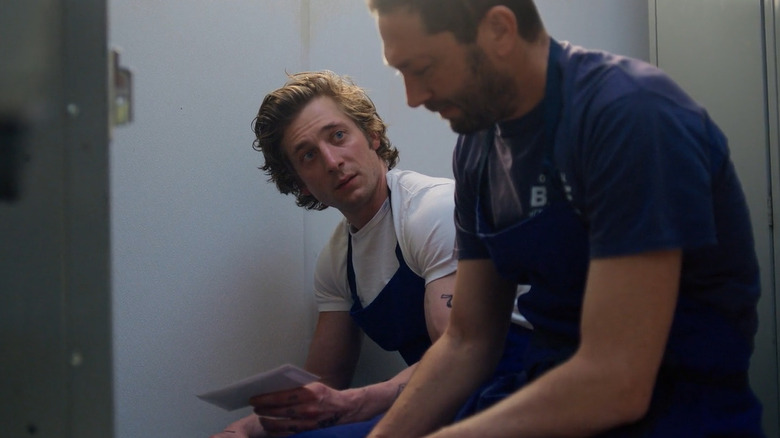 FX
Every time Michael (Jon Bernthal) is spoken of or shown on screen, it's obvious how much everyone loved him. However, ultimately it was Carmen who held him in the highest regard. Carmen even considered him his best friend and plotted his entire career to impress him, but Michael never acknowledged this. Throughout the season, Carmen questions why Michael left him the family business without any explanation or instructions. 
It remains unclear why Michael stopped speaking to Carmen. However, the fact that Michael left Carmen the business instead of Richie (Ebon Moss-Bachrach) or Cicero (Oliver Platt) tells us that whatever Michael's issue was with his brother, it wasn't doubt in his ability to run a sandwich restaurant. There's still some mystery surrounding Carmen and Michael's relationship, but since "The Bear" is a surprise hit for Hulu, a renewal for Season 2 seems highly likely at the moment. Hopefully, we'll get to see whatever Michael was keeping from Carmen.
Towards the conclusion of Season 1 of "The Bear," Richie delivers Carmen the note Michael left him after he died. When Carmen first reads the letter, he is puzzled; all it contains is the ingredients for their family's spaghetti recipe, which Carmen already knows. Carmen quickly discovers, however, that the letter is a clever treasure map and Michael has hidden enough wads of cash around to solve all of their concerns.
Carmen settles up with Cicero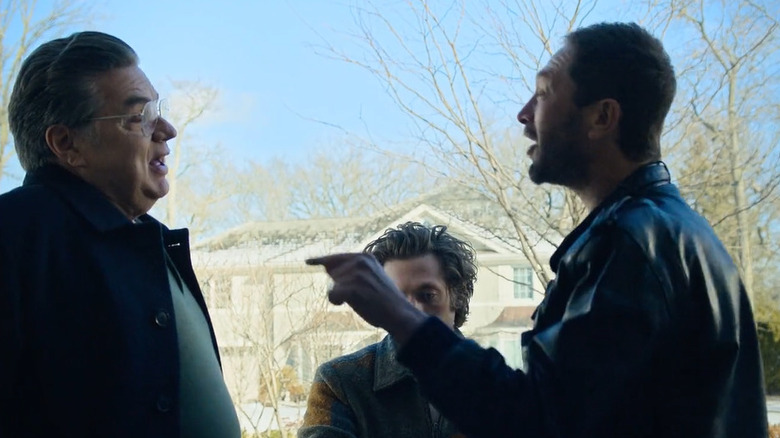 FX
Carmen's uncle Cicero (Oliver Platt) arrives at The Beef at the worst possible time. The health inspector has just been by and nailed the restaurant with a deeply embarrassing C rating. However, the news Cicero brings is even worse; sometime before Michael's death, Cicero loaned him $300,000. Now Cicero wants Carmen to pay off his deceased brother's debt. Cicero offers to simply buy the restaurant from Carmen and settle up that way, but Carmen courteously declines.
Then Cicero suggests that Carmen pay off the debt by doing him some favors, but Richie doesn't get along with Cicero, so that's an immediate problem. In "Braciole," Carmen discovers that, in addition to staff compensation, Michael kept account of payments he made to a firm called KBL Electric, which amounted to a bit more than Cicero had loaned him. So even though we don't know what KBL Electric is yet, it's clear that the money Michael had hidden for Carmen was enough to pay off Cicero's loans.
Carmen apologizes to Marcus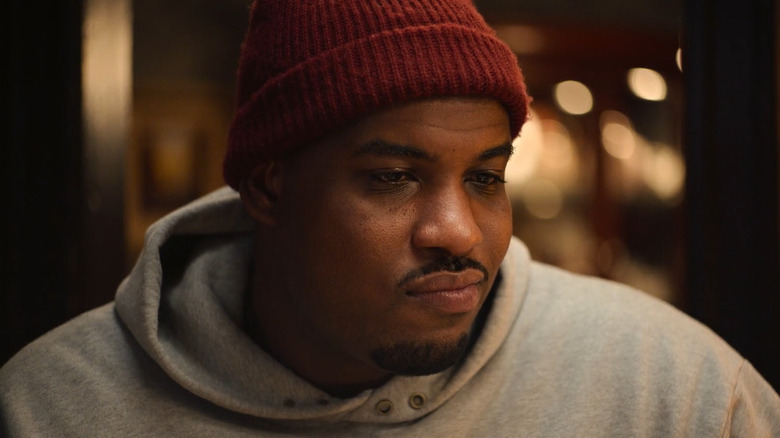 FX
Marcus is the first of The Beef's original staff members to warm up to Carmen. At first, Marcus is naturally defensive when Carmen offers advice to improve the bread he uses for the sandwiches. However, after acting on Carmen's advice, Marcus finds that Carmen's bread-based observations are correct and implementing Carmen's suggestions genuinely improves the bread.
This conversation inspires Marcus to become passionate about baking, and he utilizes Carmen's book as one of his key sources of inspiration. At one point, he becomes so preoccupied with improving his baking that he begins sleeping at the restaurant and falls behind on the day's work. This forces him to overcompensate, which leads to the condenser exploding and causing the kitchen to incur a significant loss. To his credit, Carmen just tells Marcus mistakes are natural, but the problems with falling behind are self-evident at this point.
Growth, on the other hand, is hardly ever a straight line. Marcus soon falls behind on his duties once more, and by this point, Carmen has little patience for him. Carmen grabs the donuts Marcus is working on and tosses them on the floor. But Carmen quickly realizes that what he did was wrong and that he ultimately doesn't want to create that kind of workplace, so Carmen apologizes, and Marcus accepts.
Carmen learns to put his staff before the restaurant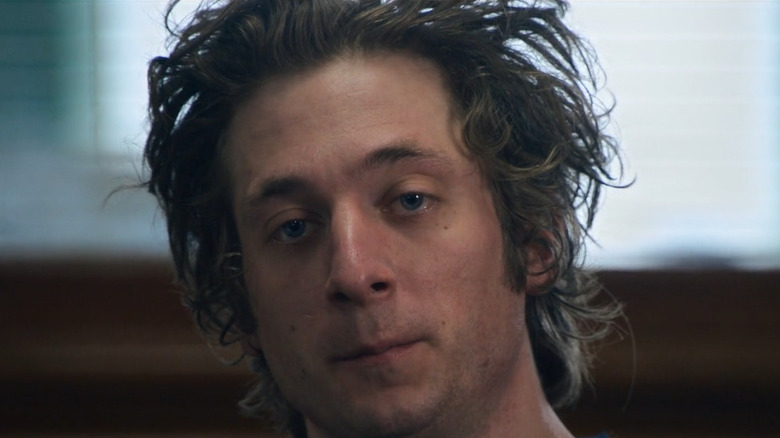 FX
When Carmen initially arrives at The Original Beef, he is a highly driven man who will stop at nothing to restore the place to its former glory. He buries himself in his work. Sugar says he never calls or talks to her. Ironically, he's doing exactly what Michael did to him to his sister.
Sugar cautions Carmen that if he continues to bury his trauma, the restaurant will not operate as well as he wants it to, but Carmen does not listen. His unresolved trauma and his many other stressors finally push him over the edge, and he erupts on his team in the penultimate episode. Carmen abruptly stops being patient and understanding with his staff and becomes an awful supervisor. This causes two of his employees to walk out on him.
At an AA session, Carmen finally opens up after realizing his mistake. As a result, he begins to understand the error in his methods. Carmen has also evolved by the time the final episode arrives; he now knows the staff must be a vital part of his ambition for the restaurant to run as effectively as he wants. So not only does he apologize to Sydney and Marcus, but when Richie is jailed, he doesn't hesitate to spend every last penny to bail him out.
Richie finally takes accountability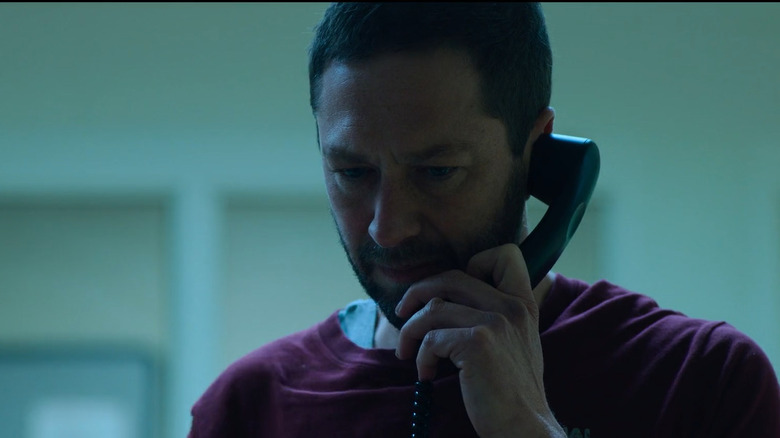 FX
Richie, more than any other character, embodies resistance to change. He was Michael's best buddy and he's always ready to tell everyone who will listen how fantastic the restaurant was when it was just him and Michael running it. But with all of the changes going on around him, including Sydney taking over his old spot as the deputy of the guy in charge, Richie begins to feel threatened.
In the episode "Ceres," Richie tells Sydney a story that Michael once told him about the statue of Ceres above LaSalle Street. At first, the monument's owner decided not to give it a face since it was so far up. No one could tell until surrounding high-rise buildings started getting even taller. Now, people can look down from one of Chicago's tallest buildings and wonder why the Ceres statue doesn't have a face. Richie ultimately grows to understand that his previous habits no longer benefit the restaurant because now that everyone has progressed, they can see all of his mistakes in hindsight. Therefore, Richie must change or remain stuck in the past.
Richie makes another mistake in the last episode, but this time, instead of denying it or transferring blame, he accepts full responsibility. He even carries this new outlook into his personal life by contacting his ex and apologizing for his past relationship-related mistakes.
Carmen finally understands Michael's plan for dealing with the IRS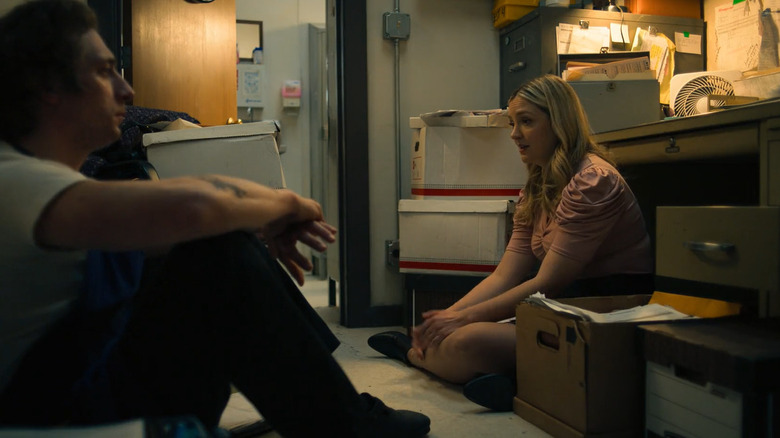 FX
Sugar does not feel The Beef is healthy for their family, especially now that the family is just her and Carmen, but she tries to be supportive. Just like Carmen, she'll do whatever it takes to keep the restaurant open, she simply prefers to contribute from a distance. Unfortunately, Sugar cosigned on the business before Michael died, and now the IRS is threatening to seize her home due to the substantial amount of back taxes the restaurant owes.
Sugar visits The Beef and informs Carmen that they must locate the file with the 2018 employee wages so that she can complete some accounting and pay a small amount to get the IRS off her back. The siblings eventually get annoyed by Michael's haphazard filing practices. They start fighting, and Sugar claims that the stress of operating the restaurant is the root of all their family's problems. Carmen, on the other hand, claims that their family, not the business, is at fault. After this realization, he resolves to be more open and approachable to Sugar. At that point, they discover the necessary file.
Carmen obtains the file in the last episode, which contains not just the employee wages, but also the aforementioned payments to KBL Electric. The money will cover the minor payment to the IRS, and the file will provide them with the necessary documentation. It seems Michael had a plan all along, albeit a haphazard plan.
Carmen finally learns what's up with the smaller cans of tomato paste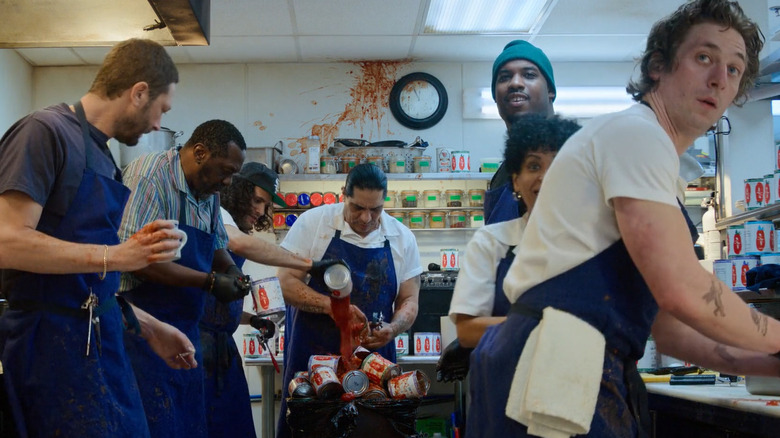 FX
Carmen's first move after taking over The Beef, much to Richie's annoyance, is to removing pasta from the menu. Considering it was their best-selling entrée, Richie is sure Carmen does this because he doesn't know how to prepare it properly. In truth, Carmen does away with the pasta because he thinks it's an antiquated and uninteresting dish. He even asks Tina why they stock smaller cans of the tomato paste when bigger cans are cheaper, but Tina claims she has no idea why Michael did that.
In the last episode, Carmen is finally given his brother's note by Richie, who explains that he only kept it for so long because he was frightened that if it were ever read, it would mean Michael is truly gone, and now he's ready for change and moving on. The letter, however, is just the recipe for the pasta Carmen had been avoiding all along, and it causes Carmen to chuckle and decide to prepare it. This recipe, however, insists on using the smaller cans of tomato paste.
When Carmen eventually uses the smaller cans of tomato paste, he discovers they contain bundles of cash. He then instructs his employees to open the remaining smaller cans of tomato paste, revealing that they all contain money. Michael had taken care of everything all along.