The Ms. Marvel Team-Up Iman Vellani Would Love To See In The MCU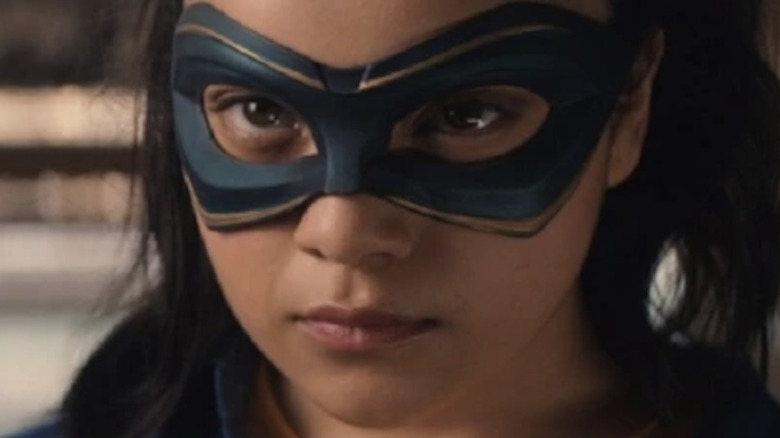 Marvel Studios/Disney+
Ever since "Avengers: Endgame" arrived in theaters back in 2019, Kevin Feige has been focused on expanding the Marvel Cinematic Universe with new heroes, new villains, new worlds, and new realities to explore. Projects like "Loki," "Spider-Man: No Way Home," and "Doctor Strange in the Multiverse of Madness " all focus on introducing alternate versions of reality in different ways. And thanks to Disney's acquisition of Fox, many fans are expecting the X-Men and the Fantastic Four to show up thanks to the MCU's Multiverse, especially since Professor X (Patrick Stewart) and Mr. Fantastic (John Krasinski) cameo in the recent "Doctor Strange" sequel.
But one of the newest arrivals to the MCU is Kamala Khan (Iman Vellani) in "Ms. Marvel" — which is a much smaller adventure compared to these huge Multiversal events. It sees the young New Jersey teen discover her own cosmic powers when she finds an old bangle belonging to her grandmother. But by the end of the series, Kamala's best friend, Bruno Carrelli (Matt Lintz), reveals that Ms. Marvel's genes have a "mutation" — as the iconic 1990s "X-Men" theme twinkles in the background. Nice.
Clearly, Marvel is getting ready for the mutants to properly show up in the MCU over the next few years. In 2019, Kevin Feige told iO9 that fans would be waiting a while for them to return, saying, "It's much more, for us, less about specifics of when and where [the X-Men will appear] right now and more just the comfort factor and how nice it is that they're home. That they're all back. But it will be a very long time." But with mutants finally on their way to the MCU, there's a particular hero that Iman Vellani wants Ms. Marvel to team up with.
Ms. Marvel and Wolverine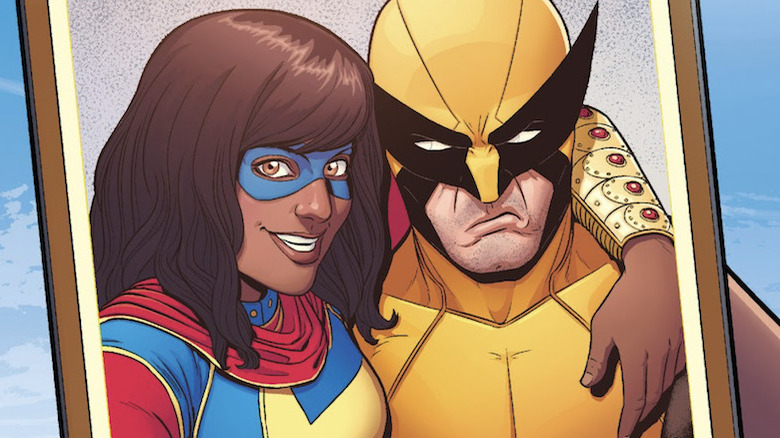 Marvel Comics
Obviously, Kamala is a very positive character who actively enjoys being a superhero, and that's partly why the series brings a fun energy to the screen. She's similar to Spider-Man in that sense — although Peter Parker (Tom Holland) definitely has more of a brooding streak. But Iman Vellani wants to team up with another moody hero who will inevitably join the MCU at some point in the future: Wolverine.
Vellani was taking part in a Reddit "Ask Me Anything" session when she explained what she wants to see in Kamala's future, saying, "I would love to see a [K]amala/ [W]olverine dynamic in the MCU. also there is a really cool story where [K]amala fights the [S]hocker and [B]runo ends up seeing all of her possible futures and that makes me really emotional every time I read it." Comic readers will remember that Kamala works with Wolverine in 2014's "Ms. Marvel" Vol. 3 #6 when they go up against the Inventor, a human-bird hybrid. Logan's grumpy demeanor contrasts nicely against Kamala's can-do attitude, and that could translate perfectly into live action.
For now, it's not clear who will inevitably play Wolverine in the MCU, but "Kingsman" star Taron Egerton recently confirmed that he's spoken to Kevin Feige about the role. He told the New York Times,​​ "I'd be excited but I'd be apprehensive as well, because Hugh [Jackman] is so associated with the role that I'd wonder if it'd be very difficult for someone else to do it. But hopefully if it does come around, they'll give me a shot." Maybe Vellani and Egerton will be the dynamic duo fans never knew they needed.