What Taron Egerton Has Been Up To Since Kingsman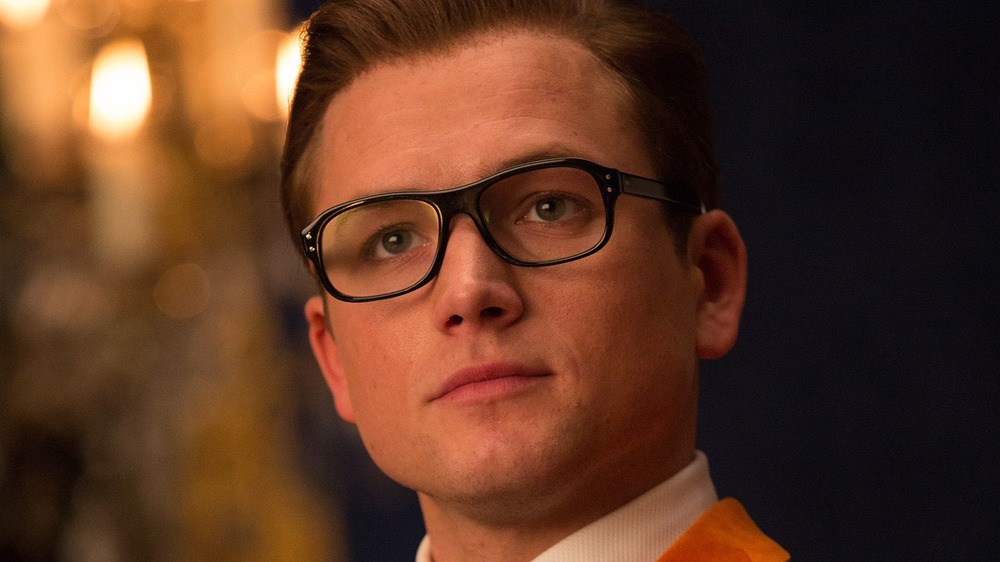 20th Century Fox
In 2014, movie audiences around the world were introduced to the young British-Welsh actor Taron Egerton, thanks to his leading performance in the action-spy film, Kingsman: The Secret Service. The film — directed by Matthew Vaughn — blended action and comedy in a semi-serious cross between a modern James Bond film and Austin Powers. Overall, the film did well in theaters (via BoxOfficeMojo) and it propelled Egerton to a new level of international fame.
Fans, of course, know that the first film followed Gary "Eggsy" Unwin's journey from aimless street punk to suave secret agent after he is picked up and mentored by Harry Hart/Galahad (Colin Firth), an experienced member of the Kingsman spy agency. The 2017 sequel to the film followed a similar format, and contained an amazing guest appearance from mega-famous rock star Elton John. Unfortunately, Egerton will not be in the third Kingsman film, The King's Man, because it's a prequel, though he's expected to appear in Kingsman: The Blue Blood, to wrap up the Harry Hart-Eggsy relationship.
Egerton appeared in Billionaire Boys Club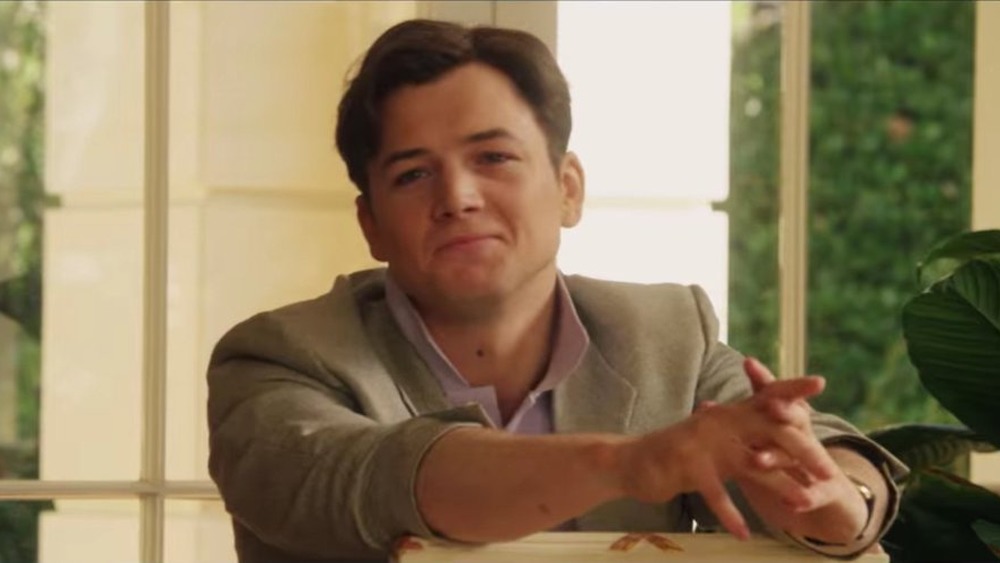 Vertical Entertainment
Taron Egerton landed himself another serious side role next to Kevin Spacey, Ansel Elgort, and Emma Roberts in the 2018 film Billionaire Boys Club, playing the role of Dean Karny, right-hand man to protagonist Joe Hunt (Ansel Elgort). Egerton's character also acts as narrator for the film.
The movie — which is actually based on a true story — follows Joe, Dean, and others as they bet it all in a get-rich-quick scheme that ends in bloody murder. Though it sounded like an interesting premise, the film eventually flopped in the box office. According to Mashable, the film was so poorly received that it made a stunningly-low $126 during its opening weekend; seriously, $126, no millions or thousands. Variety called it a "wanna-be Wolf of Wall Street." It also had the misfortune of casting Spacey just as his star was tarnished by allegations of sexual misconduct. 
Taron Egerton starred in a different take on Robin Hood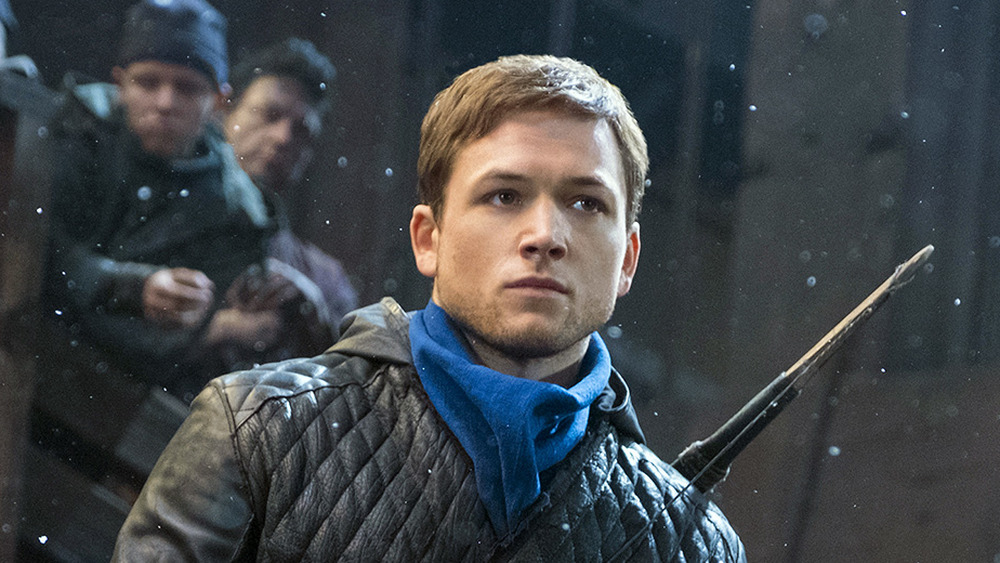 Lionsgate
Billionaire Boys Club wouldn't be the last of Egerton's poorly-received projects. In 2018, Egerton took on another leading role as Robin of Loxley in Robin Hood. This modern take on the classic piece of English folklore put Egerton in the driver's seat next to Jamie Foxx as Little John in a rebellious conflict with the English government. The story of Robin Hood isn't too dissimilar from the actual myth, but it departs in enough ways to gain its own identity.
That identity didn't seem to mesh well with viewers, however. Unfortunately, Robin Hood did almost as poorly as Billionaire Boys Club. While it made more than a paltry $126 upon opening, it barely made back $9 million of its $100 million dollar budget (via Business Insider). It's also has a lowly 15% critics score on Rotten Tomatoes, with an audience score of 41%. But, while audiences and critics alike responded poorly to the action-heavy, modern interpretation of Robin Hood, they clearly did not transfer those sentiments onto Egerton himself.
Egerton becomes Elton John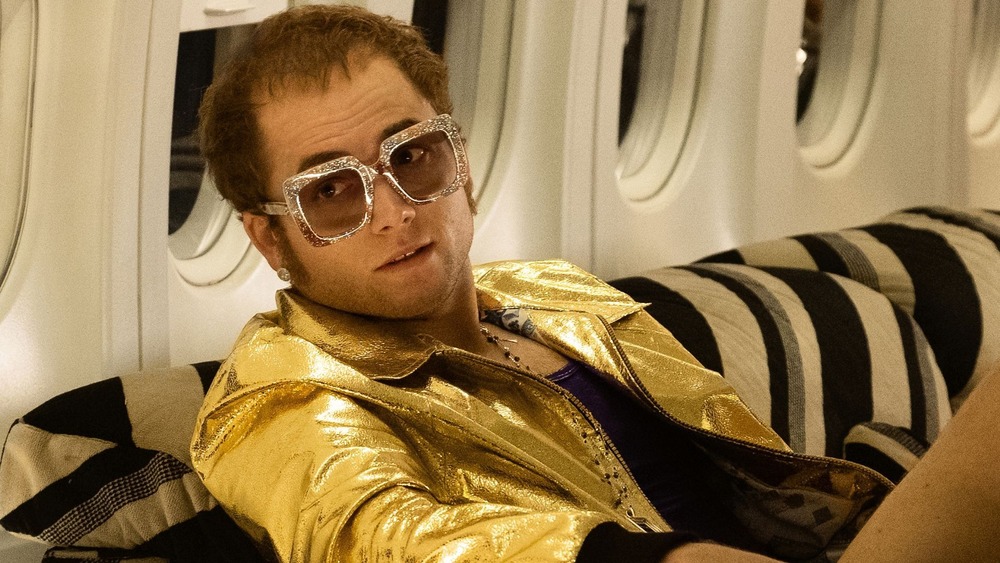 Paramount Pictures
The box office losing streak proved itself short-lived. Returning to the world of biopic, Taron Egerton brought his career full circle when he played Sir Elton John in 2019's Rocketman. The film was an overwhelming win for the actor, with Egerton winning a Golden Globe for portraying the musical sensation. 
It may not surprise you that Egerton is a huge Elton John fan. As The Hollywood Reporter relays, the actor put his all into this performance. He sung for the movie, danced, and even underwent some extreme makeup routines to make himself resemble the famous rock star. Egerton even spent a healthy amount of time with his idol. Apparently, Elton John spent a good amount of time sizing up Egerton's performance, and even helped it along by hanging out with the actor. In the end, he liked what he saw. "I didn't think it was Taron. I thought it was me," the singer told THR. 
Egerton isn't just in movies, he does voice work and TV too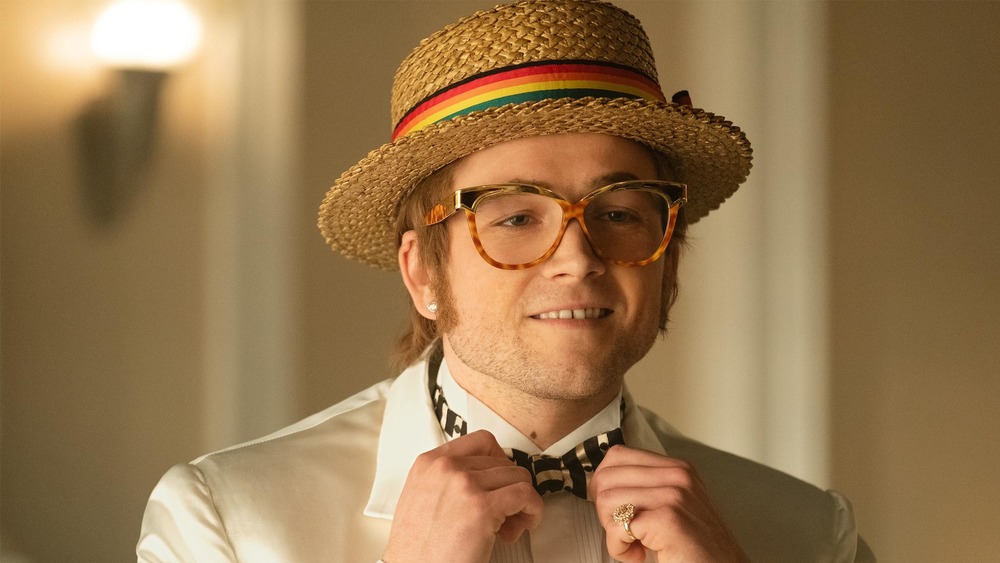 Paramount Pictures
In addition to his multitudes of movie roles, Egerton has recently found himself away from the silver screen and onto television. Over the past three years, Egerton played roles in four separate TV series. Many of these were British productions, but in the past year he has found himself going international in DC's collection of ongoing shows.
Even before Kingsman, Egerton acted in the 2014 TV miniseries, The Smoke. Once Kingsman happened, however, Egerton took the next four years to focus on movies. It wasn't until 2018's Watership Down, an adaptation of the novel by Richard Adams, that Egerton would return to TV, lending his voice to the project. Egerton would follow this appearance up with more voice work the 2019 prequel series to Jim Henson's Dark Crystal called Dark Crystal: Age of Resistance. The actor would lend his voice to another book adaptation with his role in the Moominvalley TV series that same year. Finally, Egerton crossed over into comics, inheriting the role of John Constantine in DC's adaptation of The Sandman, which has yet to see release.
Will he be in the Sing sequel?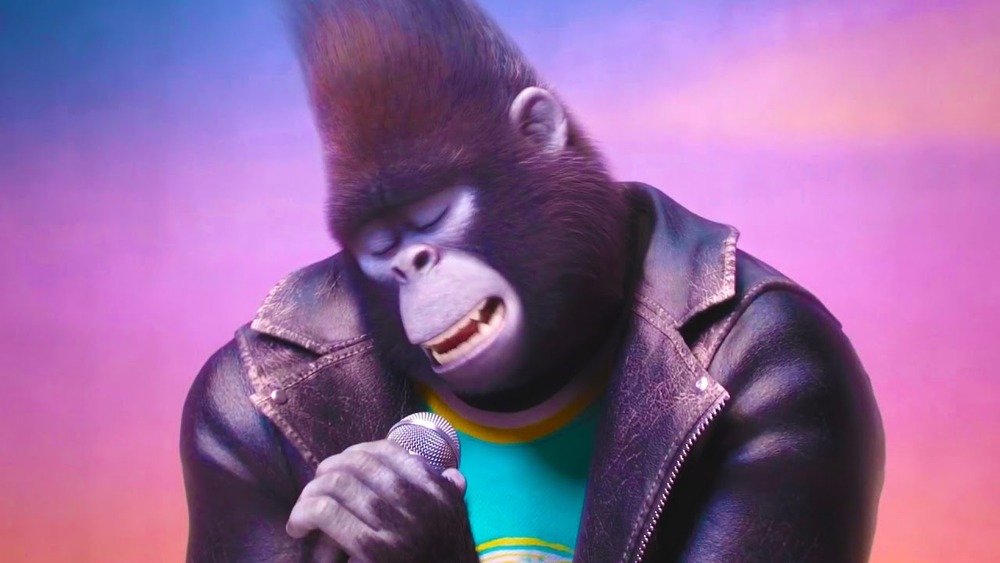 Universal Pictures
Fans have not seen the last of Taron Egerton. He currently has two confirmed film projects in the works, according to IMDb. The first will see Egerton reprise his role of Johnny gorilla in the upcoming sequel, Sing 2. His first appearance as Johnny marked the beginning of his career-wide Elton John references. Johnny's character arc concludes with him singing the star's song "I'm Still Standing." It also incorporated his background in crime films like Legend by making Johnny a part-time getaway driver. Egerton's return to the role is probably good news for fans who loved hearing him sing in his previous roles.
Egerton is also returning to the fold of historical fiction/biopics by appearing in the upcoming Tetris film. No, it is not a movie about falling blocks, it is a movie about the legal disputes which surrounded ownership of the game during the Cold War. Finally, Egerton is also supposed to appear as Seymour Krelborn in the upcoming remake of The Little Shop of Horrors, according to GiantFreakinRobot.