How Francis Coppola Created A Class System On The Set Of The Outsiders
"The Outsiders" is, above all else, a coming-of-age story, movingly portraying what it is to experience unfairness and loss as a teenager. But it is also a story very directly about class prejudice among those very same teenagers. True to S.E. Hinton's original novel, the film shows us a group of kids from the literal wrong side of the tracks in 1965 Tulsa, Oklahoma — the "greasers" — and their ongoing rivalry with the city's more privileged "Socs." The plot of the film — Johnny's (Ralph Macchio) accidental killing of a Soc and his and Ponyboy's (C. Thomas Howell) decision to go into hiding — is all set in motion because the Socs take offense at the lower-class greasers talking to their girlfriends.
This element was important to Hinton in terms of rendering the setting realistically. In an interview she did with Entertainment Weekly in 2017, Hinton said that when the book originally came out in 1967, both greaser and Soc resonated with it. "Oh, well the Greasers loved it. Absolutely loved it. And a lot of the Socs took a second look at themselves."
That kind of realism was also important to Francis Ford Coppola, who directed the 1982 film adaptation. In fact, Coppola saw class as such an important element that he even divided his own cast along the class background of their characters.
Coppola gave the actors who played the Socs better amenities
Rob Lowe, who played the greaser Sodapop, discussed in detail the process of auditioning and filming "The Outsiders" in a photo spread for Vanity Fair. Lowe was 17 at the time and almost ready to throw in the towel on acting when he landed the audition and subsequently, the part. It is of course difficult to imagine Lowe, such a recognizable face in Hollywood, as a struggling actor. But then, "The Outsiders" gave a massive boost to several actors whose fame would later hit the stratosphere: Patrick Swayze, Diane Lane, Tom Cruise, Emilio Estevez, and Ralph Macchio among them.
On his first day in Tulsa, Lowe dropped his luggage off in his room and was immediately greeted by C. Thomas Howell and then soon after by Darren Dalton, who was cast in the role of one of the Socs, Randy. "Why aren't you on our floor?" asked Lowe. "Dude, our floor is Socs only," replied Dalton. "We have these amazing suites, free room service, gym privileges—it's so cool!"
Howell, as Lowe remembered, turned to him and informed him that Coppola had deliberately segregated the greasers from the Socs. Not only had the actors playing the Socs received larger rooms and more amenities, but they also had a larger per diem and even leather binders for their scripts. "Aah, I see," replied Lowe. "He's trying to create a class system on the set, trying to make us Greasers jealous."
Francis Ford Coppola: one of Hollywood's most intense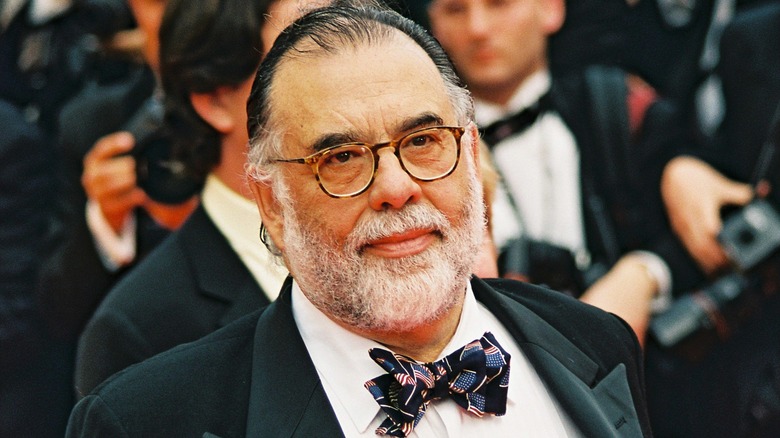 Denis Makarenko/Shutterstock
Francis Ford Coppola has long been known for these kinds of intense, get-in-your-head treatments of actors. Call it method directing, orchestrating an environment where the actors have no choice but to completely emotionally identify with their character. Elsewhere in the Vanity Fair piece, Rob Lowe described the grueling audition process for "The Outsiders," in which possibly hundreds of young actors read for the roles of Ponyboy, Sodapop, Darrel, Dallas, Randy, and all the rest. By then, Coppola's sets had already gained a reputation for intense, controlled chaos.
Lowe also diverged into a slight tangent about "Apocalypse Now." Lowe, it turns out, was living a few doors down from Emilio Estevez and his father, Martin Sheen. Sheen had, of course, been directed in "Apocalypse Now" by Coppola, having fired Harvey Keitel as U.S. Army Captain Benjamin L. Willard and replaced him with Sheen at a moment's notice. Coppola also indulged Marlon Brando's (Colonel Walter E. Kurtz) every method whim, including reading the entirety of Joseph Conrad's "Heart of Darkness" to him before Brando would even start filming.
"The stress, the hours, and the heat of making 'Apocalypse Now' had given Martin Sheen a heart attack in his mid-30s," wrote Lowe. "He barely survived, and it changed him." After he finally won the part of Sodapop, and just before taking off for Tulsa, Lowe sat down with Sheen over a pint of ice cream to ask him everything he knew. Sheen's last words before Lowe took off? "Don't let Francis make you do anything you're uncomfortable with."