How A Librarian Inspired Francis Coppola To Make The Outsiders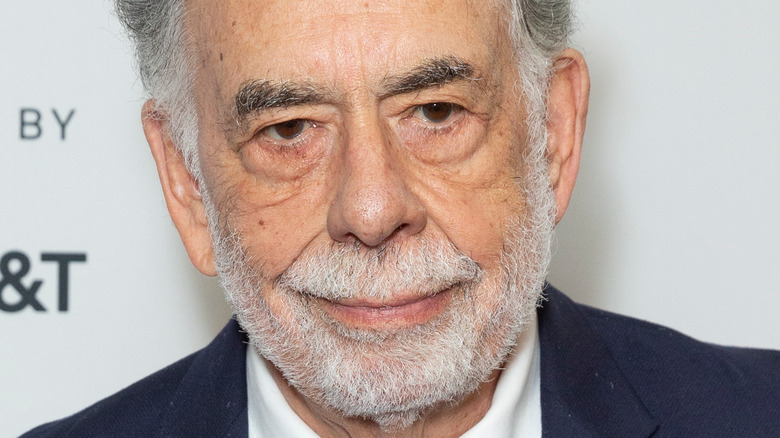 lev radin/Shutterstock
Francis Ford Coppola often draws inspiration from the pages of literature for his films. "The Godfather" is pulled from Mario Puzo's novel of the same name, "The Rainmaker" is one of a number of John Grisham adaptations, and even "Apocalypse Now" pulls inspiration from Joseph Conrad's "Heart of Darkness" (per IndieWire). 
Also adapted from the pages of a book is 1983's "The Outsiders," based on the 1967 novel by S.E. Hinton, which follows a group of troubled teens flirting with a life of criminality as they face adulthood. The movie is notable for a number of reasons, and one of them is that so many stars had early roles in it, including Matt Dillon, Tom Cruise, Ralph Macchio, C. Thomas Howell, Rob Lowe, and others. 
What may be a surprise is the fact that Coppola was inspired to make the movie by a librarian and a group of students influenced by the novel, which was published when Hinton was just 17 (via Rolling Stone).
A dedication at the end of the movie actually reveals its true inspirations — "The film 'The Outsiders' is dedicated to the people who first suggested that it be made — librarian Jo Ellen Misakian and the students of The Lone Star School in Fresno, California," it reads — and the story behind that text is almost as wild as the movie itself.
Coppola made The Outsiders after receiving a librarian's letter
In 1972, librarian Jo Ellen Misakian wrote a letter to Francis Ford Coppola with the support of a number of students after discovering S.E. Hinton's "The Outsiders" encouraged so many young people, especially boys, to start reading. This included Misakian's own son. "I had been so frustrated because the kids, the boys especially, didn't read. 'The Outsiders' caught on," she said in 1983 (via The New York Times). She chose to write Coppola after seeing his 1979 movie "The Black Stallion," about a boy bonding with a stallion after a shipwreck. She had also received no response from Hinton. 
At the time he received the letter, Coppola was in financial trouble as his company Zoetrope was struggling to stay afloat. He even said when he finally got around to reading the book (convinced kids know what should be in a hit film), he thought it could be like summer camp away from his financial woes.  "I used to be a great camp counselor, and the idea of being with half a dozen kids in the country and making a movie seemed like being a camp counselor again. It would be a breath of fresh air. I'd forget my troubles and have some laughs again," Coppola told the Times.
When the film was complete, the stars flew out to screen the movie for the students and Misakian, receiving a standing ovation. The experience went so well for Coppola  that he decided he wasn't done adapting Hinton's words.
Coppola adapted another S.E. Hinton novel after The Outsiders
One could argue the California students inspired Francis Ford Coppola to make more than just "The Outsiders," which ended up being a box office hit when the director needed one (per Box Office Mojo). 
Coppola's followup feature was the black-and-white "Rumble Fish," led by "The Outsiders" star Matt Dillon, and adapted from the 1975 novel by Hinton. The movie, also released in 1983, came nowhere near matching the box office of "The Outsiders," unfortunately (via Box Office Mojo). That, however, does not stop Coppola from calling it one of his best efforts. 
"It's such a strange film and it was made from such a sincere place," he said in 2021 (per Empire). Coppola made those comments as he was promoting a 4K restoration of "The Outsiders," truly a testament to the movie's long-lasting popularity. And it's still hard to fathom how it all started with a letter from a librarian who just wanted kids to read. 
After watching "The Outsiders," Jo Ellen Misakian actually said she and her students hoped Coppola and his team would find another book to adapt, likely not expecting it to happen so soon. "I can't believe it happened. It is like a fairy tale, and the kids are all reading other books now — hoping they can find another one to make a movie," the librarian said (via the New York Times).