The Original Host Of The Price Is Right Might Surprise You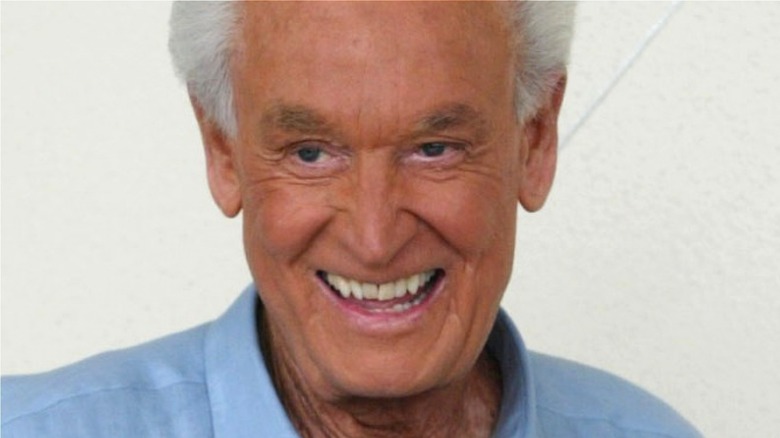 J. Emilio Flores/Getty
Drew Carey has earned a place in our hearts as the host of "The Price Is Right." Since he took the baton in 2007, most regular viewers have come to know what to expect from him: good humor, professionalism, and an ability to roll with sometimes literal stumbles.
That being said, he would likely be the first to say he is standing on the shoulders of a daytime game show giant. Because just as "Jeopardy!" had Alex Trebek, and just as "Wheel of Fortune" has Pat Sajak, "The Price Is Right" had the iconic Bob Barker. Even if Barker himself is less than thrilled with the job Carey has been doing as his replacement (via TMZ), Carey made clear to People in 2021 that he had no intention of trying to copy his predecessor when first taking over.
It makes sense that Barker and "The Price Is Right" are nearly synonymous. His tenure hosting and reminding us to spay and neuter our pets ran for 35 years. And while that may put him behind Trebek (37 years according to CNN) and Sajak (more than 40 per Today), it's still astonishing — which is why it may be equally astonishing to learn that Barker was in fact not the original host of "The Price Is Right." That's right — there was another who came before him. And in retrospect, it's stunning that we don't all know his name too.
The original host of The Price Is Right was Bill Cullen
Bill who? In order to answer that question, we first have to remember that while the current iteration of "The Price Is Right" premiered in 1972, there was another version that had aired many years earlier. Call the '72 version a TV reboot of sorts because in fact, "The Price Is Right" first premiered in 1956, just as televisions were finding their way into virtually every home in America. The host of that version, until it was canceled in 1965, was one Bill Cullen.
During those years, two versions of "The Price Is Right" existed: one that aired during the daytime and another, syndicated version in the evening. Cullen hosted both versions. He also served as a frequent panelist on other game shows during TV's first Golden Age, including "I've Got a Secret" (via IMDb). When "The Price Is Right" was revived in 1972, Cullen was considered for the host, but he did not wish to relocate for the gig, so Bob Barker took on the daytime version of the show (via Mental Floss). 
As for Bill Cullen, he was by no means put out to pasture. Goodson-Todman Productions, which first created "The Price Is Right," hired Cullen to host several of the company's game shows over the decades, including "Child's Play," "Blockbusters," and "The $25,000 Pyramid." In all, Cullen hosted 23 game shows during his lifetime. When he passed away in 1990, The Washington Post called him "the dean of game show hosts."