Why Tom Selleck Always Wore That Same Baseball Cap In Magnum P.I.
Much has been made over the years about Tom Selleck infamously passing on the chance to play Indiana Jones in Steven Spielberg's 1981 blockbuster "Raiders of the Lost Ark." So much so it's almost easy to forget he did so in pursuit of playing a character that arguably made him just as big a star in the 1980s. That character was Thomas Magnum, whom Selleck would portray for eight full seasons on CBS' hit series "Magnum P.I."
A stylish, often hilarious blend of other era staples like "Charlie's Angels" and "The Rockford Files," "Magnum P.I." finds Selleck playing a suave, yet wonderfully fallible Vietnam veteran who, with a little help from a wealthy benefactor, makes his way as a private investigator on the island paradise of Oahu, Hawaii. Upon its premiere in the waning days of 1980, "Magnum P.I." not only became an instant hit for CBS but made a legit household name out of Selleck.
The series also made a bit of a trendsetter of the actor, with his character's island-inspired wardrobe proving the very definition of cool and easy-going in the 1980s. There was, however, one part of that wardrobe that seemed a little bit out of place, with Magnum frequently donning a Detroit Tigers baseball cap along with his island wear. Here's why Selleck chose to wear that particular hat during his time on "Magnum P.I."
Selleck was born in Detroit and remained a Tigers fan long after leaving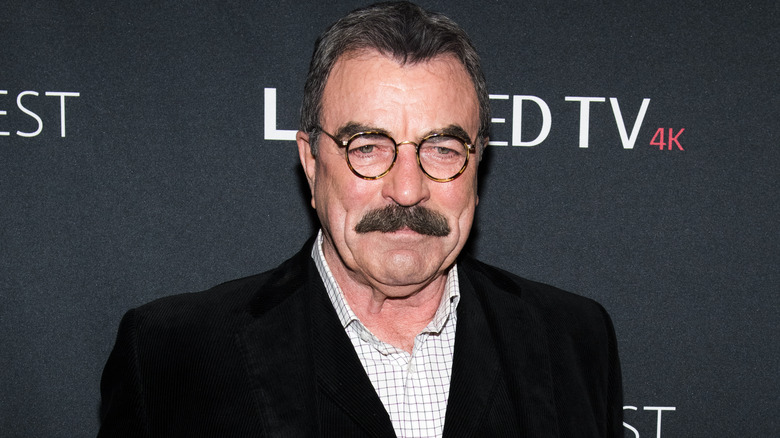 Noam Galai/Getty Images
There is, in fact, a very good reason Tom Selleck added that Detroit Tigers cap to his "Magnum P.I." wardrobe, and it's because the actor is a longtime fan of the team. Selleck was born in Detroit and spent the first few years of his life there. During that time he became a diehard Tigers fan and continued to follow the team into adulthood. Asked if he still rooted the team during a 1986 television interview (in which he's seen donning full Tigers attire, and even hitting a home run in the team's ballpark), Selleck candidly responded, "Always."
Selleck re-affirmed his devotion to the Detroit Tigers in a recent interview with Michigan Matters. In doing so he also confirmed he was the person responsible for Thomas Magnum wearing the hat in "Magnum P.I.," stating, "I was born in Detroit, and have been a Tigers fan all my life." Selleck continued, "Basically, I felt Magnum was a ball-cap kinda guy. And I just said 'I wanna wear the Detroit Tigers cap." Producers on the show wisely let their star roll with the idea, and the cap soon became as much a part of Magnum's signature style as floral shirts and Selleck's signature mustache.
Not only that, but according to Selleck's claims, the Detroit Tigers hat became one of Major League Baseball's best-selling adornments after he started wearing it on the series. According to the Detroit Free Press, it eventually even earned a spot alongside one of those Hawaiian shirts in the Smithsonian's National Museum of American History — though we're not sure where they're displayed in relation to Harrison Ford's iconic Indiana Jones gear.