Whatever Happened To Deadliest Catch's Zack Larson?
Like virtually every other show in the genre, Discovery Channel reality series "Deadliest Catch" is compelling not just on the strength of its premise but due in large part to its recurring cast of characters. New viewers may be drawn in by its subject matter — crab fishing off the coast of Alaska — but returning viewers are most likely interested primarily in the latest developments in the lives of its principal players, many of whom are the captains of the fishing vessels featured from season to season.
Captain Elliot Neese, for example, could become combative on-camera, and abruptly exited the series in order to check himself into rehab, providing plenty of fodder for his on-screen storyline. Meanwhile, some users online determined Captain Sig Hansen to be consensus fan favorite captain on "Deadliest Catch," due to what many perceive to be a high level of competency at his job.
"Wild" Bill Wichrowski is another complex captain, who first appears in "Deadliest Catch" Season 6. His introduction also marks the first appearance of his son, Zack Larson, who remains a cast member through Season 15, and even appears briefly in Season 18 (via IMDb). Given his recent absence, save for that sole season 18 cameo, some viewers may be wondering what became of Larson during his time away from "Deadliest Catch."
Zack Larson's relationship with his dad is complicated, but not all bad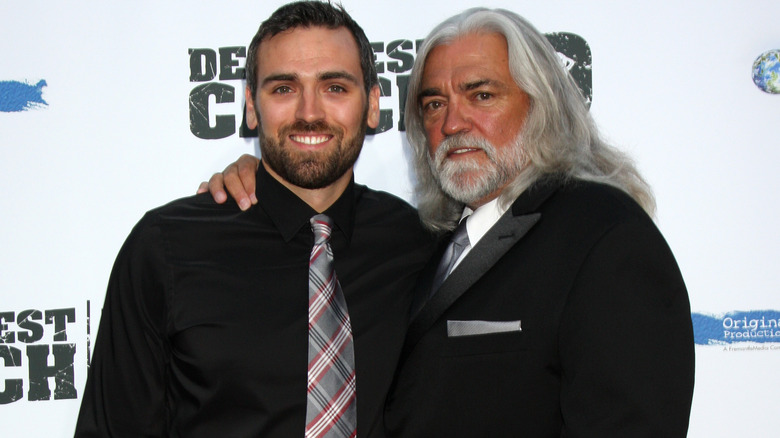 Kathy Hutchins/Shutterstock
Zack Larson is introduced alongside his father, Captain "Wild" Bill Wichrowski, and their relationship is a large part of what drives Larson's storyline over the course of his "Deadliest Catch" tenure. Larson, notably, does not always get along with his father, reflected by the fact that he opts to use his mother's surname rather than that of his dad.
Nevertheless, Larson and Wichrowski appear to be dedicated to staying in one another's lives. Larson even shared a positive update about their relationship in 2019 to his Instagram account, shortly before his last Season 15 appearance and subsequent break from "Deadliest Catch." "A lot of people have helped me get to this point in my career. My dad, @captainwildbill_official doesn't get enough credit for that. Though the past few years have been strenuous on our relationship. We have also been working at getting back to what we had before," Larson wrote.
Since Larson has been featured on "Deadliest Catch" on only a couple of occasions since this post, viewers don't have all that much insight into how their relationship may have improved outside of what's available on social media, but nevertheless, this appears to be an altogether positive development in the lives of two fixtures of "Deadliest Catch."
Zack is a captain himself
As seen on "Deadliest Catch," Zack Larson starts out as a crew member on his father's ship, before joining Captain Sean Dwyer's crew. More recently, however, Larson has become the captain of his own boat, called Elinore J. In early 2022, Larson shared to his Instagram account that he led a cod fishing expedition near Port Moller, located in southern Alaska, suggesting that captaining remains the primary focus of his career.
Outside of leading fishing expeditions, Larson lent his name to a coffee blend sold by The Coffee Fool, who have also collaborated with singer Lisa Loeb. Proceeds from Larson's coffee — which claims 50% more caffeine than normal — benefit a charity called Castaway Kids Mexico, which aids children in the Guaymas and Sonora with housing and education.
So, even though Larson may not be featured on TV regularly anymore, he appears to be plenty successful at his own business ventures off-camera, as both a captain and public figure.