The Real Reason Kiernan Shipka Isn't Ready To Say Goodbye To Sabrina Spellman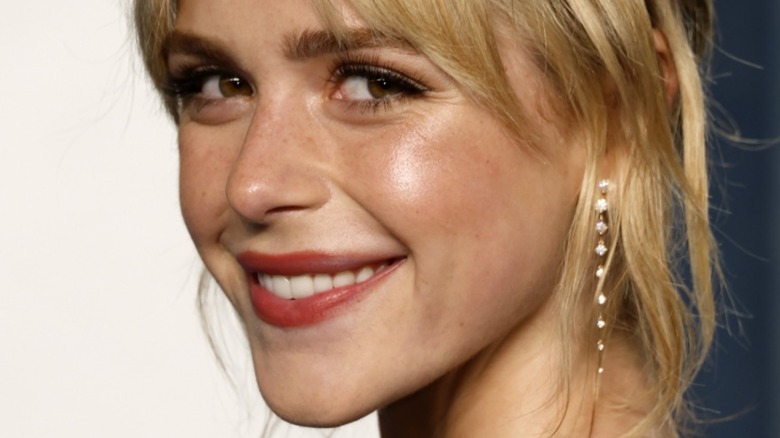 Frazer Harrison/Getty Images
The decision to cancel "The Chilling Adventures of Sabrina" after only four seasons was an exercise in cruelty. After a high-stakes season of battling The Eldritch Terrors, half-witch Sabrina Spellman (Kiernan Shipka) sacrifices herself in a tear-jerking sequence leaving everyone she loves devastated. So much so that in the series' final moments, her beloved Nick Scratch (Gavin Leatherwood) goes to the Sweet Hereafter because he cannot bear to be without her.
Sweet right? Kind of. Teens should not voluntarily leave this mortal coil, and Sabrina Spellman should not be leaving us. But for those still in their mourning period, all is not lost. We may be without the delightful company of Ambrose (Chance Perdomo) and the rest of the Spellman clan, but Sabrina lives again in the "Riverdale" universe. Two years after the ending of "The Chilling Adventures of Sabrina," Shipka appears in Season 6 of "Riverdale" to help Archie (K.J. Apa) and his friends. To the delight of fans everywhere, Shipka continues to gravitate towards the role of a lifetime for a specific reason.
Sabrina's story isn't over yet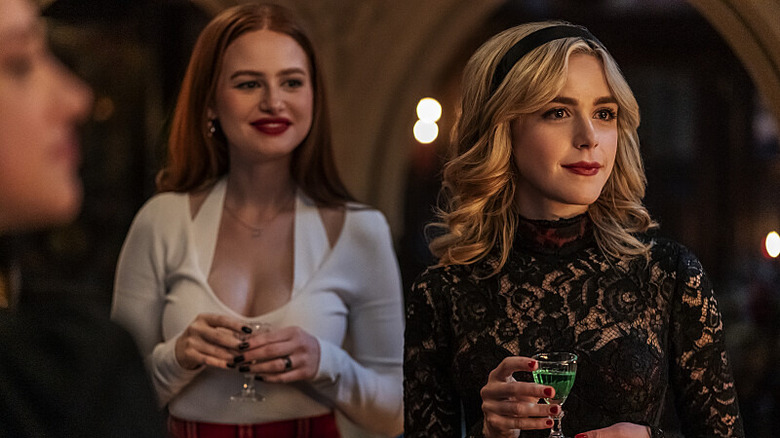 The CW
When "The Chilling Adventures of Sabrina" was axed by Netflix, it seemed that Sabrina would be stuck in the afterlife forever. But thankfully, Sabrina Spellman has been brought back to the Archie universe twice. Kiernan Shipka is more than happy to give the people what they want, as she stated in an interview for Collider.
"She means a lot to a lot of people, and it's fun to share her with everyone, and it's really fun to not only be her but to get people excited about her," Shipka explained, "I, certainly, and I think Roberto [Aguirre-Sacasa] too, want to continuously see where she could go. I truly don't know what that looks like, but I am up for it. I don't know if it's a year from now, I don't know if it's two or three, but I'm still Sabrina." Sabrina still had so much more life to live, and many would delight in seeing more adventures, chilling or otherwise.
Sabrina comes to the rescue in a "Riverdale" episode, with her death explained away quickly in a few lines of dialogue. Nick used his soul as collateral so that Sabrina could live again. If her arrival to help resurrect Archie and Jughead (Cole Sprouse) is any indication, there may be more in store for fans in the future.
Riverdale remains open for a Sabrina renaissance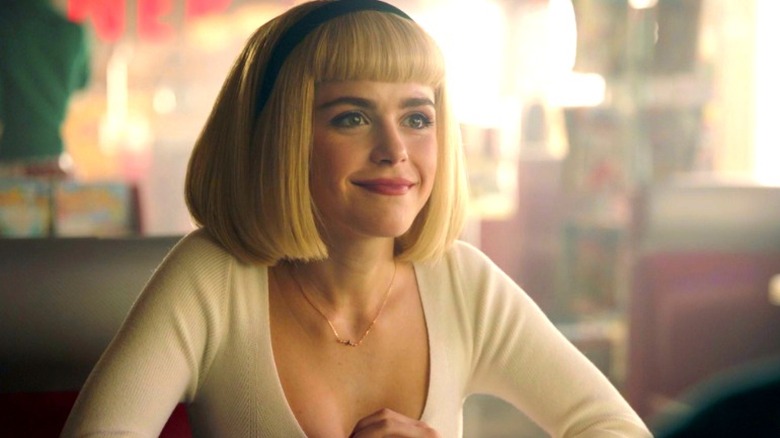 The CW
With the wild journey that "Riverdale" has taken us on for the past five years, a return for Sabrina seems like an obvious choice. The CW mystery series was never overly concerned with realism, but it kicked it up with the "Rivervale" arc in Season 6. In the five-episode arc, fans were confronted with an alternate universe full of horror and the supernatural. Now at the tail-end of the season, entertaining the idea of witchcraft is more possible than ever. What we know so far about Season 7 is minimal, but it could mean that Sabrina will make a substantial return.
"She has to come back," Kiernan Shipka told Collider: "I think they're gonna need her, to be quite honest." There would be no better way to bring the nonsensical and, at times, iconic series to a close. 
For some, it marks an end of an era. Star K.J. Apa admitted to TVLine that although it seemed likely for the show to reach its conclusion, it is an emotional time. The kids of "Riverdale" have faced serial killers, cults, and parallel universes, and what they need now is a spectacular send-off. Bringing back Sabrina would be the cherry on top of a truly unforgettable series.