What Joe Keery Did Before His Stranger Things Fame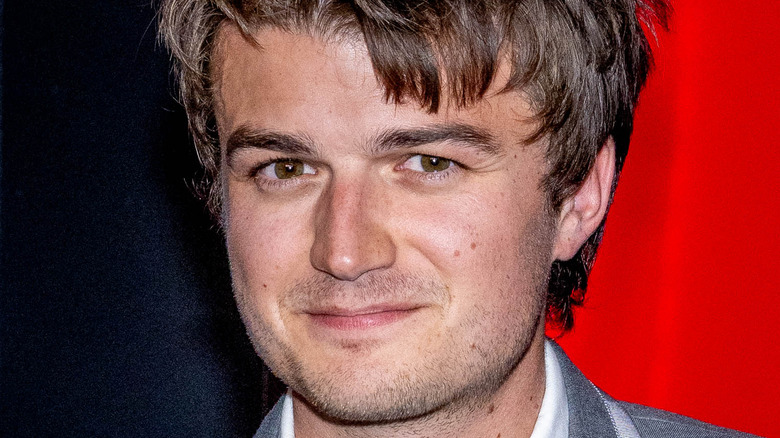 Roy Rochlin/Getty Images
Can any of us really imagine "Stranger Things" without Steve Harrington (Joe Keery)? True, our first impression of him was that of the egotistical popular kid. Some of us watching thought he'd be one of the first to go when the Demogorgon started eviscerating people — perhaps we even looked forward to it.
But it didn't take long for Steve to become a truly beloved character: loyal, thoughtful, even brave. His friendship with Robin (Maya Hawke) is hilarious, his big brother relationship with Dustin (Gaten Matarazzo) is adorable, and if Season 4 is any indication, we're even starting to wonder if he and Nancy (Natalia Dyer) really should get back together. In fact, fans have taken such a liking to Steve that, as the events of Season 4 started to play out, they threatened to jump ship if it looked like he was about to be killed off (via People).
At the center of all things Steve is Joe Keery, who actually first auditioned for the role of Jonathan (which ultimately went to Charlie Heaton). And though most of us had no idea who he was until "Stranger Things," like many new faces that seemingly came out of nowhere, he had been plugging away at his résumé for a while.
Joe Keery appeared in a Nintendo commercial before Stranger Things
Like many actors, Joe Keery started out doing commercials. In 2014, he was cast in an ad for Nintendo's amiibo as Terry, who's shown playing "Super Smash Bros." with a couple of his friends, David and Gina, on Wii U. He cajoles David's younger brother, Jack, into getting his own amiibo so that he can play with them. At first, David and Terry gang up on and easily beat him, but after a lot of practice, Jack comes back to kick everyone's butt in "Smash Bros."
Keery kept appearing in commercials even after the first season of "Stranger Things" was released, though in these cases, companies seemed to be cashing in on his believability in either a horror or a 1980s high school setting. In 2017, he appeared in a commercial for Domino's Pizza that imitated "Ferris Bueller's Day Off" (even including a cameo from Alan Ruck, who played Cameron Frye). Keery, of course, played the Ferris Bueller character. And in 2020, he appeared alongside Sarah Hyland in a Taco Bell commercial that riffed on the idea of a fake horror movie called "The Craving" (via Ad Age).
He also guested on TV shows
Joe Keery had a few small parts in TV shows before "Stranger Things" too. In 2015, he appeared in two episodes in Season 3 of "Chicago Fire" as Emmett, Mouch's (Christian Stolte) biological daughter's half brother, who discovers Mouch's identity through a security glitch at a sperm donation bank and attempts to vet Mouch to see if his little sister should ultimately meet him.
Also in 2015, Keery appeared briefly in an episode of "Sirens" in a role only listed as "scenester" and in an episode of "Empire" as Tony Trichter III, the grandson of a wealthy businessman who aspires to be a rapper. Since becoming recognizable as Steve Harrington, Keery has continued to appear in other projects, including the 2016 horror "The Charnel House"; Charlie Brooker's darkly comedic "Death to 2020" and its sequel, "Death to 2021"; and "Free Guy" alongside Ryan Reynolds as befuddled game developer Keys.