Solar Opposites Fans Have Something To Say About Yumyulack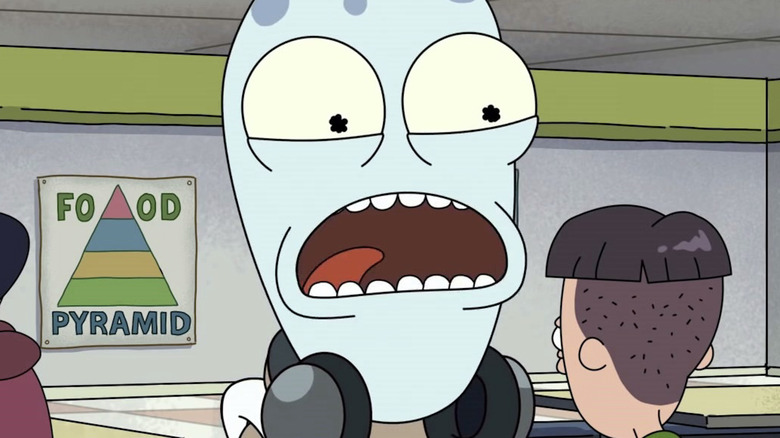 Hulu
Yumyulack (Sean Giambrone) on "Solar Opposites" is Korvo's (Justin Roiland) replicant and a self-proclaimed bounty hunter who gets very mad if a waitress brings him unwanted shrimp. The Shlorpian scientist has a knack for getting into trouble with his wild experiments on the human race.
On the critically acclaimed cartoon (via Rotten Tomatoes), Yumyulack portrays the cliche trope of a rebellious teen seen on many family sitcoms over the years. The well-crafted twist in the popular Hulu series (via Variety) is that he has the mind of a mad genius trapped in a teenage life form. The blue-skinned extraterrestrial from planet Shlorp is a crabby kid with the intelligence of an advanced alien species and an array of next-level technology available at a moment's notice. The hilarious result is a refreshing spin on the classic sitcom character. His ill-fated efforts to adjust to living on Earth and his questionable curiosity for human experimentation make up some of the show's more noteworthy moments.
The core four of Terry (Thomas Middleditch), Jesse (Mary Mack), Korvo, and Yumyulack each bring something unique to the table. "Solar Opposites" fans have plenty of opinions about each one, and some have particularly strong feelings about Yumyulack.
Some fans think Yumyulack is out of this world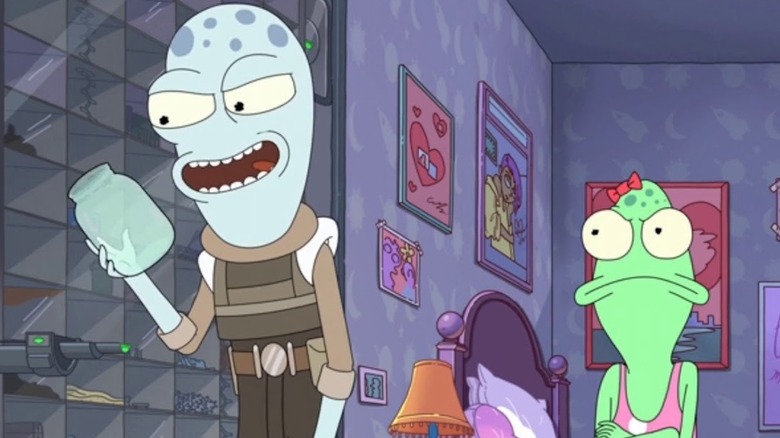 Hulu
In a post titled "Unpopular Opinion," Reddit user u/-ChickenBoi- wrote, "Yumulack is the best character. At least in my opinion." And this individual was not the only one who felt this way, as several comments reflected the same idea. Reddit user u/LewTangClan replied, "He really is under-appreciated, not unlike the Academy Award-winning film 'Suicide Squad.'" And Reddit user u/mybuddymyguy added, "Yumyulack is the best! I think Sean Giambrone was the perfect choice."
Sean Giambrone, who voices the character of Yumyulack, discussed his thoughts on the fan-favorite character in an interview with Review Nation. He said, "I love playing the character because it's a departure from anything I've played before. The writing has the same vein as 'Rick and Morty' does. But yeah, it's fun." He went on to discuss that he likes how the character started as a bounty-hunter-in-training-type on the homeworld and the adjustment he endures living a less eventful lifestyle while still being able to do cool alien things, like the Wall experiment.
Whether using medical weapons on zombies or lobotomizing kids with diet soda, it's never a dull moment with Yumyulack. The replicant has a ton of stellar sci-fi gadgets that make Iron Man look boring, and his experiments have led to some side stories that "Solar Opposites" fans find truly riveting.
While viewers have plenty to say about the show's hilarious extraterrestrials, there are many reasons Yumyulack is a contender for the best Shloprian on the series, and some fans have started to take notice.