The Solar Opposites Storyline Fans Wish Got More Screen Time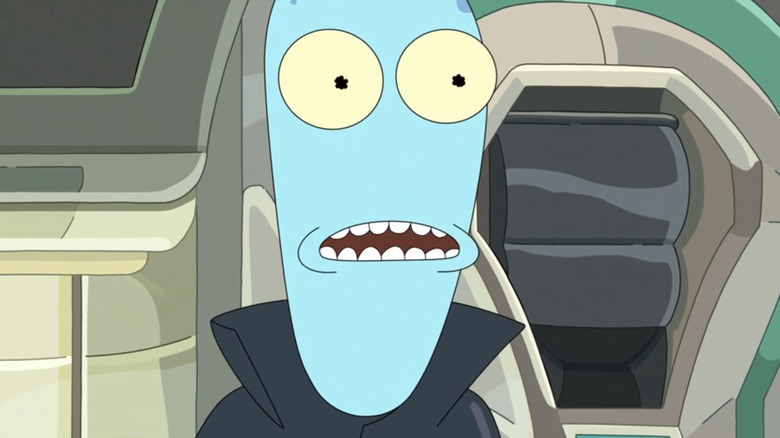 Hulu
If you have a slightly twisted sense of humor with a penchant for sci-fi and adult animation, Hulu's "Solar Opposites" is surely on your watch list. Brought to you by one of the creators of "Rick and Morty," Justin Roiland, the series follows aliens, Korvo (Roiland), Terry (Thomas Middleditch), Yumyulack (Sean Giambrone), and Jesse (Mary Mack), who crash-land on Earth after they are forced to flee their home planet, Schlorp. The Schlorpians, along with their ward, the Pupa, wreck all kinds of havoc on their neighborhood, including injecting the town's water supply with nanobots, releasing a killer female robot, and building a new city in the woods.
If Seasons 1 and 2 weren't crazy enough, you may want to buckle up for Season 3, which will be available to stream on July 13. "I think we're still pushing the boundaries, too, going into Season 3. Like holy s***, there's some stuff in Season 3 that's really f***ing insane," Roiland told SyFy Wire. Before Season 3 premieres, let's take a look at the "Solar Opposites" storyline fans want more of.
Fans love the Wall in Solar Opposites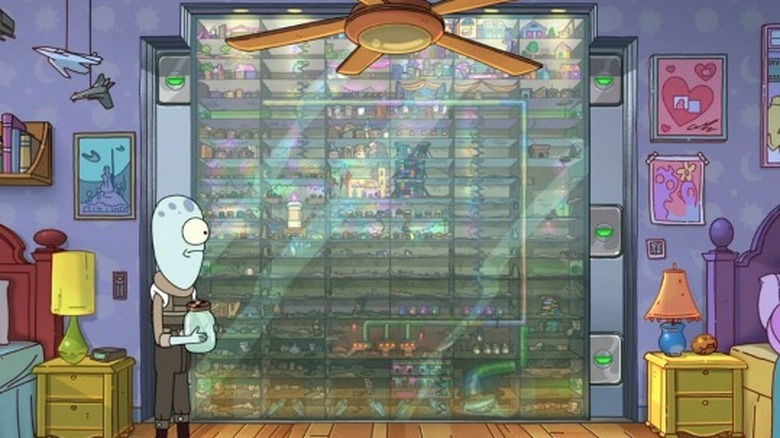 Hulu
"Solar Opposites" is a show filled with chaotically fun storylines, but the Wall stands out. It follows all of the adults Yumyulack has shrunk for fun as they form a miniature society within the terrarium-like wall in Yumyulack's bedroom. Tyranny, rebellion, and religion all rise within the Wall, creating a hilarious yet often dark storyline that occurs alongside the Solars shenanigans. User u/FlaminRain raved about the Wall, calling it their referring it to their favorite storyline across the series in a Reddit post. They added, "I've never seen a subplot this fun and entertaining... But I love it I literally got teary eyed over a story of tiny people and fermented pee."
U/FlaminRain isn't the first fan brought to tears by scenes in the Wall subplot. Others responded with similar sentiments and their hopes for more Wall action. U/SamwiseG123 even wants a Wall spinoff and wrote, "Couldn't agree more, I really want The Wall to become its own dramatic series on Hulu." U/RumBum09 also wants a Wall series and wrote, "I would love if they split it off into 2 different shows," and even goes so far as to add, "I hate to say it but I almost like it better than the actual show." Meanwhile, U/Dirtypinheaddan would be happy with something shorter and replied, "I want a Wall hour long special."
It looks like fans won't have to wait long to see more of the Wall. In an interview with SyFy Wire, "Solar Opposites" co-creator Mike McMahan confirmed, ​​"[We wanted to continue] building out the story of the Wall and we continue to do that in Season 3 into a whole new direction and a really cool way."