Frasier Fans Make It Abundantly Clear Who Their Least Favorite Character Is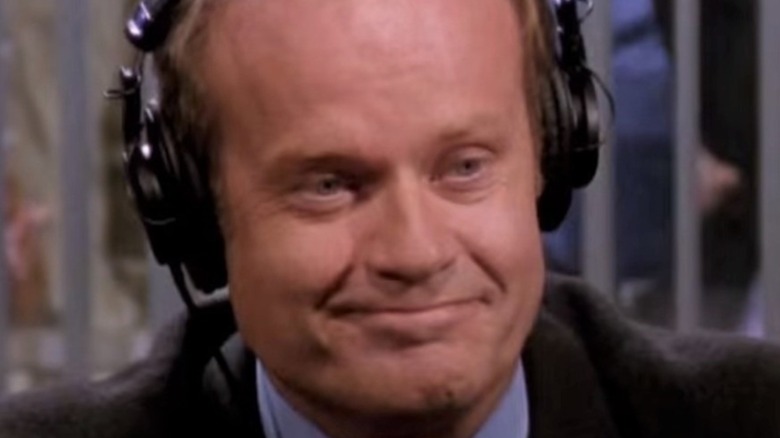 NBC
"Frasier," the sitcom created by David Angell, Peter Casey and David Lee, ran for 11 seasons from 1993 to 2004, during which it received immense praise — it even became the sitcom with the most Emmy wins ever (via Yahoo! News). Now, the series remains a beloved sitcom classic and, from our standpoint, is one of the most rewatchable sitcoms of all time.
The series follows uppity psychiatrist Frasier Crane (Kelsey Grammer) — who originated on "Cheers," which "Frasier" is a spinoff of — as he moves back to his hometown of Seattle, Washington, to take a job as a radio psychologist. Once there, he moves into a luxury apartment, planning to live on his own, only to have his father, Martin (John Mahoney), whose personality is the exact opposite of Frasier's, move in with him. Consequently, Daphne Moon (Jane Leeves), a quirky British health care worker, moves in as well to take care of Martin, who recently had to retire from his job as a detective because he was shot in the hip on the job. The rest of the main cast is rounded out by Frasier's brother, Niles (David Hyde Pierce), a fellow psychologist who is just as snobby as Frasier and even more neurotic, as well as Frasier's producer Roz Doyle (Peri Gilpin), a confident single woman with an active sex life.
There's definitely a lot to love about each of these characters, but fans are bound to still have a least favorite. Here's the character who doesn't stack up to the rest in fans' minds — at least according to Reddit.
Fans like Daphne the least
One fan, u/pinkcloudbunny, took to Reddit to post a poll asking fellow fans to pick their least favorite of the main characters of "Frasier." The poll received 525 total votes and pointed to a clear winner of who is the least liked: Daphne, with 251 votes. The next least-liked is Roz, who received 106 votes, followed by Frasier with 96 votes. That leaves Niles and Martin as the two fan-favorite characters, but they still received some votes — Martin received 48 and Niles got 24. Notably, quite a few fans posted in the comments that they refused to vote on the poll, as they love all five of the main characters.
Many fans who voted for Daphne noted that they found her to become less likable as the show progressed. One fan, u/kiwipatra, revealed that they liked her the most around Seasons 3 and 4, but that they think her character went downhill from there. Another fan, u/kquinn00, explained, "I only voted for Daphne because she changed so much over the seasons, loved her in Season 1 and by 7 she really got rather annoying." Adding on to that, u/AnthonyK_ stated that they think Daphne started to become annoying after she and Niles finally got together (at the end of Season 7). On a more generous note, u/iustitia21 wrote, "Unfortunate because I think [Daphne] was handed the short end of the script."
However, there were still a few Daphne defenders in the comments. One fan, u/Zealousideal-Tie1474, declared that Daphne is their favorite and that they don't understand why other fans dislike her in later seasons. Another user pointed out that "Daphne is the glue that holds the other [characters] together."
Leeves loved playing Daphne
In a 2010 interview with FVC, Jane Leeves discussed her time playing Daphne Moon on "Frasier." After explaining how easy it was for her to get the job — she was suggested by the studio and was hired after just one reading with Kelsey Grammer — she expressed her love of playing Daphne and the fun she had with the character. "I was really silly, you know, I was like, this is fantastic!" Leeves recalled. She added that from the get-go, she started ad-libbing lines for Daphne, confident that she knew what the character would say in certain situations.
Leeves also discussed the impact that the cast's off-screen chemistry had on the success of the show. "None of us were ever in our dressing rooms, we would hang out in this green room which was at the end of the hallway and, you know, just from the word 'go' developed these amazing relationships," she explained.
The actress also spoke to Vanity Fair about her fond memories of playing Daphne for a 2018 oral history of the sitcom. Leeves said, "Daphne was like a pair of comfy shoes. She had a sort of earthiness and honesty that definitely came from me."