New House Of The Dragon Images Are Extremely Revealing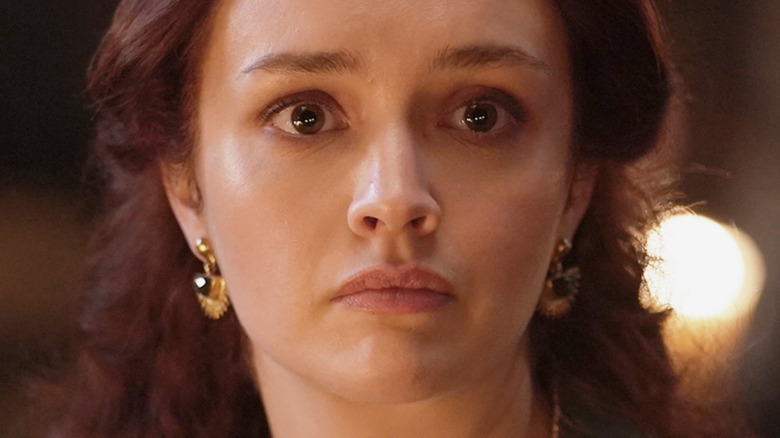 Ollie Upton/HBO
HBO's "Game of Thrones" prequel "House of the Dragon" is steadily nearing its premiere date, at which point viewers will be able to tune into some of the moments that laid the fictional groundwork for HBO's flagship fantasy series. Specifically, the events of "House of the Dragon" take place roughly 200 years before those of "Game of Thrones." In effect, this means that, while certain names may sound familiar to existing fans, its world will look somewhat different in most regards than that of "Game of Thrones."
Of course, while its setting may be fresh, "House of the Dragon" faces the inherent prequel problem of having to dramatize events to which most viewers already know the ending, based on their existing "Game of Thrones" knowledge. For what it's worth, George R. R. Martin is a fan of "House of the Dragon," having praised the work of some of its key creatives.
Now, with its premiere date imminent, Entertainment Weekly published a series of nine new "House of the Dragon" photos, revealing some intriguing details about the forthcoming series.
House of the Dragon will be a new take on old material
Many of the nine photos shared in Entertainment Weekly's "House of the Dragon" preview predominately serve to showcase some of the show's principal characters, like Alicent Hightower (Olivia Cooke) and Daemon Targaryen (Matt Smith).
The first three photos in the series, however, arguably reveal the most about how "House of the Dragon" will approach its source material. The first image is of the Great Council of Harrenhal, formed to peacefully select a new ruler of the Seven Kingdoms. Notably, King Jaehaerys Targaryen (Michael Carter)'s presence contradicts information from the book "Fire and Blood," which series co-creator Ryan Condal explained is due to the book's subjective point-of-view versus the show's objective telling of the same series of events.
Then, text accompanying an image of teenaged Rhaenyra Targaryen (Milly Alcock) and Alicent (Emily Carey) explains that, also unlike the book, the show will take place chronologically, meaning these teen actors will precede the adults who will portray the same characters for the balance of the show.
Finally, the third image showcases a version of the iconic Iron Throne much larger than what was in "Game of Thrones," more closely matching George R. R. Martin's text description, and reflective of a greater wealth during the time in which the show is set.
A closer look at the cast of House of the Dragon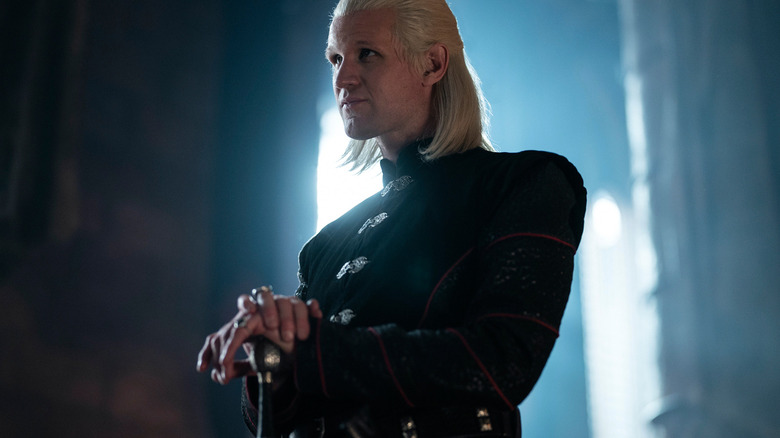 Ollie Upton/HBO
The fourth photo in Entertainment Weekly's slideshow is of Otto Hightower (Rhys Ifans) glancing down imposingly on his young daughter Alicent. Ifans told EW that, as the Hand of the King, Otto is required to maintain an all-encompassing awareness of the major goings-on within his kingdom, hence his stark presence.
Next up is a picture of Daemon Targaryen decked out in jousting armor modeled after a dragon of his named Caraxes. This is followed by another photo of Daemon, wielding his Valyrian steel blade, named Dark Sister, in a duel against Ser Criston Cole (Fabien Frankel). The following photo depicts Damon holding a dragon egg, which — unsurprisingly to existing "Game of Thrones" fans — the article notes is an object of great importance to Targaryens.
Second-to-last is a new look at the seafaring Lord Corlys Velaryon (Steve Toussaint), nicknamed Sea Snake, and slated to eventually lead his own spinoff. He sits opposite his wife Rhaenys Targaryen (Eve Best). Toussaint told EW that "Sea Snake and his wife are the ones you most root for because they're actually about love."
Finally, the last image in the series is of a harrowing moment well-familiar to readers of "Fire and Blood" known among fans simply as "eye for an eye."
Viewers can witness how these and other details build on existing material in both "Game of Thrones" and Martin's writing when "House of the Dragon" premieres on August 21.