The Hilarious Guest Bill Murray Brought On Set For Ghostbusters: Afterlife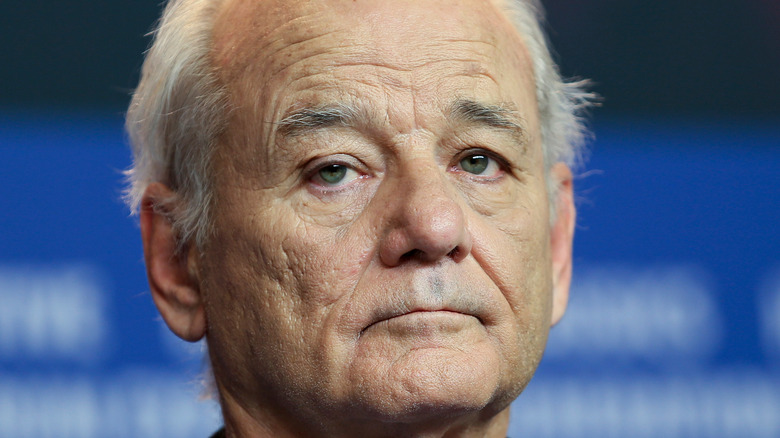 Denis Makarenko/Shutterstock
The "Ghostbusters" franchise came back in a big way in 2021 with the release of "Ghostbusters: Afterlife," which served as the proper third entry in the series after the 2016 "Ghostbusters" all but separated itself from what came before. The film is set 32 years after the events that transpired in "Ghostbusters II" and focuses mainly on new characters Trevor (Finn Wolfhard), Phoebe (Mckenna Grace), and Callie (Carrie Coon), who are direct relatives of Egon Spengler (Harold Ramis).
However, the movie does feature the significant appearance of original cast members Bill Murray, Dan Aykroyd, and Ernie Hudson toward the end. This moment offers up all sorts of fun fan service for viewers. It's clearly a movie that knows its audience and it is intent on delivering that product. This was a move that was mostly successful, too. "Ghostbusters: Afterlife" was a moderate hit, grossing right around $200 million at the worldwide box office (per Box Office Mojo). And like any movie featuring legendary comedians, there are obviously going to be fun little behind-the-scenes anecdotes. One such story involves Murray bringing a particularly hilarious guest to the set of "Ghostbusters: Afterlife."
Bill Murray hired a bagpiper to show up on the set of Ghostbusters: Afterlife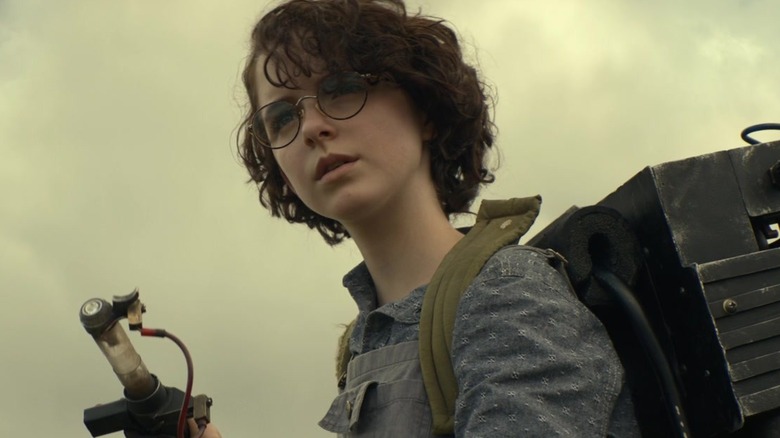 Sony
During an interview with Comic Book, stars Finn Wolfhard and Mckenna Grace revealed that they got to be around Bill Murray for his birthday, and the actor decided to hire a bagpiper to follow him around all day. According to the story, Murray would act as if the bagpipe player wasn't behind him most of the time, which definitely sounds like a classic Murray joke come to life.  "He pretended like he wasn't behind [Murray]," Wolfhard recalled. The duo explained that at lunch, Murray treated everyone to a rendition of an old Scottish song that Grace really enjoyed.
Wolfhard and Grace also revealed that they got on well with Murray in general, and he and Wolfhard often spoke about Wes Anderson and music in general, especially bonding over a certain blues concert taking place in New Orleans. Still, hiring a bagpipe player to follow him around all day on the set of "Ghostbusters: Afterlife" is a risky move, but one that Murray seemingly pulled off, at least in Wolfhard and Grace's eyes. Funnily enough, it doesn't seem all that out-of-character for his Peter Venkman character, either, so it's a wonder that they didn't include a reference to it somewhere in the film. Perhaps in the upcoming "Ghostbusters: Afterlife 2?" Only time will tell.