Fans Of Netflix's Arcane Have Some Strong Feelings About Its Emmy Nominations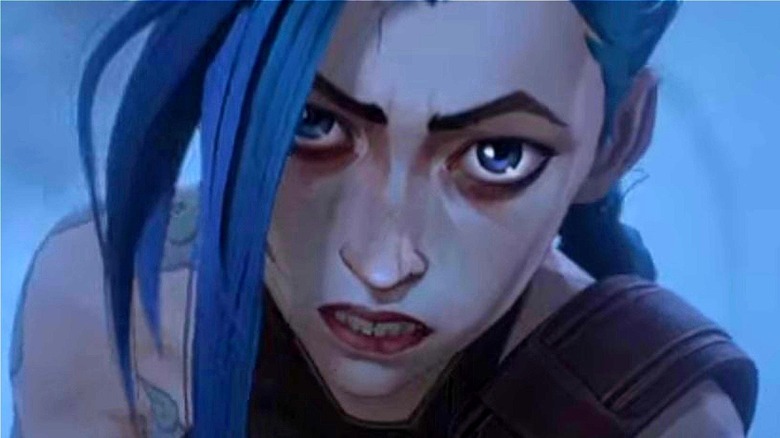 Netflix
"Arcane: League of Legends," the Netflix series based on characters from the popular esports phenomenon "League of Legends," finally proved that video game adaptations can be excellent if given the right attention to detail. Riot Games employed French animation house Forstiche to create a rich blend of hand-drawn and CG graphics that provides eye candy in every frame. Those beautiful visuals are coupled with deep characters brought to life by some serious voice talent. Add it all up, and you've got a show that everyone can love, regardless of their attachment to the video game source material.
While "League of Legends" has a wide array of characters to choose from, Riot made the wise decision to pick a select few, most notably sisters Vi (Hailee Steinfeld) and Jinx (Ella Purnell), along with mad scientist duo Jayce (Kevin Alejandro) and Viktor (Harry Lloyd) for audiences to follow in Season 1 of "Arcane." Narrowing in on these characters allowed the show to weave a lush emotional tapestry that took viewers on a journey into the steampunk utopia of Piltover and its neighboring underworld of Zaun.
The show was lauded by viewers and critics alike, and currently boasts a rare 100% on Rotten Tomatoes. And now, even the Academy has paid its dues, handing the show Emmy nominations for outstanding animated program and outstanding sound editing for a comedy or drama series and animation (via Variety). Not the wieldiest of award titles, but high honors nonetheless for a show that truly blew away preconceived expectations.
However, some fans have strong feelings about the Emmy nods for Arcane, and they weren't afraid to say exactly what they think the show really deserves.
Arcane fans celebrate the show's Emmy nominations but think it deserved even more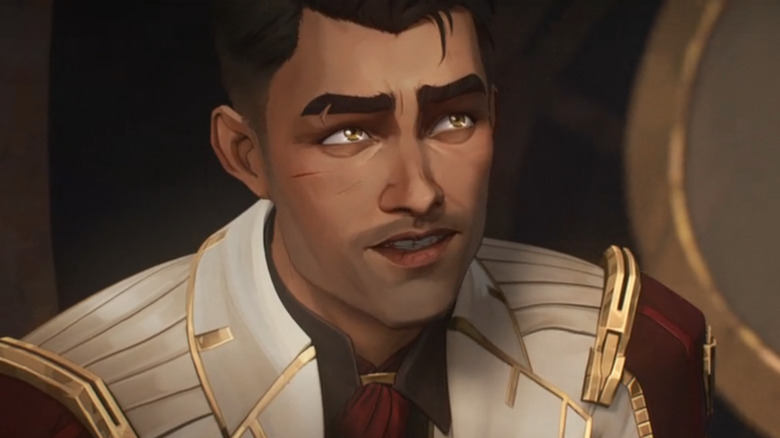 Netflix
While fans of "Arcane" are mostly ecstatic over its Emmy nominations, many seem to think it deserved to be nominated in categories that are generally considered more prestigious, while others aren't sure that Emmy voters will ever give the show its proper due. On a post to the "Arcane" Facebook page celebrating the nominations, user Liz Roman commented, "'Arcane' should've also been nominated for outstanding best drama not just animated." Jason Wendt echoed the sentiment, writing, "Kinda sucks 'Arcane' can't be nominated for best overall drama because it would win."
On the Reddit forum dedicated to "Arcane," the discussion was even more intense, with many espousing the belief that their favorite show is doomed to lose to one of its competitors in the outstanding animated program category. Among the other nominees are "Bob's Burgers," "The Simpsons," and "What If...?" As u/SoCalThrowAway7 put it, "I've seen all these episodes, 'Arcane' for sure deserves it and it's not close but Bob's burgers will win it and I'll be mad. Calling it now."
Moreover, some fans are upset that none of the voice actors themselves were nominated, most especially Hailee Steinfeld and Ella Purnell. "The Emmys made a huge mistake snubbing Hailee," said u/SteelSlayerMatt, to which u/Racetr retorted, "You mean Ella right?"
Overall, it seems fans are happy that their favorite show was nominated, even if they do have some reservations. Summing the situation up, u/destiniesfic noted, "I'm delighted they got the nom, they campaigned SO hard for it, but it's really a travesty that none of the voice actors were nominated." While fans didn't get everything they dreamed of this time around, a confirmed Season 2 of "Arcane" is on the horizon, so perhaps the second go-around will bring the series more Emmy gold.