Woody Harrelson Discusses One Of The Funniest Scenes In The Man From Toronto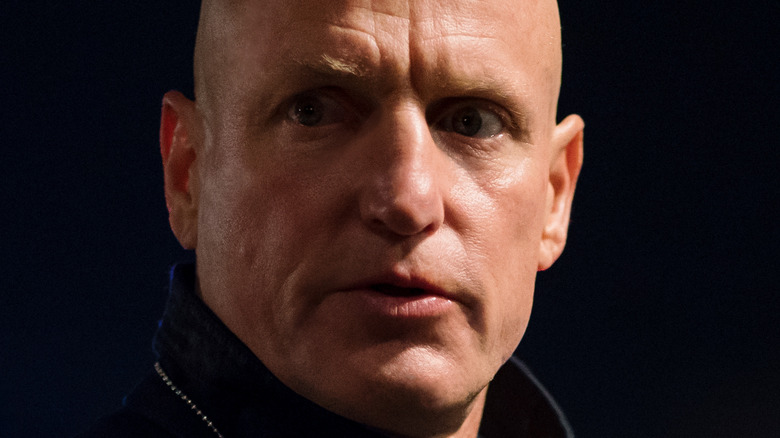 Sabrina Lantos/Netflix
The much-streamed Netflix hit "The Man From Toronto" combines high-octane humor with pulse-pounding action. The flick stars Woody Harrelson as the titular character, who happens to be a notorious assassin wanted by many an equally deadly person, and Kevin Hart co-stars as Teddy, a hapless sales consultant and aspiring gym owner. 
The two men's paths cross when Teddy travels to a small Virginia town where The Man From Toronto happens to be sent on business. Teddy arrives first and is mistaken for The Man From Toronto when he enters the cabin he believes he reserved for him and his wife, Lori (Jasmine Mathews). Instead, he ends up dodging bullets and threats when the cabin turns out to be the location of the job The Man From Toronto is hired to carry out. Teddy and The Man from Toronto must form a partnership to keep Teddy and Lori alive and The Man From Toronto's cover intact. Friendship ensues, in spite of the extremely dangerous world surrounding both heroes.
With two actors as funny as Hart and Harrelson sharing a stage, it's perhaps unsurprising to learn that while working on the film, Harrelson's funny bone was tickled. Harrelson recently described a scene from the Netflix action comedy that made him laugh.
Harrelson got a kick out of Teddy's assassin mix-up moment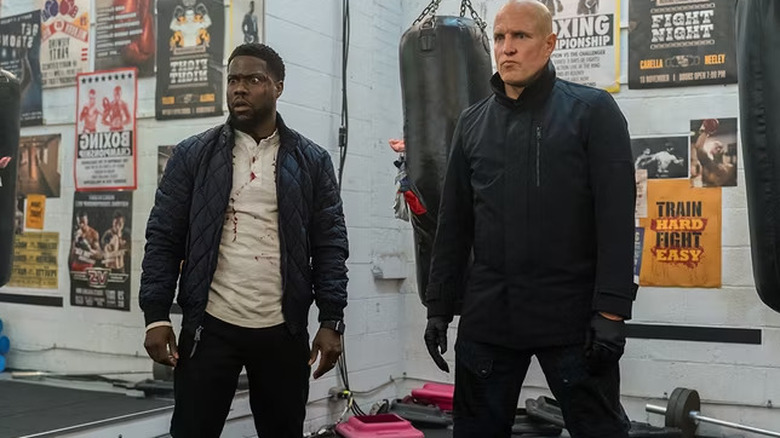 Sabrina Lantos/Netflix
During an interview with ScreenRant, Woody Harrelson admits that one particular scene from his new movie "The Man From Toronto" involving co-star Kevin Hart totally cracked him up. "There comes a moment, before Teddy becomes The Man From Toronto and starts to fake it, where [he] ends up going to the wrong location because [of] the [cabin] numbers he can't see," he said. 
Harrelson proceeded to describe a scene in which Teddy ends up at a horrifying crime scene and must maintain his cover as The Man From Toronto without cracking his cover or turning himself into a spectacle, including a man who is in the process of being tortured. (Curious fans get a preview of this rib-tickling moment in the official trailer.) With no way out of the situation, Teddy is forced to play it cool with danger all around him. Apparently Hart's acting really got to Harrelson. "What you should not do is just stay at that moment. Fast and furious, just run the hell out of there [...] That is one of the funniest scenes, to see him just start to fake it. That's about as funny as it gets."
The actor went on to explain that he's on-hand to provide the necessary gravitas a light action-comedy needs. "I felt myself more or less the dramatic relief in this, and Kevin's just about as funny as I've ever seen him," the actor admitted. 
"The Man from Toronto" is streaming on Netflix, and fans will have to keep their eyes peeled for a possible sequel.