The Mature-Rated TV Movie You Likely Forgot Starred Young Sheldon's Jim Parsons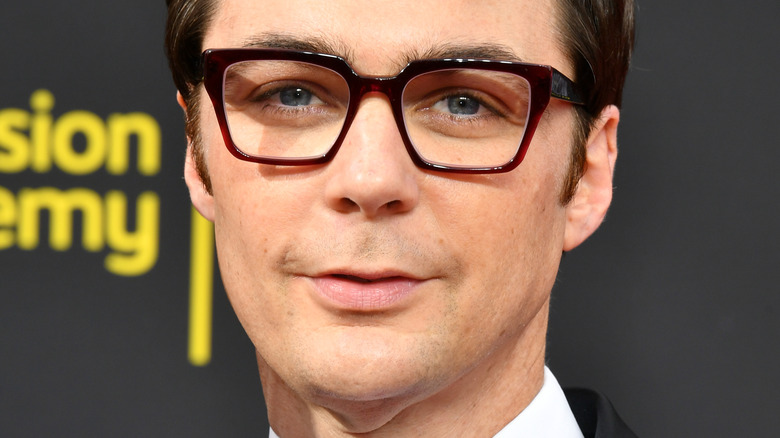 Amy Sussman/Getty Images
Sometimes, it's hard to imagine the Emmy-winning Jim Parsons portraying anyone but Sheldon Cooper. For an impressive 12 seasons of "The Big Bang Theory," he appeared on the sitcom as the quirky, self-centered, and highly intelligent theoretical physicist. With his three-knock tradition and catchphrases like "Bazinga!," Parsons cemented this character, who he now narrates the childhood of on "Young Sheldon," into pop culture.
But there's more to Parsons than Green Lantern T-shirts and defeating nemesis Wil Wheaton. Parsons boasts quite the illustrious career, in fact, that's chock-full of roles in TV, film and animation, from joining the all-star lineup of "Hidden Figures" in 2017 to portraying prosecutor Larry Simpson in the 2019 Netflix drama about Ted Bundy, "Extremely Wicked, Shockingly Evil and Vile." Parsons, a jack of all trades when it comes to entertainment, has also appeared on Broadway in a handful of shows. Credits include Elwood P. Dowd in "Henry," God in "An Act of God" and Michael in "The Boys in the Band" (via Playbill). 
However, it was Parson's Broadway debut in 2011 that not only landed him a part in a mature-rated TV movie during the height of his "The Big Bang Theory" fame, but also helped come out publicly as a gay man.
Jim Parsons is an AIDS epidemic activist in HBO's The Normal Heart
In 2011, Parsons made his Broadway debut in "The Normal Heart," a largely autobiographical story about the rise of the AIDS epidemic in New York City during the early 1980s, written by gay rights activist Larry Kramer. Parsons portrayed Tommy Boatwright, who joins what eventually becomes the Gay Men's Health Crisis. Post-Broadway, Parsons reprised his role in the 2014 film adaptation for HBO, with his work earning him an Emmy nomination. He told Screen Slam, "It's such a beautiful story of humanity and what we as fellow men can do to help each other and what can happen when we fail each other." 
In the film, Tommy has a tradition of saving the Rolodex cards of deceased friends because throwing them away feels "too final." During a standout scene, Tommy, who now has 50 cards, gives a heartfelt but frustrated eulogy at yet another funeral. "I hate the memorials," he says. "That's our social life now."
For Parsons, Tommy Boatwright is a special role. It marks one of the first times he played an openly gay man, while being one himself. His sexuality was something he kept hidden, he told The Hollywood Reporter, because "I was scared that it might cause trouble, quote unquote, for our big television show." In fact, it was during an interview with Patrick Healy for The New York Times about the Broadway production that Parsons came out. "[H]e asked about something to the effect of, 'Was it more meaningful to be a part of 'The Normal Heart' being gay?' I said, 'Yes,'" reflected Parsons. "I remember thinking it was kind of poetically perfect."