The Spider-Man: No Way Home Scene You Probably Didn't Know Was Improvised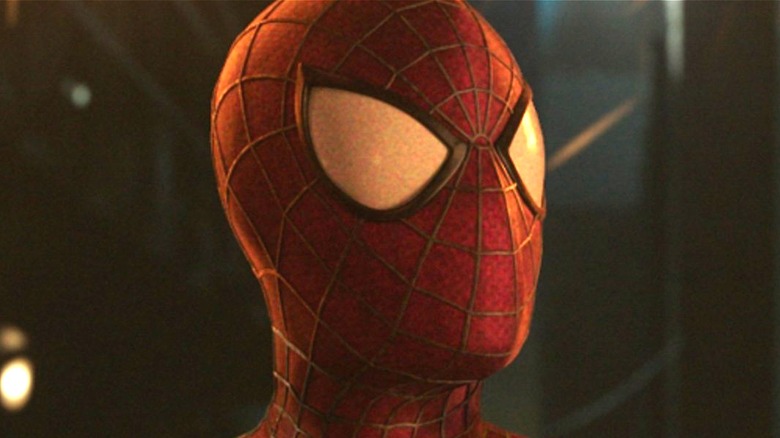 Sony Pictures Entertainment/YouTube
"Spider-Man: No Way Home" was a special treat for longtime fans of the iconic Marvel character, a movie that only gets better the more you watch it. Released at the very end of 2021, the film broke box office records — especially for a film released during the COVID-19 pandemic (via Deadline) — earning nearly $2 billion worldwide. Critics were equally impressed with the web-head's latest adventure, as "No Way Home" sports an extremely healthy 93% Tomatometer score on Rotten Tomatoes.
It seems almost perfect that "No Way Home" was released during the holiday season, as the film essentially acts as a heartfelt gift to fans who have followed all 20 years of Spider-Man's cinematic ventures, resulting in some of the most bombastic and hilarious theater reactions in some time. And one of the biggest reveals within the film — meaning, of course, that scene where the previous Spider-Men, played by Tobey Maguire and Andrew Garfield, finally make their cinematic return — also featured a surprising piece of improvisation that even those making the film didn't see coming.
MJ's bread throwing was thought up by Zendaya
One of the biggest reveals in "Spider-Man: No Way Home" was the return of the two older, more experienced Spider-Men. Many audience members were equally surprised with how much Garfield, in particular, stole the show, leading to a sudden influx in demands for a new Garfield-starring sequel to get off the ground, and Garfield himself expressing openness to the idea of an "Amazing Spider-Man 3." Garfield, as well, is the first alternate Spider-Man to make his appearance: Showing up as Ned (Jacob Batalon) tries to open a portal with the intention of trying to summon the Peter they know, the so-called "Peter 3" hops through instead. In the scene, not fully convinced that another Spider-Man exists, MJ (Zendaya) continuously throws rolls of bread at him to test if he has the same "tingle" ability that their Peter does, much to Peter 3's annoyance.
In an interview with Happy Sad Confused Podcast, Andrew Garfield revealed the truth to how the funny interaction came to be. "At first, Zendaya picks up a candlestick or something to threaten me with in that first scene where I come in," he says. "But then there was this basket of bread. That was her just going, 'Can I just throw bread at him?' and [director] Jon [Watts] was like, 'Yeah, throw bread at him.' It felt like kids just playing." 
The entire scene keeps up this playful momentum, as Garfield comedically interacts with others in the apartment, and Maguire eventually enters the scene. This would not be the last memorable moment between Garfield and Zendaya: After all, one of the film's emotional high points sees Zendaya saved from a tremendous fall by Garfield, in a callback to his failed attempt to save Gwen Stacy (Emma Stone).