Andrew Garfield Finally Responds To Those Amazing Spider-Man 3 Rumors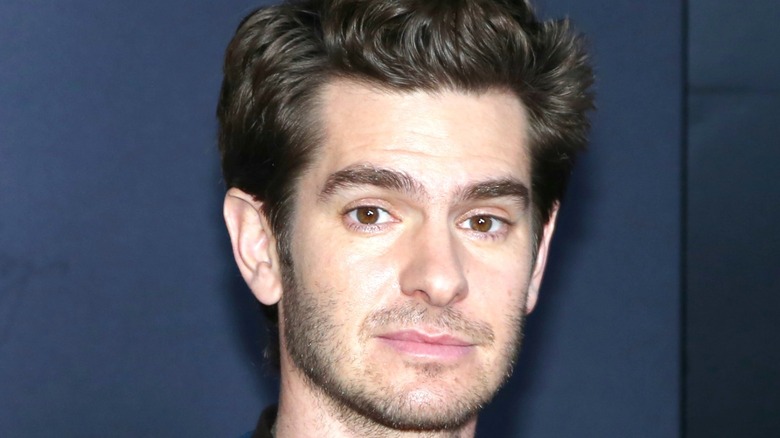 Bruce Glikas/Getty Images
"Spider-Man: No Way Home" — the third installment starring Tom Holland as Peter Parker — was one of the most anticipated movies of 2021 and, immediately after its release, began breaking box office records. As for the premise of the film that everyone was eager to see play out, "No Way Home" sees Peter ask Doctor Strange (Benedict Cumberbatch) to restore the secret of his identity as Spider-Man after it was revealed at the end of the previous film, 2019's "Spider-Man: Far From Home." In an attempt to do so, they accidentally open the multiverse, letting in villains from other realities who have fought other Spider-Men.
While the inclusion of villains from previous "Spider-Man" franchises was revealed before the film's release, the rumors of the previous Spider-Man actors themselves, Tobey Maguire and Andrew Garfield, were denied in order to keep their appearances a surprise during the movie. And, whether you believed the rumors or not, it makes for one of the most notable moments of any recent film when Garfield appears in the film, shortly followed by Maguire.
With the hype around the film — and, specifically, the on-screen collaboration of all three Spider-Man actors — there's been a lot of fan chatter about Garfield's and Maguire's "Spider-Man" movies, respectively. One of the things that fans are likely wondering is if it's possible that Garfield may return to the role for another film — after all, he is the only one of the three who didn't get three films in his franchise.
Garfield is 'savoring the moment'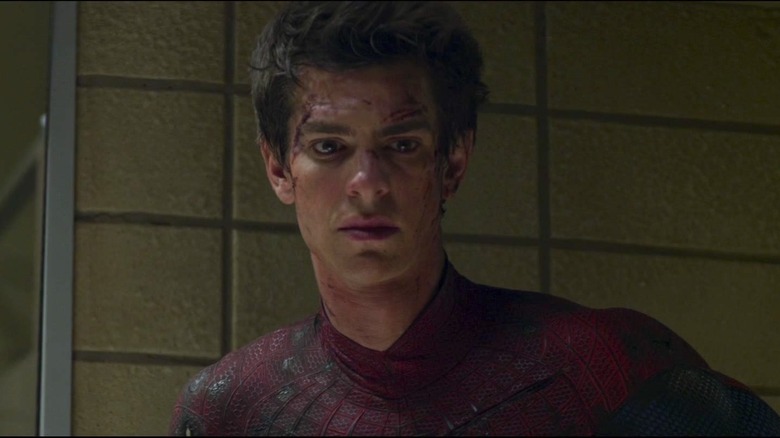 Sony Pictures
Andrew Garfield was recently a guest on the podcast, "Happy Sad Confused," during which he discussed all things "Spider-Man: No Way Home." One of the things that host Josh Horowitz wanted to know was if there's a chance that Garfield will be returning for another "Spider-Man" film. Overall, Garfield said that right now he's just enjoying the fan response from "Spider-Man: No Way Home."
"To be honest man, I'm going to honestly say I'm so happy and satisfied and grateful to be a part of this [film]," Garfield told Horowitz (via Comic Book). "It's hard to want more right now. I'm just kind of just trying to savor this moment with the fans, with the audience, and just kind of say 'Thank you.' Yeah. I just feel humble and grateful for the response."
Garfield also mentioned that working on "No Way Home" helped him feel "lighter" and "more restful" in terms of where he left his character. This comes a few months after he discussed how his difficult experience making "The Amazing Spider-Man" films. He told The Guardian in November 2021, "I went from being a naive boy to growing up. How could I ever imagine that it was going to be a pure experience? ... You add in market forces and test groups and suddenly the focus is less on the soul of it and more on ensuring we make as much money as possible." He added that he found the whole thing "heartbreaking in all matters of the culture."
Garfield is still 'open' to the idea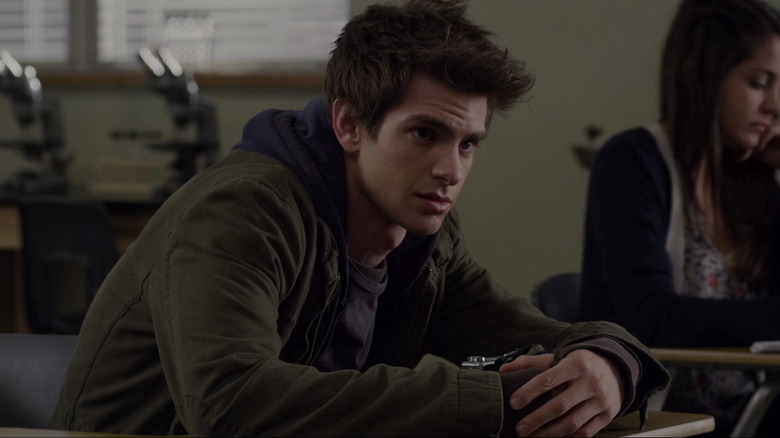 Sony Pictures
Despite his conflicted feelings about his experience leading the "Amazing Spider-Man" films, Andrew Garfield revealed to Horowitz that he is still open to returning to the character once again. "In terms of moving forward with the character, yes, I am definitely open to that and, again, it would have to be something very unique, very special and of service to the audience [and] of service to the character," he said (via Twitter), adding that his role should ideally have some "unexpected" elements to it. And, to the delight of "No Way Home" fans everywhere, Garfield concluded that he would "love" to work once again with fellow "Spider-Man" actors Tobey Maguire and Tom Holland. "I think that kind of three-brother dynamic is so ... I don't know, juicy," he quipped.
Taking all of this into consideration — Garfield's "heartbreaking" previous experience, as well as his desire for any future project to be "special" — only time will tell if Garfield ever reprises the role of Peter Parker. For now, fans can rewatch both "Amazing Spider-Man" films, as well as "No Way Home" to get their Garfield-as-Spider-Man fix.