Solar Opposites Fans Have Settled The Debate On Their Favorite Replicant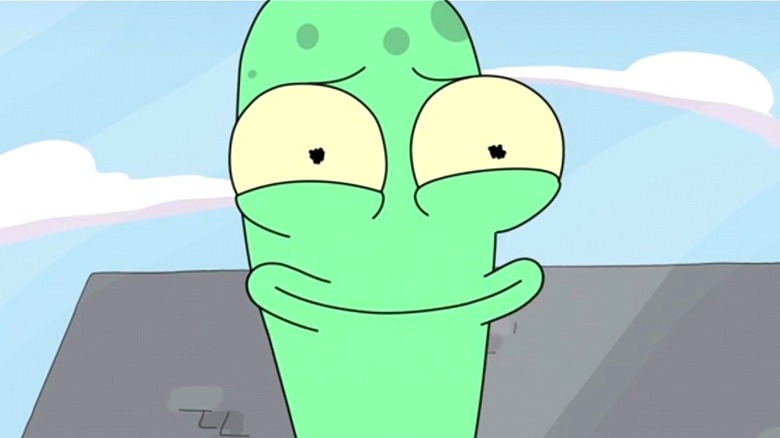 Hulu
Part of what makes "Solar Opposites" so entertaining is the dynamics between the alien family members who are now stuck on Earth and seek to eventually terraform it using the infant Pupa (Sagan McMahan). Leader and scientist Korvo (Justin Roiland) hates the planet and desperately wants to leave, but Terry (Thomas Middleditch) is obsessed with human culture to an absurd degree. Regardless of their intentions, however, the aliens often cause violent, ridiculous chaos for the humans who are unlucky enough to be nearby when their schemes and ideas go awry. The show even suggests that the Pupa will have to end human life in order to create a copy of the aliens' homeworld, Shlorp.
This contrast in the characters is also apparent in the personalities of younger alien replicants Jesse (Mary Mack) and Yumyulack (Sean Giambrone). However, if there was any question of which replicant is better or funnier than the other, this poll on the subreddit r/solaropposites determined the answer for good.
Redditors believe that Jesse is the best replicant
When asked who their favorite replicant is, 209 Redditors agreed on Jesse over Yumyulack, who earned only 142 votes. Where Yumyulack, as a replicant of Korvo, is so antisocial that he shrinks humans who offend him, placing them in a terrarium called "the Wall" inside his house, Jesse is friendly and wants to get along with humans, just like Terry.
But why was Jesse chosen by so many more of the show's fans? It's simple: Viewers love Mary Mack's performance. Redditor u/Skyhun1912 wrote, "Jesse
voice actor is amazing," while u/ZeroQuick praised, "Jesse's cadences make every line hysterical to me."
It doesn't seem like fans actually dislike Yumyulack either, but Jesse is just a weirder, more unpredictable character. Redditor u/friggintodd observed, "To hear the bats*** crazy and dirty things said by such and [sic] innocent[-]sounding voice is highly entertaining to me."
Still, at least a few devotees thought Yumyulack deserved better. Redditor u/Westaufel commented, "Yumyulack is a real bastard. My favourite character." Meanwhile, u/Code-745 insightfully replied to a comment about Jesse starting a religion with "But yumyulak [sic] sparked an entire society."
Mary Mack's voice and comedy fit Jesse perfectly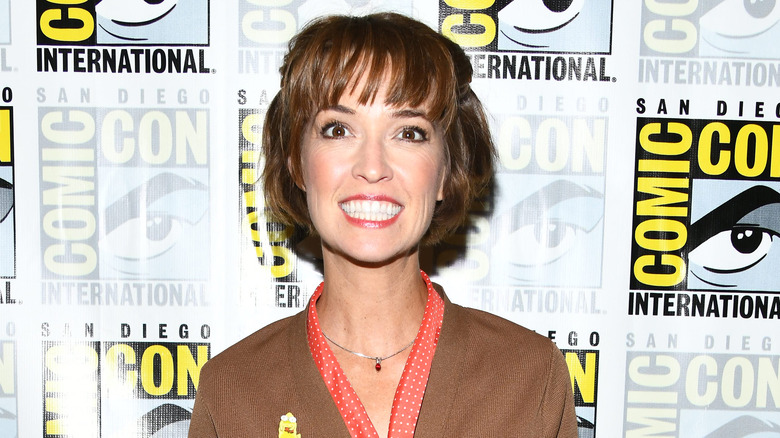 Araya Doheny/Getty Images
Born and raised in Wisconsin, Mary Mack admitted that much of her unique, perky speaking voice and perspective is owed to her birthplace (via Aberdeen News). The comedian and voice actor mused, "I'll be in L.A. for six months, but everything I like to write about is in the Midwest." Mack worked for years in the Minneapolis comedy scene, and she's released multiple stand-up albums (via Mary Mack).
Mack was previously a contestant on "Last Comic Standing," and her comedy was later featured on shows like "Conan" and "Last Call With Carson Daly." In an interview with Fox 9 Minneapolis-St. Paul, Mack revealed that she auditioned for "Solar Opposites" along with several child actors and felt ambivalent about getting the part at first. She joked about her state of mind at the time, "Oh, I guess I beat out some of the best unemployed kids in Hollywood."
Jesse might seem like she could be voiced by a kid, but it's apparent from her interviews and comedy that Mack was absolutely perfect for the character. Midwest Record accurately observed, "With her little girl voice and demeanor, Mack's zingers hit harder since she lulls you into this place where you just don't expect it."