How Jim Parsons Felt Watching Iain Armitage's Young Sheldon Audition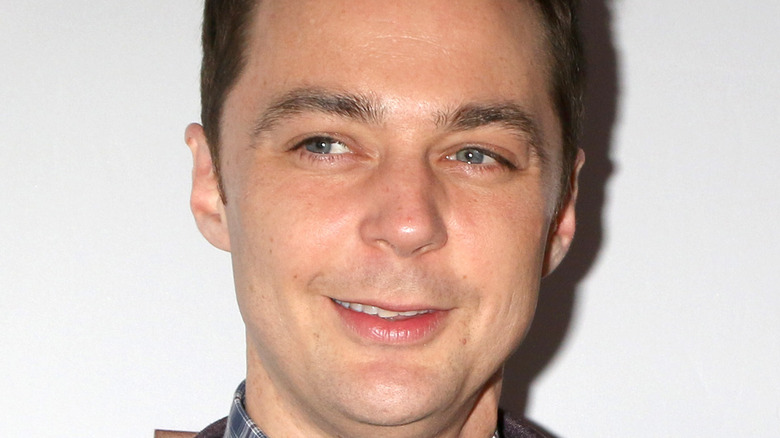 Kathy Hutchins/Shutterstock
Sheldon Cooper has remained one of the most memorable characters introduced in the CBS sitcom "The Big Bang Theory" since it made its debut in 2007. Played by Jim Parsons, the character grew over the course of the show's run, developing closer bonds with his roommates and friends, and ultimately finding love with Amy Farrah Fowler, played by Mayim Bialik.
For some time, viewers never got a first-hand look at Sheldon's childhood, only getting second-hand accounts from his siblings and mother. That changed with the spinoff series "Young Sheldon," which made its debut in 2017 on CBS, picking up Sheldon's life from the age of 9. With Parsons narrating on the latter show, performer Iain Armitage stepped into the role of Sheldon.
Armitage was previously best known for his work on the HBO series "Big Little Lies," where he played Ziggy Chapman, son of Jane Chapman, played by Shailene Woodley. Armitage had to audition for the titular role in "Young Sheldon," and here's how Jim Parsons really felt about the young actor's tryout.
Parsons was blown away by Armitage's audition
Jim Parsons has said that Iain Armitage was a natural fit for the role of Sheldon right from his audition. In an interview with Entertainment Weekly, Parsons spoke about how he had an unexpectedly emotional reaction to seeing Armitage's audition tape, adding that it was impressive to see the character performed by such a young actor.
Parsons also added that watching Armitage play Sheldon reminded him of the joy of acting as well, telling Armitage that "I don't think I've forgotten how much fun everything is, but maybe a little bit, because it definitely feels like a reminder of something when I watch you [Iain] work on all this stuff and do all this stuff."
Speaking to Entertainment Tonight, Parsons added that Armitage jumped off the screen immediately as the right choice to play the younger version of the "Big Bang Theory" character. he went on to add that the way Armitage handles the character only reinforced that the decision to cast him was the right one. "He handles the language well and he memorizes easily," Parsons said, adding that Armitage was a better actor than he was at the same age.
In an interview on "Jimmy Kimmel Live" (via YouTube), Parsons also pointed out that Armitage's self-assuredness on the audition tape made him think he was older than he actually was. "I thought, 'he looks really young but he must be 13 to be able to do this' –- but he was 8," he told Kimmel.
The two performers have become friends as well
Jim Parsons and Iain Armitage have bonded off-screen as well, further solidifying the connection between the two versions of Sheldon Cooper in the process. Armitage said that Parsons would often give him advice on how to play the character, suggesting changes in how to say a line, or whether to visibly display emotion. Parsons added that his younger on-screen equivalent's willingness to listen and account for others' feelings was actually a detriment when it came to playing the character. "There were just a couple things you had to curb," he recalled to Entertainment Tonight, "Like, 'I know you want to laugh and smile and be nice to people [but] don't do that anymore!' "
In another interview with Entertainment Tonight, the two performers also pointed out that their friendship went beyond the set, as they went together to watch the musical "Come From Away" on Broadway. Parsons playfully pointed out that Armitage drew more recognition than he did. "They love you there," Parsons concluded.
In the "Jimmy Kimmel Live!" interview, Parsons said that he gets along better with Armitage than with most children, noting, "I didn't think I was very good with kids but I'm fine with him." Parsons also said that Armitage had gotten him an ant farm as a wedding present when Parsons got married to his husband Todd Spiewak in May 2017. The gift was accompanied by Armitage saying, "congratulations on your new children," per Parsons.