Where You've Seen The Cast Of Netflix's Resident Evil Before
"Resident Evil" fans have gone through quite an unpleasant journey seeing the beloved video game franchise try and ultimately fail to make the jump to live-action. Paul W. S. Anderson's saga with the franchise brought some of the games' characters to life and managed to be pretty bloody, but often traded horror for action and barely utilized any of the game lore effectively. Then there was Johannes Roberts' 2021 adaptation that attempted to combine the events of the first two "Resident Evil" games but ultimately delivered one terrible film that critics found lacked a strong sense of horror, characters, or story.
Now, Netflix is throwing its hat into the ring with its live-action series, "Resident Evil." However, like Anderson's movies, it seems to be veering far outside franchise lore. The series jumps back and forth between two timelines. In one of those arcs, major franchise antagonist Albert Wesker (Lance Reddick) works in an Umbrella Corporation lab with his two young daughters. In the other, an older version of his daughter Jade (Ella Balinska) tries to survive in a world that's gone mad (via Deadline). 
Outside of Wesker, not many notable franchise characters are returning, meaning that "Resident Evil" fans will have a new story and cast of characters to get to know. So, where better to start than looking at the cast and where audiences might have seen them before?
Ella Balinska
Kevin Winter/Getty Images
Jade Wesker is one of the new characters introduced in "Resident Evil" and is set to lead the timeline set during a post-apocalyptic future. Although we aren't sure exactly how or why the world has become infested with genetically mutated monsters, Jade is forced to survive not only for herself but for her daughter. A recent featurette from Netflix shows Jade doing everything in her power to survive and Ella Balinska, who plays Jade, describes her as "first and foremost, a family woman."
Balinska is a major rising star in the film industry and although her role as Jade is arguably her biggest yet, audiences have likely seen her starring in well-known films and soon-to-be-released video games. Balinska's biggest role before "Resident Evil" was in the 2019 reboot of "Charlie's Angels" where she played Jane, one of the film's three titular Angels. There, she demonstrated her screen presence and ability to kick some major butt on-screen. Horror fans might also recognize Balinska from the Blumhouse and director Shana Feste's film "Run Sweetheart Run," where she's set to face off against a blood-hungry vampire after a date gone wrong. Balinska also stars in Square Enix's fantasy video game "Forspoken" as Frey, an outsider in a dangerous fantasy world.
Lance Reddick
Albert Wesker is a fan-favorite "Resident Evil" antagonist who seems to be taking a bit of a different kind of role in the Netflix series. With his two daughters under his care while he works at the Umbrella Corporation, Wesker looks like more of a family man, but his scientific endeavors still take a precedent that has deadly consequences. Obviously, Wesker's experiments are likely going to create the visceral horror landscape we see in the other timeline, but this series could shed some more light on the creation of the T-Virus and Wesker's hand in it. Maybe we'll even see Wesker become the villain fans know him to be.
Lance Reddick portrays Wesker in the series and many might recognize him from his small but noteworthy role in the "John Wick" franchise as Charon, the gentlemen concierge of the Continental. Although Reddick's role in the "John Wick" films is relatively small, his presence has always made a big impact and in an interview with Vulture, Reddick talked about his surprise at how big "John Wick" has become. Reddick also had recognizable roles in "The Wire" as the police officer turned criminal defense attorney Cedric Daniels and in "Oz" as undercover police officer Johnny Basil, introduced in Season 4.
Tamara Smart
In the pre-apocalypse timeline, viewers see a younger version of Jade, played by Tamara Smart, uncover the truth of her father's work. In a recently released featurette from Netflix, Smart talked about having to work closely alongside Balinska so that their distinctive versions of Jade would share similarities. That sense of being family-oriented helps a young Jade survive within the walls of the Umbrella Corporation as she and her sister Billie (Siena Agudong) make some horrifying discoveries. While Wesker's storyline will likely see him become more villainous and determined for his creations to work, Jade will only become more heroic.
Smart doesn't have many film or TV credits to her name but has already appeared in plenty of big movies and shows before "Resident Evil." Younger horror fans or those nostalgic for "Are You Afraid of the Dark" might recognize Smart from the 2019 reboot as one of the main Midnight Society members, Louise. Others might recognize Smart for playing Juliet in the disappointing "Artemis Fowl" film or from her appearance in the 2020 Netflix family horror film "A Babysitter's Guide to Monster Hunting," where she played lead character Kelly. Smart clearly has a love for horror and appearing in "Resident Evil" only further proves that.
Siena Agudong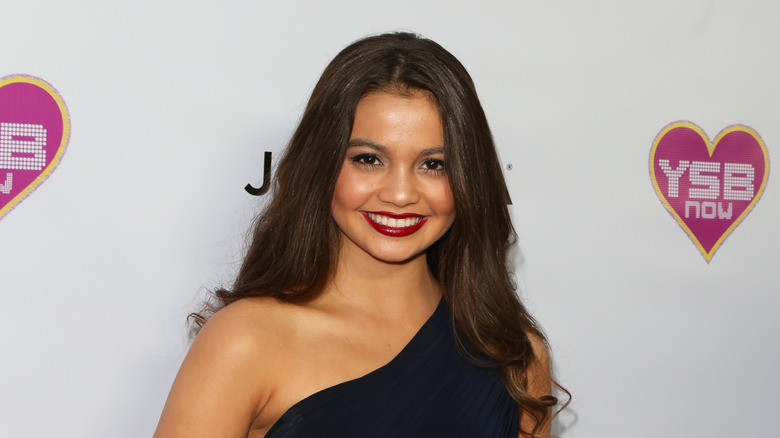 Paul Archuleta/Getty Images
Alongside Jade is her sister Billie Wesker who is a little different. As explained in a Netflix featurette by the actress portraying her, Siena Agudong, Billie is a much more passionate and curious person who can get into trouble because of these qualities and has anger issues that she tries to keep under control. Given how little of her we see in the future timeline, it will be interesting to see how her story plays out while she's with Jade and Wesker at the Umbrella Corporation. With her more curious demeanor, it's possible that Billie will be the one that discovers her father's work.
Billie Wesker is definitely Agudong's biggest role to date, but she has had some recurring roles on some Nickelodeon kids shows like "Star Falls" and "Nicky, Ricky, Dicky & Dawn," as well as some minor guest roles on Disney shows like "Raven's Home" and "Sydney to the Max." Agudong also starred in the short-lived Netflix family dramedy "No Good Nick" as the titular Nick. More recently, "Fast and Furious" fans might have spotted her in "F9: The Fast Saga" during the flashback sequences to a young Dom and Jakob having a race where she played a younger version of Mia.
Adeline Rudolph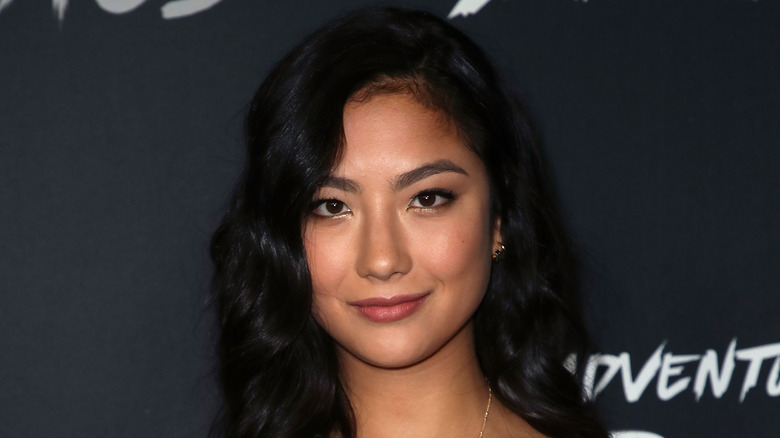 David Livingston/Getty Images
While there isn't much known about Billie's role in the apocalypse timeline, we know that she will be there in some capacity since Adeline Rudolph plays an older version of Billie. With how little we see of her and Jade together, it is curious how Billie will be involved. Perhaps her and Jade have a falling out or maybe Billie has become closely tied to Wesker's experiments that are still happening during all this madness. Hopefully, these questions will be answered by the end of the season.
Many might recognize Rudolph from two relatively significant roles she's had on both "Riverdale" and the "Chilling Adventures of Sabrina." On "Riverdale," Rudolph played persuasive art appraiser Minerva Marble during Season 5 and had a brief relationship with Cheryl Blossom (Madelaine Petsch). Rudolph has been with "Chilling Adventures of Sabrina" since the start, playing malicious and devious witch Agatha Night. Now, Rudolph is set to have another big role with Billie in "Resident Evil" and could be a major player once Billie's role in the apocalypse timeline is uncovered.
Paola Nuñez
While Evelyn Marcus is a new character for this series, she shares some familial ties to another legendary Umbrella Corporation founder. As stated by Evelyn's actress Paola Nuñez in the Netflix featurette, she is the daughter of James Marcus, one of the Umbrella Corporation's key founders and the leech-obsessed antagonist of "Resident Evil 0." It's tough to say if we'll end up seeing James Marcus as an antagonist somewhere down the road, but Evelyn's appearance certainly makes it possible. From trailers, it seems like Evelyn is Wesker's right-hand person and a key face for the Umbrella Corporation.
Nuñez is a veteran actress who has had some big roles in well-known TV series and one of 2020's biggest box-office successes. On the small screen, Nuñez has had big roles in shows like AMC's "The Son" as Maria Garcia and in Blumhouse's "The Purge" TV series as Season 2 lead Esme Carmona. Nuñez also had a sizeable role in "Bad Boys for Life" as Rita, Mike Lowery's (Will Smith) ex-girlfriend and determined leader of Miami's AMMO division, where she held her own alongside two comedic titans.
Turlough Convery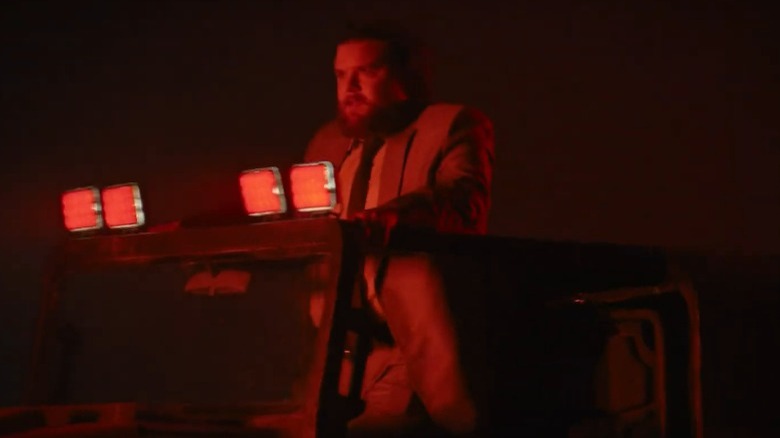 Netflix/YouTube
Actor Turlough Convery is set to appear in a mystery role in "Resident Evil." With how little we've known about "Resident Evil," it's tough to say where some of the smaller characters of the series will appear. Could they be scientists or other personalities that work within Umbrella or other survivors trying their best to deal with the monsters that surround them alongside Jade? However, given Convery's interesting filmography, it could be a surprise mystery role for a fan-favorite character or just a small side character.
Convery has had a lot of small roles in big movies like "Ready Player One," "The Current War," "Belfast," and "Saint Maud." His most recognizable role, though, is his recurring role in "Killing Eve," where he appears as investigator Bear. In the series, Bear works alongside the titular Eve (Sandra Oh) and provides some darkly humorous moments resulting from clumsiness that gets them into hot water.
Lea Vivier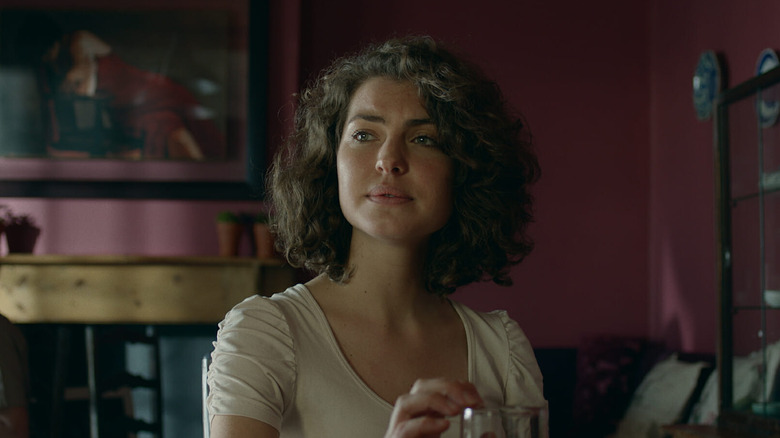 Shomax
South African actress Lea Vivier is currently set to play new character Susana Franco in "Resident Evil." With no ties to any character from the games, Franco is another character who could be a part of either storyline. Based on her name and look, though, Franco could be a member or scientist of the Umbrella Corporation that'll be a part of the pre-apocalypse storyline. It's a fair guess given how expansive the Umbrella Corporation will be in the series. 
Vivier has mostly made a career appearing in small international projects and some film roles in "The Day We Didn't Meet" and "Wonderlus." However, her biggest role to date is undoubtedly in Showmax's "Dam" where she plays the lead character Yola. In "Dam," Vivier's Yola deals with the demons of her past after she returns home in this psychological thriller series. It's unclear what the exact size of Vivier's role in "Resident Evil" is, but it's worth keeping an eye on her to see how she influences the narrative.
Anthony Oseyemi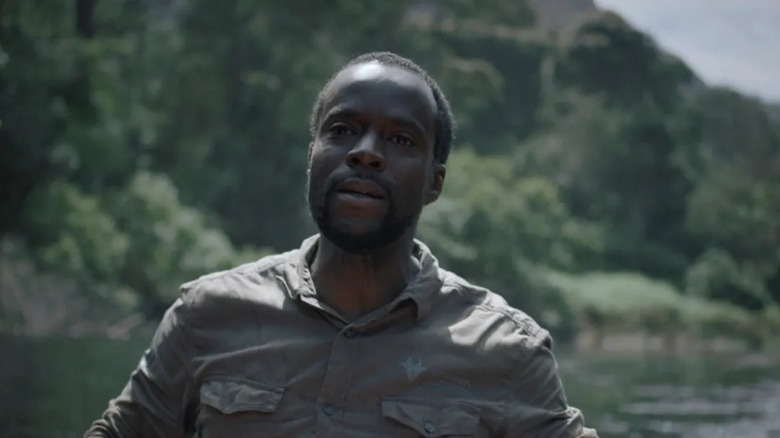 XYZ Films
Anthony Oseyemi is a Nigerian actor set to play the character Roth in "Resident Evil." Roth is another role that doesn't have many details behind it but based on his name and Oseyemi's screen presence, he looks to be a soldier-type. Whether he's a part of the Umbrella Corporation's security team or just another soldier that helps Jade in the fight against the Umbrella Corporation's mutant creations is still undetermined. Still, Roth could be a vital player in the series.
Oseyemi's filmography has mostly seen him work on international projects that range from the Norwegian crime thriller "The Congo Murders" to the 2021 ecological horror film "Gaia." Oseyemi's biggest role to date is in the 2017 Neo-Western film "Five Fingers for Marseilles" where he played the lead character, Congo. The film premiered at the 2017 Toronto International Film Festival where the film and Oseyemi's performance received critical acclaim (via Rotten Tomatoes). Given Oseyemi's past work, Roth could be a breakout character.
Evan Hengst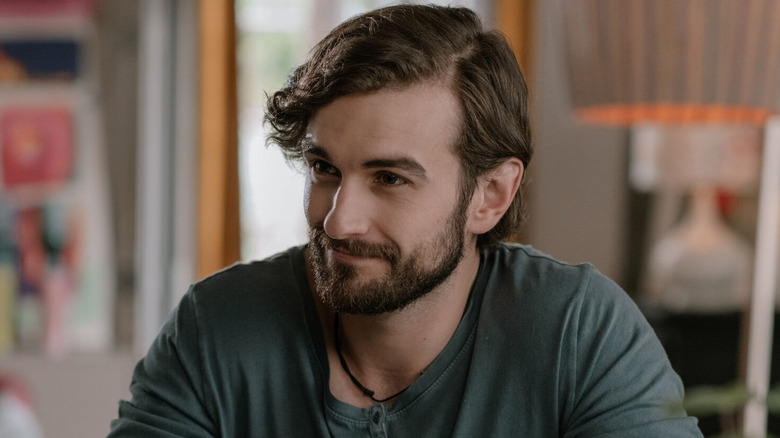 Shomax
Evan Hengst is set to play the character Carl in "Resident Evil," who could be a part of the younger characters alongside young Jade and Billie. Given what we've seen with the series, we know that the Umbrella Corporation has turned its facility into a giant community that includes a high school with a cartoon raccoon as its mascot. There are obviously going to be other kids that are Jade and Billie's age in attendance and based on Hengst's most notable role, it's possible that Carl is one of them.
Hengst has had some minor roles in movies like "The Mauritanian" and an uncredited role in "Escape Room: Tournament of Champions" but has gotten some notoriety for his role as Miles in "The Kissing Booth" movies. In those films, Hengst plays Miles, a key member of the student council who ends up in a relationship with fellow student Ollie (Judd Krok). Since Hengst is no stranger to playing younger characters, Carl could be a prominent character as the series explores the younger Umbrella Corporation community.
Ayushi Chhabra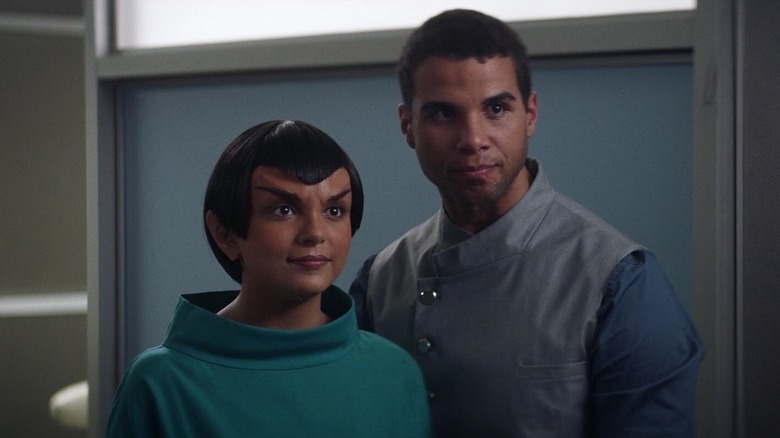 CBS
Indian actress Ayushi Chhabra is set to play the character Dr. Amrita Singh in "Resident Evil." Based on the character being a doctor, it's fair to guess that Singh is likely going to be one of the scientists working at the Umbrella Corporation. Will she be one of the lead scientists that helps create the T-Virus and all the horrifying creatures that eventually take over the world? That will be revealed, but she could help round out some of the Umbrella Corporation cast that's been mostly kept in the shadows.
Much of Chhabra's career has seen her mostly play smaller roles, and one of those smaller roles was on a beloved "Star Trek" spin-off series. On "Star Trek: Picard," Chhabra plays the female Romulan Pel in the 5th Episode of the 1st Season. Although her appearance is brief, her character is connected to the son of the main character Rafi. As such, it is possible that "Resident Evil" could provide Chhabra with her biggest role to date.