Fans Are Haunted By This Moment In The Boys Season 3 Finale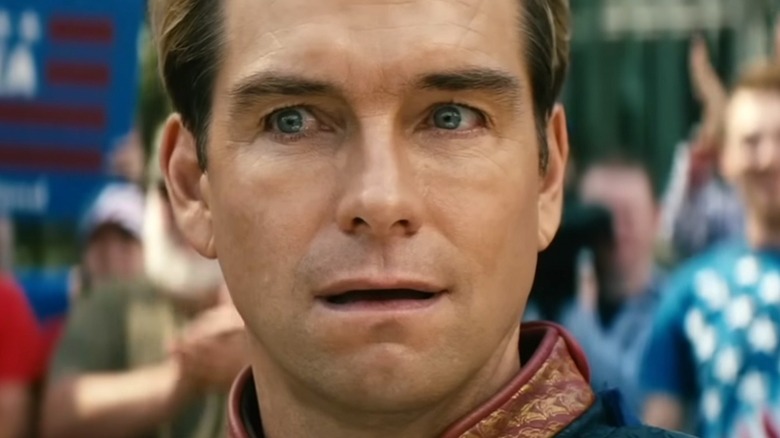 Amazon Prime Video/YouTube
Season 3 of "The Boys" has officially wrapped up on Amazon Prime Video. The end of Season 2 sees Billy Butcher (Karl Urban) hide Ryan (Cameron Crovetti), the son of Homelander (Antony Starr) and Billy's wife, after the young boy nearly kills Stormfront (Aya Cash). Grace Mallory (Laila Robins) agrees to keep him safe while Billy goes to operate with the rest of the team. However, Season 3 shows audiences right away that The Boys are split, with Hughie (Jack Quaid) working for the Federal Bureau of Superhero Affairs beside Victoria Neuman (Claudia Doumit), and Mother's Milk (Laz Alonso) leaving the team entirely, attempting to put his pursuit with The Boys behind him.
However, it's not long before the team gets back together to find a way to kill Homelander once it becomes clear that he's becoming an even bigger threat. Upon finding out there's a possible weapon to kill him, they travel to Russia to discover the formerly famous Vought Industries hero named Soldier Boy (Jensen Ackles) is still alive. After a massive disagreement among The Boys, Billy and Hughie make a deal with Soldier Boy to help him find his old team in return for killing Homelander.
The Season 3 finale sees this deal come to a head after Soldier Boy discovers that Homelander is his biological son. However, what unfolds afterward leads to a particularly haunting moment for some fans.
Fans are haunted by Ryan's smile in The Boys Season 3 finale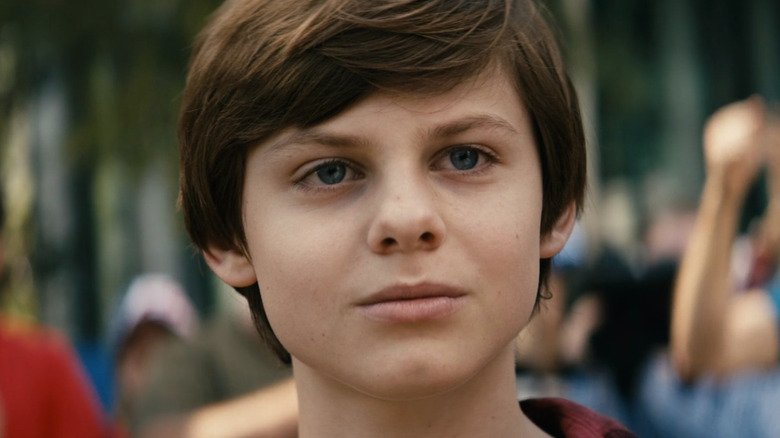 Amazon Prime Video
Soldier Boy's confrontation with his son, Homelander, takes a chilling turn when he tries to kill him in front of Ryan near the end of the Season 3 finale of "The Boys."  Billy is then forced to make a decision as he watches Soldier Boy smack Ryan across the room, ultimately attacking him with The Boys to save his wife's son. Ryan then chooses to leave with Homelander instead of Billy.
In the finale's final moments, Homelander introduces Ryan to a crowd of supporters. A Starlight (Erin Moriarty) follower throws a can that hits Ryan, and Homelander responds by incinerating the follower's brains in front of everyone. After a beat, the crowd begins to cheer on this act of violence, and Ryan cracks a sinister smile. For some fans, it's an image that has been haunting them ever since. 
"The last shot in #TheBoys Season 3 finale is the most disturbing thing the show has ever given us," wrote Twitter user @danielletbd. "I do applaud the show for going there, but it haunted me for days after watching it." In a reply, @abyssray agreed, saying, "Makes me genuinely shiver, whoever decided to do that is a genius." And @justatravelerr noted, "I legit was not surprised and I think that is the most horrifying aspect of all."
 Things are looking dangerous heading into the soon-to-be-filming Season 4 of "The Boys," begging the question: Will Ryan become just like Homelander?