Fans Think Cameron Diaz Completely Ruined This Crime Drama Classic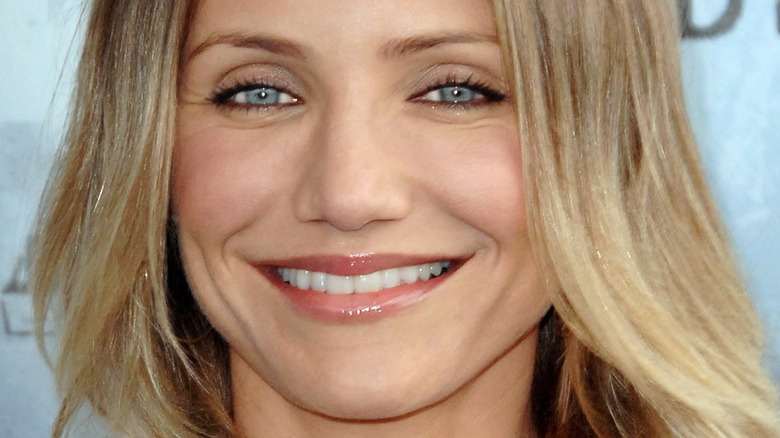 Everett Collection/Shutterstock
From the moment she entered the scene in "The Mask," Cameron Diaz was a force to be reckoned with in the entertainment industry. Her roles have ranged far and wide, with the actress seeing monumental success throughout the 1990s and 2000s. Her roles in films such as "There's Something About Mary," "Charlie's Angels," the "Shrek" franchise, and "Vanilla Sky" to name a few, have put her on top of the world, making her one of the highest-grossing actresses of all time (via Forbes). She would even earn a BAFTA nomination for her role in 1999's "Being John Malkovich" (per IMDb). 
Audiences have been without her presence on the big screen for nearly a decade, with the Cameron Diaz having quit acting since starring in the 2014 remake of "Annie." However, according to Variety, she is set to make her comeback with the aptly-titled 2022 Netflix film "Back in Action" alongside Jamie Foxx. As with most actors, Diaz's mostly beloved body of work is not without its black sheep. And one role above all else sticks out like a sore thumb in her stellar filmography.
Cameron Diaz missed her mark in Gangs of New York
2002 saw Cameron Diaz alongside Leonardo DiCaprio and Daniel Day-Lewis in the Martin Scorsese historical epic, "Gangs of New York." The film, set during a late 19th-century Catholic-Protestant feud, sees young Irish immigrant Amsterdam Vallon (DiCaprio) seek revenge for his father's murder. In the film, Diaz plays Jenny Everdeane, a deceitful pickpocketer who later becomes Amsterdam's love interest.
The film has had its fair share of criticism over the years. The most significant complaint is Cameron Diaz's performance, which most felt left a lot to be desired with her phony Irish accent and lack of experience in dramatic roles. On a subreddit posted by u/ComedicEnthusiast, the user states that they " ... couldn't tell if she was bad or she is such an out-of-place actress in this movie/time period [that they] couldn't stop seeing her as Cameron Diaz ... " A response by u/madism went even further, commenting, "I think the choice to cast her was a terrible decision as I don't think she does very well in dramatic roles."
But for Diaz herself, she could care less about what others think of her. In an interview with Seattle Pi during the film's release, Diaz, who Scorsese wanted in the movie after seeing her chemistry with DiCaprio, says, "If I went around worrying about how everyone perceived me, I'd be exhausted. It's none of my business." Regardless of what viewers think, it's gratifying to know that her devotion and love of the craft are what come first and foremost.