The Blacklist Star You Likely Missed On Blue Bloods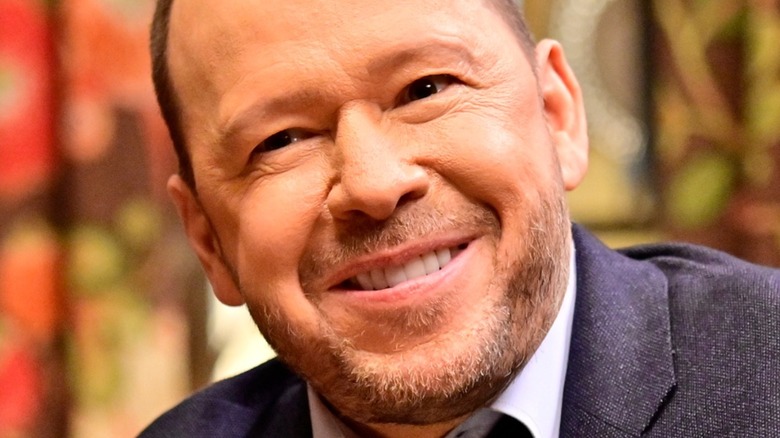 John Paul Filo/ CBS
When a TV show has been on for nearly a decade and a half, it will undoubtedly have a long list of actors passing through the episodes. The long-running cop drama from CBS, "Blue Bloods," has had its share of famous actors who may have forgotten showed up. As the Reagan family navigates the streets of New York from Harlem to the Financial District, they have enlisted the help of many people, and went head-to-head with even more. Everyone from Lou Diamond Phillips to Whoopi Goldberg has found their way into the series.
Meanwhile, over on NBC, "The Blacklist" has spent nearly a decade following Raymond "Red" Reddington (James Spader) as he works alongside a crack team of FBI agents to bring down the worst of humanity. After a lifetime of black ops and crime, Reddington is able to compile a long list of people needing to face retribution. The series spans nine seasons, diving deeper and deeper into the darkest corners of the clandestine world.
With two long-running successes in primetime, there would inevitably be a crossover of certain actors between the two series, and there is one actor who played a prominent role on "The Blacklist" that also made an appearance on "Blue Bloods." Here is the crossover you likely forgot about.
Megan Boone played Elizabeth Keen
Reddington didn't just walk in off the street to work with any old FBI agent. He had one agent, and one agent only, that he was willing to work with — and that was Agent Elizabeth Keen, played by Megan Boone. The two of them spent eight seasons tracking down the worst of Reddington's past, before her surprising death. One of the long-running questions throughout the series surrounds the origins of Reddington's interest in Keen. While there is evidence and some implication that there is some kind of parent-daughter relationship, the whole truth of the situation still remains a mystery.
After Megan Boone's departure from "The Blacklist," she took to Instagram to thank the fans and the crew for the experience. "As [Liz Keen's] story ends, I am grateful, most of all, for the people I shared this time with: my fellow cast members present and past, our incredible crew who carried every single day for all involved, and those of you we entertained [...] What a dream. Thank you all."
What you may not remember is that Boone preceded her time as Liz Keen with a short stint on "Blue Bloods." Here is where you may have seen her in the cop drama.
She briefly partnered with Danny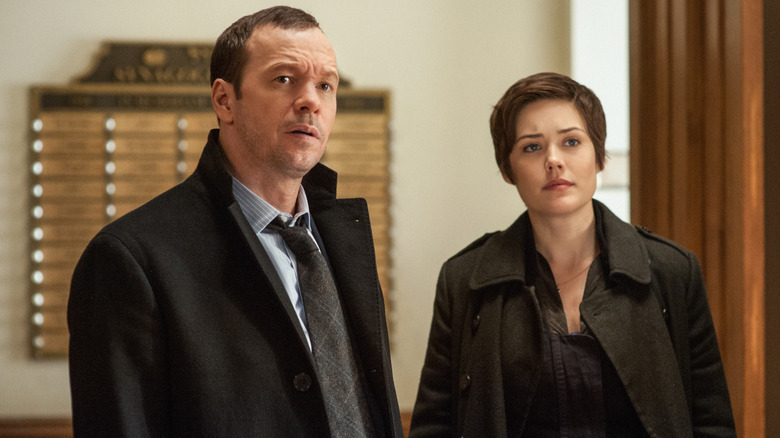 Jeff Costello/CBS
Danny Reagan (Donny Wahlberg) has had a handful of different partners in his run as the catch-all detective on "Blue Bloods." In the first season, he went through two partners, DeMarcus King (Flex Alexander) and Ava Hotchkiss (Yvonna Kopacz Wright), before he landed Detective Jackie Curatola (Jennifer Esposito). The two worked together until her sudden departure in Season 3. What followed was a sort of on-screen audition for his next partner, that included multiple detectives.
Megan Boone appeared as the second of the three, Detective Candice McElroy. As reported by Deadline in 2012, Boone was signed for three episodes, with a series option behind it. While there was some relatability between the two due to them being fellow soldiers, her time with Reagan was short-lived. She only appeared in two episodes before she was transferred back to the Vice Enforcement Division. Danny eventually landed Maria Baez (Marissa Ramirez) as his permanent partner, and she has remained in that role ever since.
While her time was short, and we would have loved to see her work at least a little longer with Danny Reagan, it definitely worked out for the best. Maria Baez has since become a staple of the show, and Boone went on to bigger and better things, anchoring one of NBC's most popular properties.