Michael Mann Pays Tribute To James Caan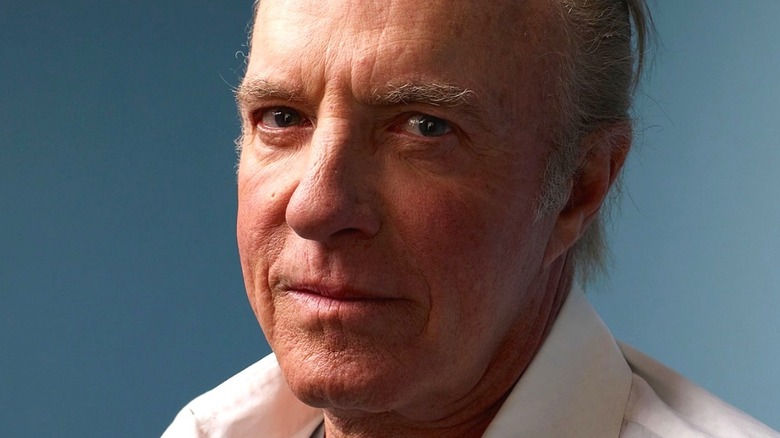 Matt Carr/Getty
By the late 1970s, James Caan had reached the upper echelons of leading man territory. For most actors, ascending beyond the slog of bit parts is proof that you've made it. But Caan, who died on July 6 at the age of 82, was no ordinary actor. "I got put into that nice, wonderful category of being a leading man," he told The Ringer in 2021. "And along with that doesn't come some of the great character work that I really like to do."
Then came along Michael Mann's electrifying thriller "Thief," which had the kind of leading role any character actor would kill to play — a protagonist with enough depth to command his own film, yet thorny enough to really sink one's teeth into. In his feature film debut, Mann emerges as a fully-formed auteur, introducing the slick, moody aesthetics and driven protagonists that would come to define his later films. As the titular thief Frank, Caan heartbreakingly attempts to reconcile a life of crime with a yearning for a rich inner world.
In the wake of Caan's passing, Mann left a moving tribute to his one-time lead actor.
Mann praised Caan's performance in Thief and his singular personality
Upon learning of James Caan's passing, Michael Mann relayed a powerful statement to Variety, where he spoke highly of the actor's talents. "Jimmy was not just a great actor with total commitment and a venturesome spirit," Mann wrote, "but he had a vitality in the core of his being."
Mann also eloquently paid tribute to Caan's streetwise sense of humor and his penchant for sharing a lifetime of candid Hollywood stories. "There was a core of values within him about how people should be, more or less. It might be variable, the corners could be rounded with urban irony, but there was a line and it was non-fungible. And it produced many outrageous and hilarious anecdotes."
As Mann's collaborator in "Thief," Caan was able to access a raw, personal performance he had previously uncovered in "The Godfather" — a fact that Mann was acutely aware of. "Frank is half Frank, half Jimmy. The character and the man — like his Sonny in 'The Godfather' — were made for each other."
It can be argued that Sonny Corleone is Caan's most iconic role, but he was especially proud of his work alongside Mann in "Thief." "That [diner scene] is the thing that I'm proudest of," Caan said during an oral history of the film for Consequence of Film. "I found out at the Actor's Studio that they picked that scene and they give it to some of their advanced students to do. So, that's kind of a big feather in my cap."