In James Caan's Career, One Role Stands Above The Rest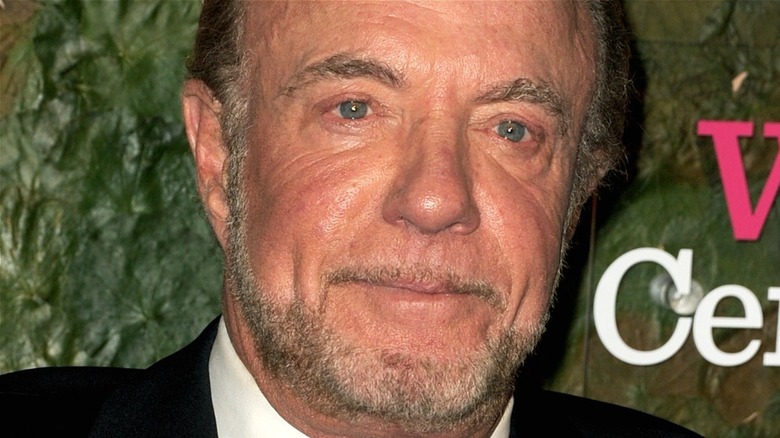 Kevin Winter/Getty
As was confirmed by a statement posted to the actor's Twitter account, veteran actor James Caan has died at the age of 82. The statement reads, "It is with great sadness that we inform you of the passing of Jimmy on the evening of July 6. The family appreciates the outpouring of love and heartfelt condolences and asks that you continue to respect their privacy during this difficult time. End of tweet."
Caan leaves behind an impressive and expansive career, including a total of 137 acting credits (via IMDb). Some notable films from his early career include the 1966 western "El Dorado," the 1967 sci-fi film "Countdown," the 1969 drama "The Rain People" and the 1973 romance drama "Cinderella Liberty." In 1971, Caan also received an Emmy nomination for his portrayal of Brian Piccolo, the real-life professional football player who was diagnosed with terminal cancer. 
Certain cinephiles may also have fond memories of Caan in 1978's "Comes a Horseman" or 1996's "Bottle Rocket." Of course, younger audiences would certainly recognize the late actor from his turn as Buddy the Elf's biological father in 2003's "Elf." And who could forget Caan's compelling performance as an author being held captive by his biggest fan in 1990's "Misery"?
But, aside from all of these memorable roles, there's one other performance of Caan's that stands above the rest — and cinephiles, or even casual moviegoers, likely already have said performance in mind.
Caan's best-known performance was as Sonny Corleone in The Godfather
It's hard to argue against James Caan's signature performance being anything other than Sonny Corleone in Francis Ford Coppola's 1972 masterpiece, "The Godfather." Caan portrayed Sonny, the hot-headed and rash eldest son of Vito Corleone (Marlon Brando), with aplomb — consequently, it's no surprise that Caan received an Academy Award nomination for best supporting actor. Caan then returned for "The Godfather Part II" in a flashback cameo appearance.
Further, Sonny's shocking death scene in the first film is frequently considered one of the best moments in the entire "Godfather" trilogy. As Empire Magazine put it, "It is a shocking, brutal attack, and Coppola covers all angles, just to make sure we feel every single bit of pain as Sonny, writhing and wriggling in agony, dies horribly in front of us. The shooting goes on for a merciless 25 seconds, and our own heart all but stops too throughout."
After all, Sonny Corleone is the role that comes up first and foremost in the actor's growing list of obituaries. In the obit for The Hollywood Reporter, Chris Koseluk wrote, "Caan will best be remembered for his explosive performance as Sonny ... Mesmerizing as the volatile and confrontational eldest son and heir apparent to his family's criminal empire, he earned an Oscar nomination for best supporting actor." For the New York Times, Clyde Haberman added, "He threw himself into the role so fully that for years, he said, strangers would say to him things like 'Hey, don't go through that tollbooth again.'"
Caan was proud of the film and happy to be remembered for it
Earlier this year, James Caan spoke with Collider about the 50th anniversary of "The Godfather," during which the actor reflected on his experience. When interviewer Steve Weintraub asked how it felt to be a part of one of the most widely-seen films of all time, Caan had nothing but positive things to say. Caan said, "Well, it feels, to me, great. I mean, I'm happy there's something they can remember about me." He added that he loved working with Coppola and the rest of the cast, noting that he thinks their chemistry definitely added to the greatness of the film.
In a different interview, with the A.V. Club, Caan discussed the freedom given to him by Coppola to improvise where he wanted to, noting that his famous "bada bing" phrase was never actually written in the script. Caan also explained that he improvised the moment at the wedding when Sonny takes the camera from the photographer and smashes it. Further, he even bought his own pair of shoes for one of his character's outfits, thinking it would suit him well. Caan said, "I was just given the luxury of a certain amount of freedom that Francis allowed me."
Famously, there was only one element of the whole experience that Caan didn't like: the fact that one of his character's meatier scenes was cut from the final product. According to Caan, the scene was about 10 full pages, all of which were cut from the final product. Caan told The Hollywood Reporter that he even walked out of the premiere because he was so upset over the cut. Still, Caan concluded, "But otherwise, [Coppola] gave me a great honor."