The Stranger Things 4 Scene That Made Caleb McLaughlin Cry In Real Life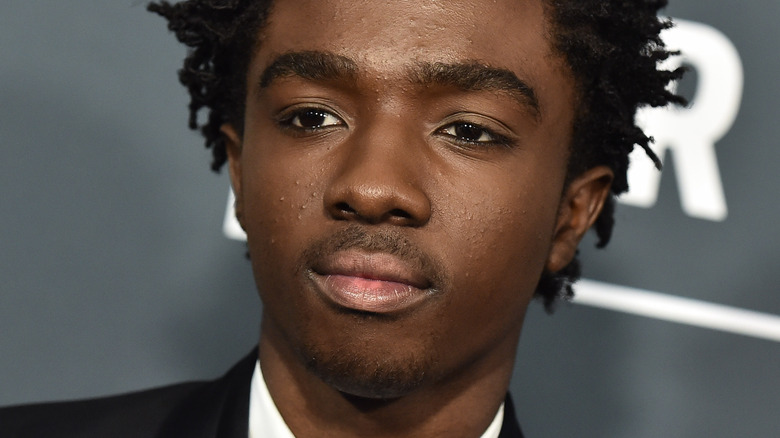 DFree/Shutterstock
Contains spoilers for "Stranger Things" Season 4, Episode 9 — "The Piggyback"
"Stranger Things" soared to daring new heights in its most recent horror-fueled season. While previous seasons have had their fair share of monsters and otherworldly threats, none have shaken the characters of Hawkins as much as Vecna's astral projection and mind control did in the latest batch of episodes.
In a surprise move, Lucas (Caleb McLaughlin) seems to be breaking away from the close-knit relationship he once shared with Mike (Finn Wolfhard), Dustin (Gaten Matarazzo), and Will (Noah Schnapp) at the start of Season 1. Unfortunately, this move and its inevitable fallout end up having devastating consequences for him.
While many of the main characters were shaken by the events of Season 4, Lucas is in a particularly desperate place at the end of the season's finale. Though he hasn't quite lost everything, he comes dangerously close to losing his life and has to fight a brutal battle with a former friend in order to survive. Clearly, Lucas is reeling from the climactic battle, but it turns out those final scenes also had McLaughlin tearing up in real life. 
Caleb McLaughlin cried during Max's showdown with Vecna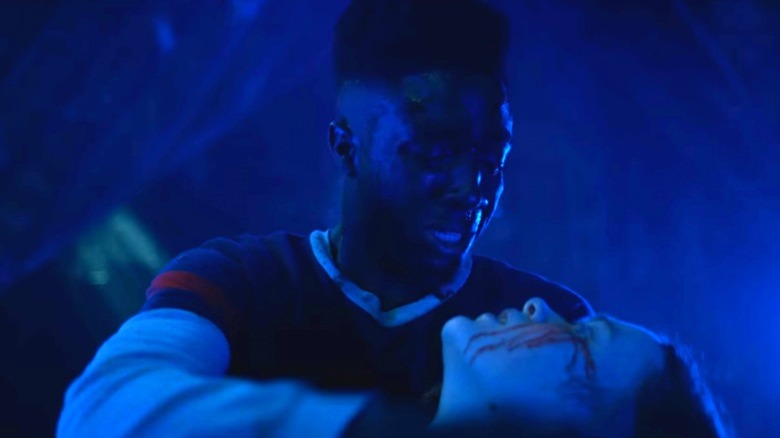 Netflix
Caleb McLaughlin sat down with IndieWire to talk about that devastating "Stranger Things" finale and how it affected him. "[Lucas] almost died, but then he saw Max levitating, and he was like, 'Aw no, I gotta get this man up off me,' and that's what motivated him," McLaughlin recalled.
With the help of her friends and Kate Bush's music, Max (Sadie Sink) narrowly escapes Vecna's clutches in the Season 4 episode "Dear Billy," but she isn't so lucky in the season's finale. Max's injuries in the finale were traumatic enough for the characters of Hawkins, but behind the scenes, McLaughlin was shaken himself.
"He watched Max's bones break in front of him. That's traumatizing! I was traumatized," McLaughlin confessed. "I cried watching, forgetting I was in the show and forgetting it was a show." Admittedly, it's a brutal scene, made especially sad based on Max's struggles over the course of the season and that she willingly put herself in danger to try to defeat Vecna.
McLaughlin went on to discuss his hopes for the final season of "Stranger Things" and what the future might hold for viewers. "I want people's hearts to be broken — again," he said. "We're 'Stranger Things.' We're raw. This is not PG-13 anymore; this is rated R. We gotta bring it home." As popularity for the Netflix sci-fi drama has blown up even further with the release of Season 4, fans will no doubt share McLaughlin's hope that the show goes out with a satisfying bang in Season 5.