Listen To The Rocking Thor: Ragnarok Soundtrack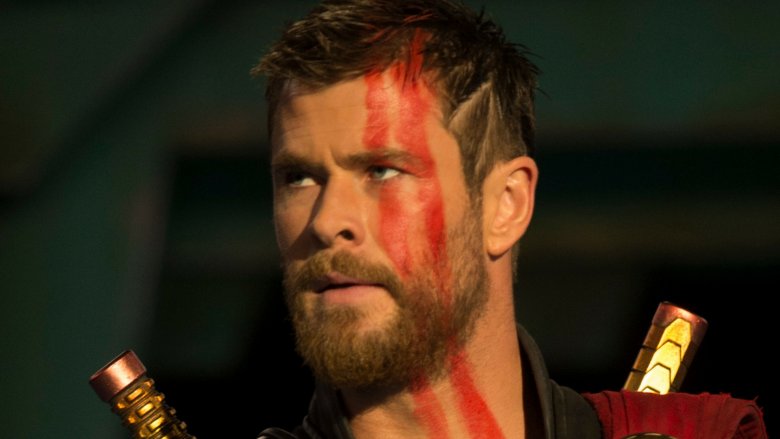 The Thor: Ragnarok soundtrack is officially here. Mark Mothersbaugh's epic score for the upcoming film hit the Internet earlier this week, available for listen on iTunes, Spotify, and more. 
The soundtrack seems to hew pretty well to the plot of the film. The movie will feature the titular hero (Chris Hemsworth) contending with Loki's (Tom Hiddleston) lax rule on Asgard during his time masquerading as their missing father Odin (Anthony Hopkins). This leads to the freeing of Cate Blanchett's Hela, who unleashes hell on the planet, destroys Thor's hammer, and banishes him to the desolate planet of Sakaar.
There, he is captured by Valkyrie (Tessa Thompson), who brings him to the Grandmaster (Jeff Goldblum), a nefarious ruler who cuts off his hair and forces him to fight against the Hulk (Mark Ruffalo). Although Marvel is saving the battle for the big screen, we do know that, eventually, the pair will escape and head off on an intergalactic adventure to take down Hela. (They'll also get some help from Benedict Cumberbatch's Doctor Strange, in one of the film's few stops on Earth.)
Although Mothersbaugh's score is fittingly amazing, he wasn't actually director Taika Waititi's first choice for the film. Waititi previously revealed that, had he been alive, he would have pursued Freddie Mercury and Queen to write the songs for the upcoming flick, which he says he wanted to have "a cosmic trippy vibe." "It just has that feel: it's a cool, bold, colorful cosmic adventure," he said of the movie's score. "And it just needed to be fun."
Although it would have been amazing to hear what Queen could have done for Ragnarok, Mothersbaugh's score seems to be doing the epic story justice. Thor: Ragnarok, which has already received the love of critics with a 98 percent on Rotten Tomatoes, is based off a script from Eric Pearson, Craig Kyle, and Chris Yost. The movie, which also stars Karl Urban and Rachel House, will hit theaters on Nov. 3.
You can view the full track list below.
1. Ragnarok Suite
2. Running Short on Options
3. Thor: Ragnarok
4. Weird Things Happen
5. Twilight of the Gods
6. Hela vs. Asgard
7. Where Am I?
8. Grandmaster's Chambers
9. The Vault
10. No One Escapes
11. Arena Fight
12. Where's the Sword?
13. Go
14. What Heroes Do
15. Flashback
16. Parade
17. The Revolution Has Begun
18. Sakaar Chase
19. Devil's Anus
20. Asgard Is a People
21. Where To?
22. Planet Sakaar
23. Grandmaster Jam Session