The Award-Winning Studio Ghibli Anime You Likely Forgot Starred James Caan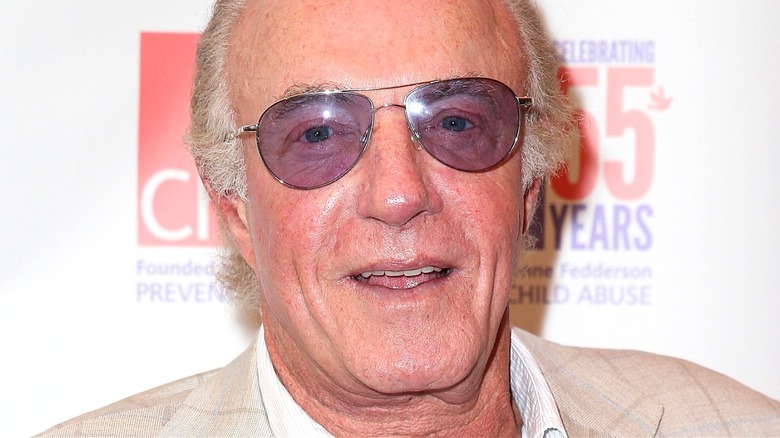 Imeh Akpanudosen/Getty
Esteemed actor James Caan has died. On July 6, 2022, the actor's official Twitter account announced his death at the age of 82. Best known for his role as the hot-blooded gangster Sonny Corleone in the critically acclaimed film "The Godfather," Caan appeared in a large number of movies and shows across his lengthy career. Some of the actor's other notable credits include the early Wes Anderson flick "Bottle Rocket," the classic Christmas movie "Elf," and the 2003 NBC comedy series "Las Vegas."
Even beyond his many live-action roles, though, Caan was also an accomplished voice actor. He made appearances in several extremely popular animated properties, such as the "Cloudy With a Chance of Meatballs" movies, "The Simpsons," and "Family Guy." However, one particularly interesting animation credit that fans of Caan's work may not know about came in a beloved anime film from the minds at the Japanese animation company Studio Ghibli.
Caan was the Bamboo Cutter in The Tale of the Princess Kaguya
Most Studio Ghibli films have big-budget English dubs for their international release, often boasting esteemed Western actors in their voice cast. The 2013 movie "The Tale of the Princess Kaguya," which centers upon the life of its titular mystical girl as she faces profound tragedy during her growth into maturity, was no exception to this rule. The talent for the English release included names like Chloë Grace Moretz, Darren Criss, Lucy Liu, Oliver Platt, and, indeed, Caan himself. 
In the film, Caan voices the Bamboo Cutter who first discovers Kaguya and adopts her as his daughter. Eventually convinced that Kaguya is divine royalty, the Cutter pushes her into a life of nobility as a princess at the expense of her free-spirited life in the countryside.
"The Tale of the Princess Kaguya" was well-received as an exceptional retelling of a classic Japanese story and a major part of its success owes to how both the Japanese and English voice cast embraced the depth of their characters. Caan's performance in the movie perfectly captures the Cutter as a well-meaning yet misguided parental figure and serves as a fascinating counterpoint to some of the actor's rougher roles like that of Corleone in "The Godfather." 
For those that want to dive back into Caan's filmography and develop a greater appreciation for the impressive range the actor possessed, hearing his performance in "The Tale of the Princess Kaguya" is an absolute must.