Martin Scorsese Fans Think This Character Ruined The Gangs Of New York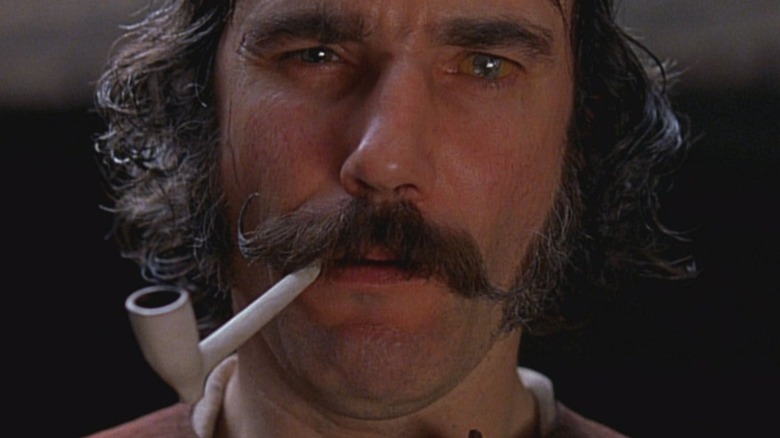 Miramax
When then-fledgling director Martin Scorsese first read the classic popular history book "Gangs of New York" by Herbert Asbury in 1970, according to Smithsonian Magazine, he immediately saw "the beginnings of an American epic." A decade later, when the filmmaker had established himself in the scene with masterpieces like "Taxi Driver" and "Mean Streets," he believed in English punk band The Clash as potential stars of a "Gangs of New York" movie (via The Guardian). However, Joe Strummer, Mick Jones, and the rest of the band never made it to casting, as it ultimately took Scorsese over 20 years to get the financing for his $100 million epic. (They did have a brief cameo in another Scorsese film — 1982's "The King of Comedy.")
Even during production and post-production, Scorsese clashed with Miramax producer Harvey Weinstein over the editing and length. The company ultimately delayed the movie's release by a year as a result (via Roger Ebert).
When the film was finally released in late 2002, "Gangs of New York" drew praise from critics for the lavish recreation of 19th-century New York and Scorsese's careful direction. Yet some of the movie's performances were also criticized as well. There was, in fact, one character some Scorsese fans felt tarnished the final result.
Redditors felt Cameron Diaz as Jenny doesn't work
When u/peter095837 asked movie fans which single character in a movie ruined the final result for them, u/Captain_Comic quickly cited "Cameron Diaz and her terrible Irish accent in 'The Gangs of New York.'" Other film buffs agreed, with u/badgersprite hilariously replying, "Hey you know who would make a great Irish lass this half Cuban woman from California."
As some commenters noted, Diaz was not Scorsese's first choice for the part of Jenny, a rough-and-tumble Five Points pickpocket who attracts the eye of Amsterdam Vallon (Leonardo DiCaprio). According to Times of San Diego, Scorsese was interested in indie actress and director Sarah Polley as Jenny, as well as "Buffy the Vampire Slayer" star Sarah Michelle Gellar. However, Weinstein demanded a more commercial player for the character, and the producer won out.
Diaz isn't truly awful as Jenny, and when she expresses vulnerability with Vallon, she comes off as genuinely tender. u/AztecHoodlum wrote, "I actually don't hate her performance like most people do. She's no Meryl Streep, mind you, but she doesn't ruin the experience for me." The problem is more about authenticity. Although the observations about Diaz's accent are one thing, it can also be argued that she never feels like a resourceful 19th-century woman who had to learn street smarts early on, and that's a serious issue for a movie obsessed with period accuracy.
DiCaprio isn't a great casting choice either
One of the main problems with "Gangs of New York" as a whole is that DiCaprio's casting as Vallon, a street tough out for revenge on Bill the Butcher (Daniel Day-Lewis), doesn't hold up to scrutiny either. The actor looks like he belongs in the time period more than Diaz, but his accent is clearly hard work, and it hampers the rest of his performance.
There's also the problem of Day-Lewis, as the violent nativist Bill, being fundamentally more charismatic and compelling than the younger main characters. u/DoggyDoggy_What_Now aptly wrote about how "Dicaprio [sic] gets blown off the screen whenever they're in a scene together." Compared to Day-Lewis' ferocious, animalistic aura in the movie, DiCaprio never feels like he has the "murderous rage" Bill describes in him, or the presence to unite the gangs as an army. The Hollywood Reporter's original film review probably put it best when they wrote, "He doesn't look the part of a street tough."
However, DiCaprio vastly improved as an actor during the next several collaborations with Scorsese. By the time "The Departed" was released four years later, he'd tapped into the potential the director clearly saw in him, with the fiery performances he'd give in "Shutter Island" and "The Wolf of Wall Street"  well on the way.