Why Stranger Things Season 4 Has Futurama Fans Talking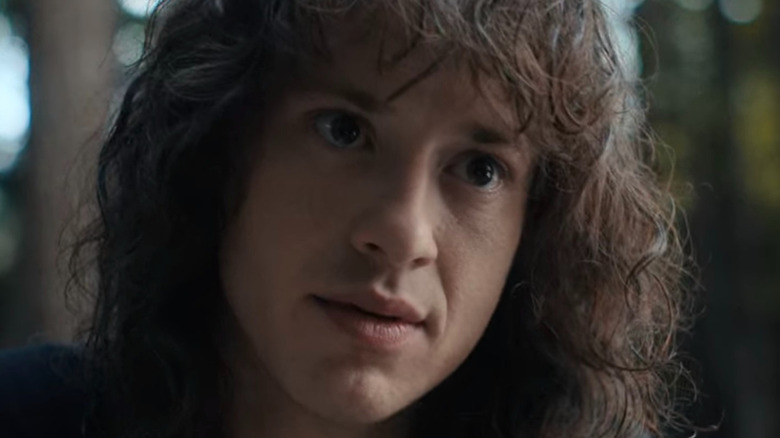 Netflix
Season 4 of Netflix's "Stranger Things" reveals a new evil from the Upside Down that comes back to terrorize the town of Hawkins, Indiana, once again. This time, however, everyone is sort of split up due to Joyce (Winona Ryder), Will (Noah Schnapp), Jonathan (Charlie Heaton), and Eleven (Millie Bobby Brown) moving to California after the events of Season 3 and the apparent death of Jim Hopper (David Harbour). Lucas (Caleb McLaughlin), Max (Sadie Sink), Dustin (Gaten Matarazzo), Mike (Finn Wolfhard), Nancy (Natalia Dyer), Steve (Joe Keery), and the rest of the group still remain in Hawkins.
There is also a new character from Season 4 named Eddie (Joseph Quinn) who runs the "Hellfire" Dungeons and Dragons club that Mike, Dustin, Lucas, and even Erica (Priah Ferguson) join at Hawkins High. Eddie is actually the first to encounter the new evil from the Upside Down through an attempted drug deal with a fellow student named Chrissy (Grace Van Dien) during the season's premiere episode. While doing the deal in his uncle's trailer, Eddie watches in horror as Chrissy is possessed by what Dustin would later deem "Vecna," floating to the ceiling and having all the bones in her body broken while her eyes explode.
This death would also befall Nancy's fellow editor, Fred Benson (Logan Riley Bruner) in the subsequent episode, giving the group clues to find Vecna. However, these deaths also surprisingly caught the attention of some "Futurama" fans, as they are reminiscent of something from the latter series.
Futurama fans think Stranger Things Season 4 deaths are like Boneitis
As evidenced by this recent thread on Reddit, fans of "Stranger Things" and "Futurama" have found a relationship between the two shows due to Season 4 of the former. u/babadukeduke initiated the conversation by saying, "Newest season of Stranger things reminded me of something" and attaching an image from "Futurama" where Bender (John DiMaggio) watches the bones of Steve Castle (David Herman) crack and break due to "boneitis." In "Futurama," boneitis is a disease from the 31st century that ultimately causes death by crippling the human body. This particularly happens in the "Futurama" episode titled "Future Stock," the ninth in Season 4. 
Fans like u/chromaticsoup would joke in the comments, "I was too busy being an 80's guy," referring to how they apparently missed the reference. Others, such as u/theonetruegrinch, noted that the boneitis in "Futurama" also reminded them of the condition people suffer in the 2021 M. Night Shyamalan film "Old."
It is a funny coincidence that both "Stranger Things" and "Futurama" would feature a similar death for different reasons both during their own 4th seasons. Unfortunately for the residents of Hawkins, this kind of "boneitis"-like death is coming from an evil entity from an alternate dimension rather than a disease from a future century. Either way, it's not ideal. Now that we know Stranger Things will have its 5th and final season coming soon and featuring another long battle with Vecna (via Deadline), it's unfortunately very likely that we will see more "Futurama" boneitis-like deaths in the series.