The Scrapped Elaine Story Seinfeld's Julia Louis-Dreyfus Regrets Turning Down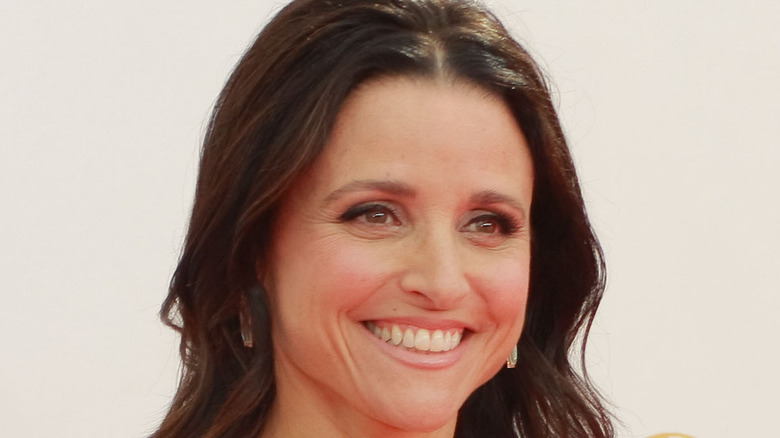 Featureflash Photo Agency/Shutterstock
A show about nothing that's filled with everything funny, "Seinfeld" takes simple everyday moments like work life, grabbing coffee with friends, and dealing with pesky neighbors, and blows them out of proportion through the masterful writing and hilarious performances of legendary comedians like Michael Richards, who played Cosmo Kramer, Jason Alexander as George Costanza, Julia Louis-Dreyfus as Elaine Benes, and Jerry Seinfeld as a unique version of himself.
The seemingly simple plot of the show undoubtedly takes a lot of work to transform into comedy. The jokes that made it to the final stages of production are only a small glimpse at the large variety of ideas discussed throughout the lifetime of the series. Being the funny individuals they are, the cast all had a say in which jokes stayed and which jokes were tossed to the side for one reason or another. Sometimes the ideas mentioned were ones that not every cast member was comfortable with executing. In fact, when one idea was presented to Louis-Dreyfus, she immediately turned it down and became very emotional over the topic. Though in hindsight, she says she wishes she would have given the joke a chance.
Julia Louis-Dreyfus regrets not joking about her pregnant body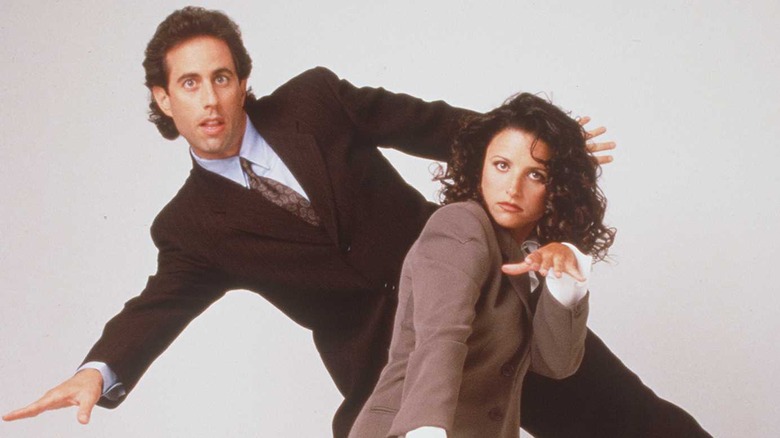 Getty Images/Getty Images
While on an episode of Jerry Seinfeld's series "Comedians in Cars Getting Coffee," Julia Louis-Dreyfus drove to grab a cup of joe with her longtime friend and former co-star in a 1964 Aston Martin DB5. The two began reminiscing about "Seinfeld" and their characters while on their drive through Los Angeles, and Louis-Dreyfus opened up to Seinfeld about an old joke he once suggested to her while they were filming "Seinfeld."
When Louis-Dreyfus was five months pregnant, the show was in the process of filming, and Seinfeld suggested to her that a way to write in her pregnancy for the season would be to make a plotline in which multiple episodes would mention Elaine getting really fat. At the time, Louis-Dreyfus reacted to this suggestion with strong emotions. On "Comedians in Cars Getting Coffee," she recalled getting tearful over the suggestion. "And so, what did I do? Burst into tears," Louis-Dreyfus told Seinfeld. "Automatic. It was like a death sentence. So there are two things I have to say about that. One is you have no interpersonal communication skills. The second thing is, it was a great idea and we should have done it. It would have been a great storyline."
While the joke seems cruel at first, the style of the humor that takes place on "Seinfeld" and the dynamic between the characters make the series seem like the perfect showcase for it.