The Iconic Set Props Jerry Seinfeld Took From The Seinfeld Set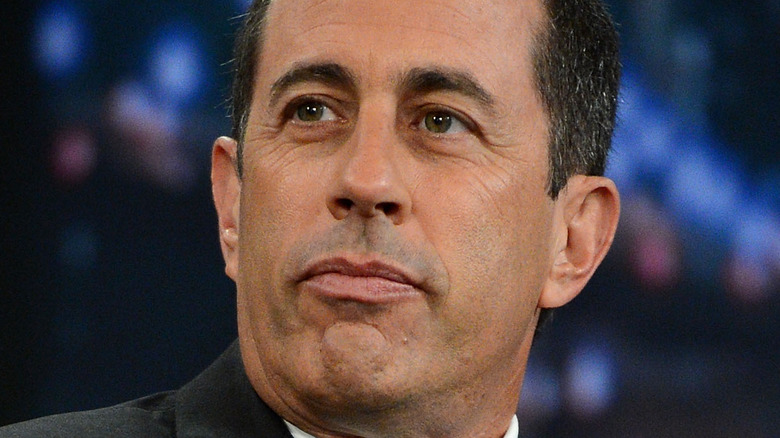 Jason Kempin/Getty Images
It's normal for a television or movie star to sneak something away from the set when they're done filming a project for good. Sometimes this is discouraged, but it doesn't stop many actors from stealing set props for sentimental reasons. Matt LeBlanc stole the MagnaDoodle from the "Friends" set, while Neil Patrick Harris stole Barney's playbook from "How I Met Your Mother."
Another series with rather iconic props and wardrobe is "Seinfeld." From Kramer's (Michael Richards) Merv Griffin set to Jerry Lewis' "Cinderfella" cufflinks, there was a wide array of props that might have seemed desirable to the actors. It's no surprise to find out that Jerry Seinfeld himself took a hefty amount of props from his sitcom, and it wasn't anything small like boxes of cereal or the Manssiere (Bro?). It turns out the comedian opted for props that were a lot bigger, and it seems like there was no objection from anyone when he hauled it off the set.
Jerry Seinfeld kept a lot of furniture from the Seinfeld set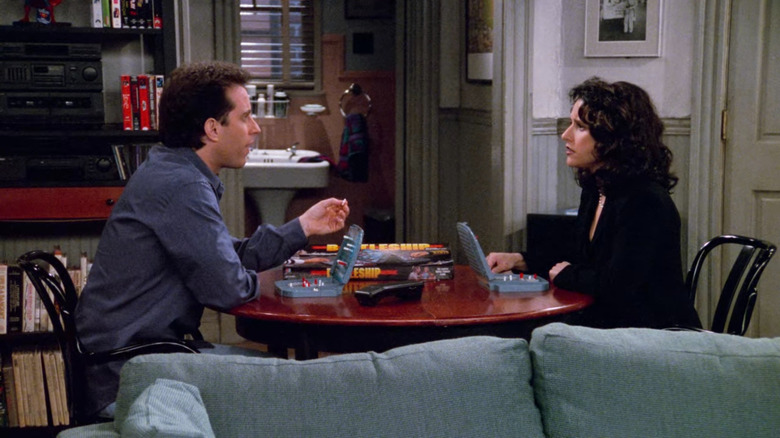 NBC
In Jerry Seinfeld's third Reddit AMA, a fan asked the comedian what things he had taken from the "Seinfeld" set. Unsurprisingly, Seinfeld revealed he had taken a lot of stuff from Jerry's apartment. "I have the couch, I have the two blue stools, I have the table and chairs; the coolest thing I have is the door, which we never repainted in nine seasons. It has every scuff mark that Kramer put on it with all those crazy entrances," he admitted.
For most of the series, Jerry's light blue sofa was at the center of his apartment, while the dark cherry wood table with two black chairs sat right behind it. Also by the kitchen, but not often sat on, were the two blue wood stools Seinfeld mentions in his AMA. The door is definitely the best relic of the bunch, as the comedian notes, especially since its appearance has never been altered.
Seinfeld also noted that he was trying to get a lot of the props he owns put into a museum. That doesn't seem to have happened just yet, but there is a piece of "Seinfeld" wardrobe that has been memorialized in the Smithsonian's National Museum of American History.