The Unexpected Way Amy Poehler Changed Parks And Recreation Forever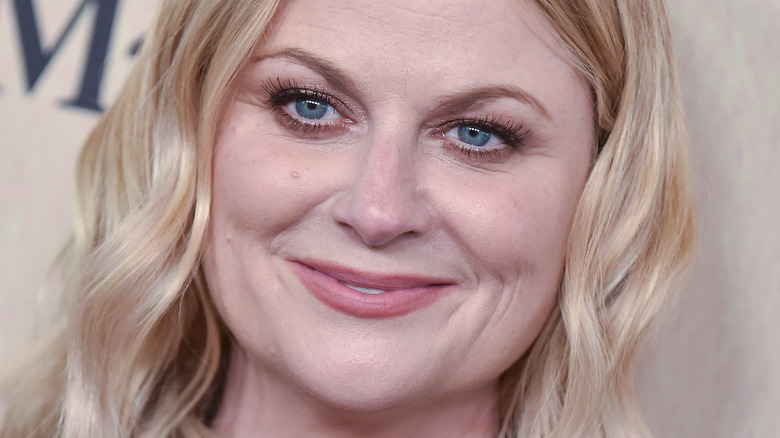 DFree/Shutterstock
It's a little-known fact that NBC's beloved sitcom "Parks and Recreation" was nominated for 14 Primetime Emmy awards during its six-season run. And it might surprise even superfans of the series that it didn't win a single statue over that period — a fact that, arguably, further proves just how meaningless such awards are. After all, "Parks and Recreation" has now been off the air longer than it was on, and it's not only more popular than it's ever been, but just about every actor who appeared on the show has become a massive star since the series ended.
That includes star Amy Poehler, who portrayed the impetuously silly local government guru Leslie Knope in all 124-episodes of "Parks and Recreation," earning five of those Emmy nods herself for her efforts. Poehler was, of course, a key figure behind-the-scenes of the show too, serving as Executive Producer, and even penning a handful of episodes herself. As such, Poehler undoubtedly had considerable sway over how the "Parks and Recreation" narrative played out over the years. But according to series co-creator Michael Schur, she may have had even more than we thought, as he claims that a single line of improv from Poehler in the series' early days forever altered the way the show was written. 
An improvised line from Poehler changed the entire way creatives wrote her character
More specifically, Michael Schur claimed in a recent Reddit AMA session that line changed the way he and the series creative team wrote Amy Poehler's character Leslie Knope. Per Schur, the fateful line comes in a talking head segment early in Season 1 of "Parks and Recreation," and finds Leslie brazenly commenting on her male co-workers cleaning up a mess she made in the office courtyard, "Her line was about how she was shattering those bottles like she was shattering the glass ceiling, or something kind of meh, and she got super cocky and looked back at the men sweeping up and improvised something like, 'Am I breaking into the boys' club? I dunno. I mean, just look at all those b*****s cleaning up after me.'"
According to the "Parks and Rec" mastermind, Poehler's hilarious ad-lib was not only funnier than what had written, but led to a game-changing realization for the series' creative team as they decided that their entire approach to Leslie, thus far, was coming from the wrong angle.  "She should be more fun and loose," he explained, "and not so uptight and politician-y." 
Indeed, the "Parks and Recreation" creatives promptly course-corrected, supplanting the more buttoned-up version of Leslie with one noticeably kookier. In doing so, the entire tone of "Parks and Recreation" took a turn for the lighter, a fact that led Schur to make the bold claim that his star redefined the entire direction of the series with that one key moment of improv. Admittedly, given Poehler's well-established background in improv (per Entertainment Weekly), tossing off a series-altering quip was likely just another day at the office.