A Big Question That Looms In The Air Ahead Of Better Call Saul Season 6, Episode 8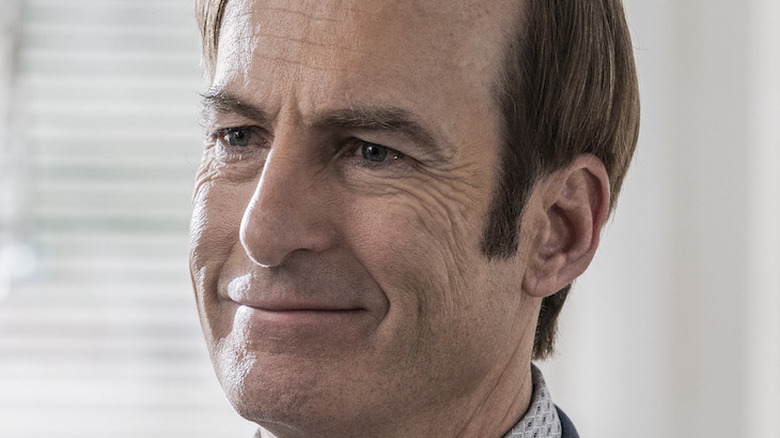 Greg Lewis/AMC/Sony Pictures Television
"Better Call Saul" is ready to take its final bow. With the show's final six episodes set to begin airing on July 11, fans of the show are sitting on the edge of their seats, wondering who's going to survive the events of "Breaking Bad" and join Jimmy McGill — we mean, Gene Takavic (Bob Odenkirk) — in his black-and-white witness protection-aided, Cinnabon-laden hell. The producers have promised that there are surprises ahead for them, and at this point in the show's run, all bets are off. It's impossible to ascertain at press time who will live to tell Jimmy's story.
There's one question that fans have about the upcoming 8th episode of "Better Call Saul" Season 6 — and it's not if Kim Wexler (Rhea Seehorn) will survive to see the end of the series. They're very concerned about the fate of at least one of the show's other characters. Considering how rough the show has been on most of the show's characters — from favorites like Nacho Varga (Michael Mando) to loathed figures like Chuck McGill (Michael McKean) –  they likely have a just cause to be incredibly concerned about this individual's fate. 
Fans want to know if Lalo will survive
Fans over at the "Better Call Saul" subreddit are very curious about one thing — will Lalo Salamanca (Tony Dalton) survive to see the end of the series? Everyone knows that his uncle Hector (Mark Margolis) and cousin Tuco (Raymond Cruz) survive to take part in the events of "Breaking Bad," though not to the benefit of either of them. But where's Lalo during those dark days? Fan analysis website Matt & Jess Commentary points out that he simply no longer factors into the cartel's plans during that section of the show's joined timelines, which strongly indicates he might be dead by then.
"I'm wondering how much more narrative they could get out of him, and the next one [Episode 8 of Season 6, "Point and Shoot", per IMDb] is directed by Vince Gilligan which suggests huge episode," wrote u/PolicyWide. This sparked off a debate among the website's membership as to which episode they think Lalo will die in. u/AskMeAboutMyTie brought up a particularly sticky plot point that will need to be resolved either way: Lalo, Kim, and Jimmy are all together in a single apartment, with the body of Howard Hamlin (Patrick Fabian), whom Lalo executed and Jimmy and Kim gaslit and blackmailed in an act of revenge, making them all possible guilty parties in the eyes of the law. "He has to die before they can do anything with Howard's body so I think you're right," they said.
All speculation aside, fans will have to keep watching to find out if Lalo lives or dies.