Why Cobra Kai Fans Can't Stop Roasting The Show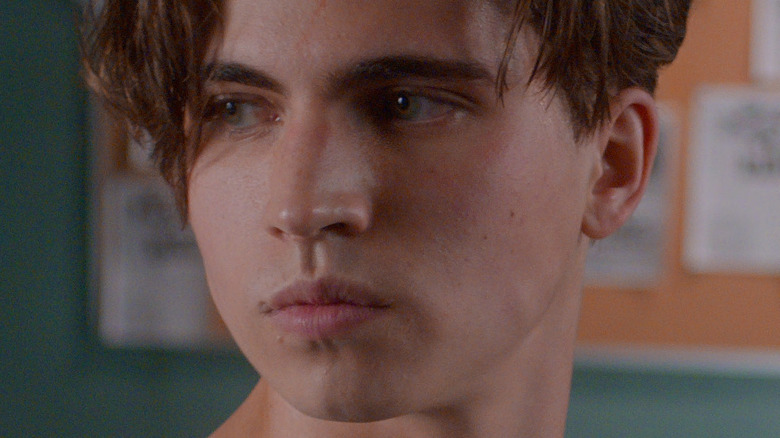 Netflix
So many things in the world are just a bit of dumb fun. Amusement parks. Dwayne Johnson movies. Balloons. One strong contender that fits the bill just right is Netflix's "Cobra Kai," detailing the ongoing exploits of Johnny Lawrence (William Zabka) and Daniel LaRusso (Ralph Macchio) and the karate-filled feud neither can let go of. When the series premiered in 2018, the two were at odds before slowly forging an uneasy alliance that has gone together like peanut butter and vinegar, and fans have stuck with it for four seasons to see if it's ever going to work.
As compelling as that is, there are elements that fans of the show can't ignore and understandably have a few choice words to say about just how much "Cobra Kai" leans into its wild key ingredient. Stripping away the rivalries and tested relationships between friends and family members, this is still a show about warring karate students who do things that wouldn't happen in the real world.
After a high school brawl puts one student in the hospital and another student claims to have been attacked by his own teacher in a huge twist, logic would dictate that any karate class in the valley would've been closed down instantly. Somehow, though, in the world of "Cobra Kai," when these issues are addressed, they're done so in a way that has become pretty ridiculous even to those who have binged the beloved show.
Cobra Kai settles every dispute with karate, and fans can't help but laugh about it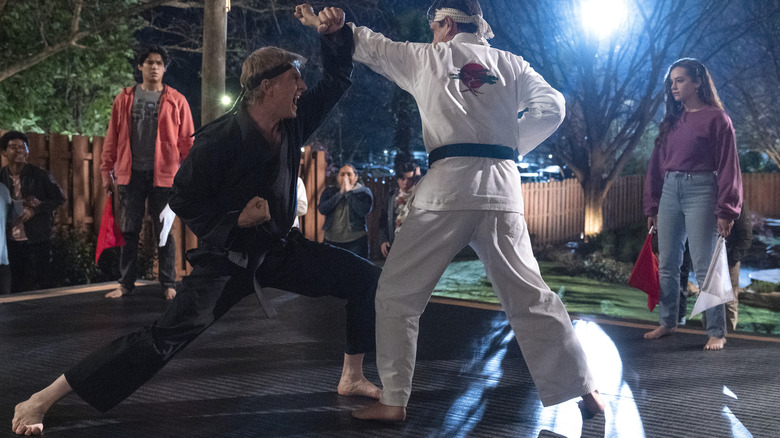 Curtis Bonds Baker/Netflix
With scenes such as teachers tasking students to jump across rooftops with a few used mattresses as the only safety measure taken, fans have accepted that the level of realism in "Cobra Kai" is minimal, and they're happy for it to be that way. Redditor u/YueAsal described the show as "a cartoon with live actors and [I] love it," and they weren't the only one. Another "Cobra Kai" cohort, u/mojo-jojo-was-framed, brought up the epic standoff during school hours, saying, "A kid was paralyzed on the first day of school then was healed and involved in a huge karate brawl during Christmastime. And I loved every second of it."
Highlighting major story beats like this, one fan added that it's always a pleasure seeing characters settling an issue the only way they know how. "I love that in the 'Karate Kid' world, you can solve all of your problems with karate," u/KeetoNet so astutely observed. "Daddy issues? Karate. Bullying? Karate. Bonding with your daughter? Karate. Corporate espionage? Karate. Local government issues? Karate. Reestablishing a connection with your past? Karate. Struggling with your career? Karate." Sure, it might seem like fair game to poke fun at the legacyquel series, but it's something that the creators of "Cobra Kai" stand by to maintain the original ideals "The Karate Kid" fought for.
Cobra Kai creators assure us the show isn't just about karate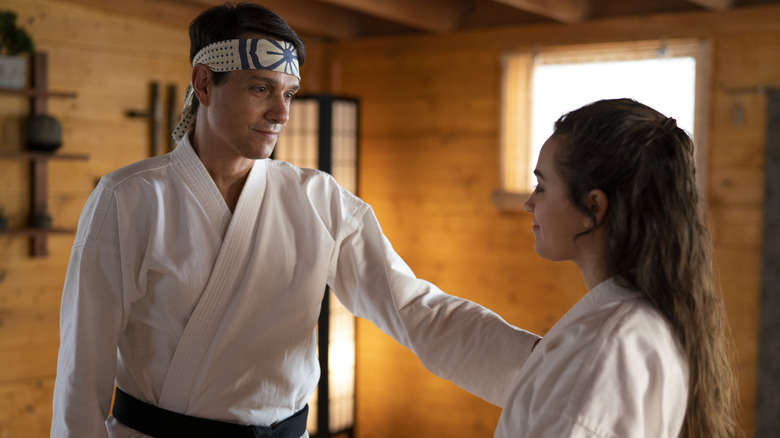 Curtis Bonds Baker/Netflix
In an interview with Variety, "Cobra Kai" co-creator Hayden Schlossberg explained how he and the rest of the writing team were handling the fifth season arguing that there is more to Season 5 than just karate, big franchise comebacks, and surprise cameos. Since the beginning, the show has always made an effort to acknowledge what came before and ensuring not to forget it. "The roots are ... it's bullying, it's mentors, it's overcoming things, it's dealing with the past," he explained. "It's that visceral feeling of feeling weak and then somebody gives you something. And on this show, it's karate, but in life, it could be a million different things."
As "Cobra Kai" progresses, there's no denying that the stories (as wild as they've become) definitely allow certain characters to breathe and branch out in the best ways possible. At the end of Season 4, Hawk (Jacob Bertrand) finds balance, and the likes of Tory (Peyton List) and Johnny are going on their own journeys that could lead to eye-opening realizations. Could said eyes end up coming in contact with a closed fist in the process? Most likely, but we'll only know for sure when "Cobra Kai" returns for Season 5 later this year.