The Kim Detail That Might Explain Where Better Call Saul Is Heading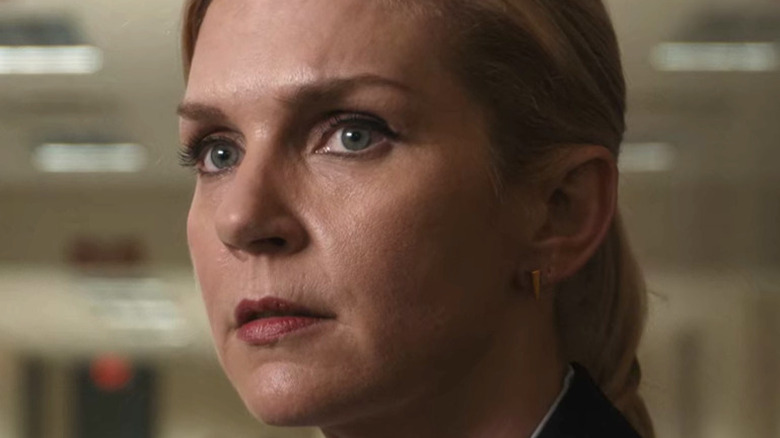 AMC
"Better Call Saul" has emerged as a big hit for AMC (via Comic Book). A spin-off series of the megahit crime show "Breaking Bad," the legal drama follows Jimmy McGill (Bob Odenkirk) as he crafts his alter-ego, Saul Goodman, and becomes a criminal lawyer. However, as he gets pulled in deeper with his cartel clients and looks for quick fixes to his problems, Jimmy's life grows increasingly unstable. 
Jimmy's closest confidante in "Better Call Saul" is his fellow lawyer and friend Kim Wexler (Rhea Seehorn). Though she begins the series as something of a straight shooter, over the course of the show's six seasons, she grows morally gray and somewhat conflicted due to Jimmy's influence.  However, it's also important to note at this point that Kim never appeared on "Breaking Bad" and that she doesn't show up in the future timeline where Jimmy has changed his identity either. This lack of clarity involving regarding Kim and other characters has been addressed twice in Season 6 already, and unfortunately, it generally seems to mean that they're dead.
While the dynamic between Jimmy and Kim and their growth as characters powers much of the drama in the series, another strength of the show comes in the form of the detail-oriented minds of showrunners Peter Gould and Vince Gilligan. In fact, the two have hidden clever details in some of the most innocuous elements of "Better Call Saul," and one of them could point to Kim's future.
Kim might be alive in the modern timeline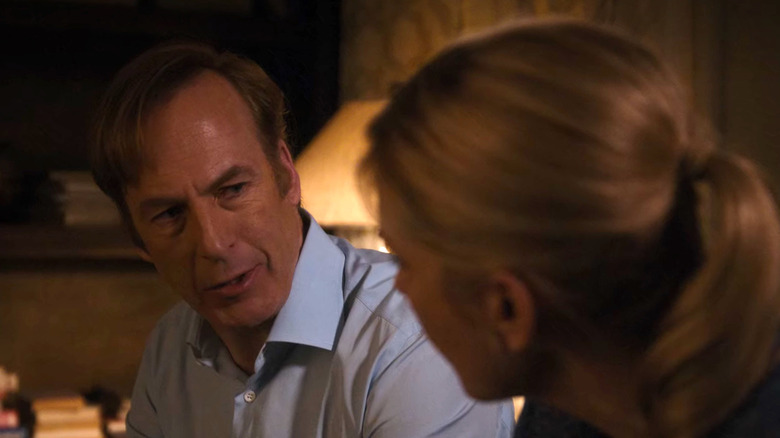 AMC
For instance, eagle-eyed fans have noticed that many of the phone numbers that have appeared in the show are real numbers that can be called in the real world (via Business Insider). While they usually just feature a voicemail from one of the actors from "Better Call Saul" in character, what's interesting about the latest one is that it might have future connotations for Kim's character.
As noted by u/TranceDream on the r/betterCallSaul subreddit, the number for Kim's cell phone in Season 6, Episode 4 ("Hit and Run") links up to a real-life number in our world, and the name attached to that number is Laura Montoya. This would seem to suggest one of two things: either this is Kim's new name and identity in the modern timeline (where Jimmy is Gene) or that Peter Gould and Vince Gilligan missed this detail altogether and just used a random number that happened to be assigned to Albuquerque, New Mexico. 
While some were naturally curious about what this means for Kim's future, others took the opportunity to make jokes about the name choice. "Hello. My name is Laura Montoya. You killed Ignacio. Prepare to die," wrote u/savannah0719, riffing on the name's connection to Inigo Montoya from "The Princess Bride." On the other hand, u/yarn_store suggested maybe Kim chose the name herself as a nod to a similarly social-justice-minded person in the world of the show. "Laura Montoya was a real person and '"role model for South American girls,"' the user mused.
Since this is Gould and Gilligan we're talking about here, there's probably something to the phone number. While this fact alone doesn't confirm that Kim survives "Better Call Saul" and that she and Jimmy might still get a happy ending in the modern timeline, it does offer a shred of hope for fans that Kim might not end up like Chuck (Michael McKean), Howard (Patrick Fabian), and Nacho (Michael Mando).