Who Plays Sister Beatrice On Netflix's Warrior Nun?
Adapted from the comic series "Warrior Nun Areala" by Ben Dunn, the Netflix series "Warrior Nun" has taken the framework of the story and put their own spin on it. One of those additions has been the character of Sister Beatrice. An original character not seen in the comics, Sister Beatrice has quickly become a fan favorite, with many viewers of the show shipping her with Ava, played by Alba Baptiste.
The daughter of British diplomats, Beatrice was sent to Switzerland to attend Catholic School when she didn't live up to her parents' ideals of proper behavior. She's a skilled and analytical fighter who nonetheless considers her fellow nuns her real family. Beatrice was also one of the first people to make Ava feel welcome after her resurrection, and ultimately reveals to Ava that she is a lesbian.
This is who plays Sister Beatrice on "Warrior Nun," which is poised to return for its second season later this year.
Sister Beatrice was Kristina Tonteri-Young's breakout role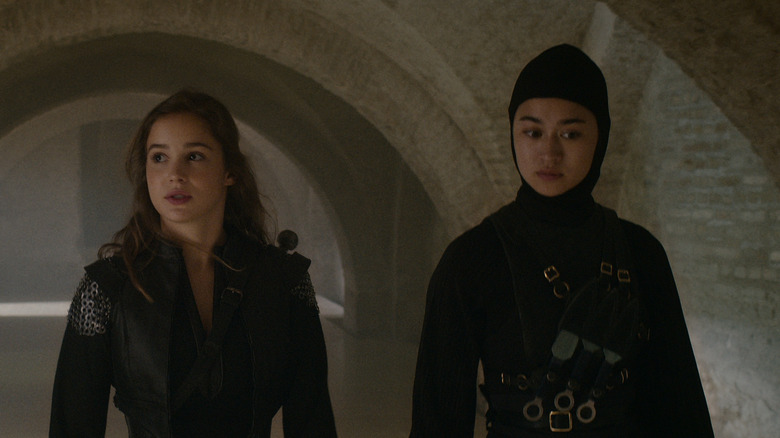 COURTESY OF NETFLIX
The character of Sister Beatrice is played by Kristina Tonteri-Young.
"Warrior Nun" was Tonteri-Young's first credited role, though she has gone on to appear in a number of projects since. Initially born in Finland, Tonteri-Young moved to New York City when she was six. In an interview with Flaunt, she said that she initially was a ballet dancer, starting at 3 years old, but turned to acting at 16 after one too many injuries as a result of ballet. She ultimately studied at the Guildhall School of Music and Drama in London, whose alumni include Daniel Craig, Anya Chalotra, and Lennie James (via Guildhall School).
Tonteri-Young's latest role saw her return to her ballerina roots, as she portrayed Chinese ballerina Tia Zhang in the 2021 biopic "Dancing Through the Shadow." 2021 also saw her re-appear on another Netflix production, this time in the film "Outside the Wire," alongside Anthony Mackie.
In an interview with Elle, Tonteri-Young revealed that she had initially auditioned for the role of Ava, though she ultimately prefers playing Sister Beatrice.
"She's a little sharper, a bit edgier. I don't know if I have that in me, though Alba [Baptista] does [the character] so brilliantly. But with Beatrice, I was like, 'Oh, I can definitely relate to her.' She's reserved and quiet, but she's not cold, which is how I think a lot of analytical characters [are seen]."
Speaking to Flaunt, Tonteri-Young expanded that she didn't want to portray Sister Beatrice as lacking emotion, but rather as someone who's chosen to distance herself from her own emotional depth. "I wanted her to be a warm person, so even if she cannot always show all her emotions, they are definitely there simmering under the surface," she added.