Netflix Just Gave Warrior Nun Fans A Reason To Breathe A Sigh Of Relief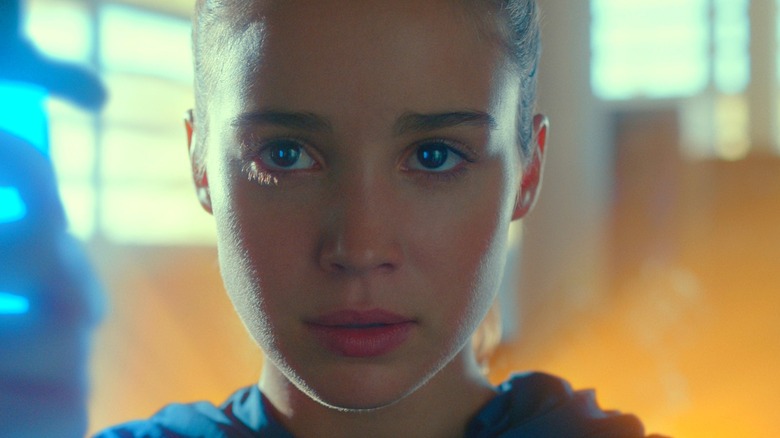 Netflix
On July 2, 2020, the entire first season of "Warrior Nun" — which is a live-action adaptation of the 1990s comic book series "Warrior Nun Areala" by Ben Dunn — premiered on Netflix. Whereas seasons of streaming service original series will oftentimes conclude with what could serve as a definitive ending should its streaming service home decide not to renew it for another season, "Warrior Nun" Season 1 ends on a cliffhanger. Fans of that first season, then, were left with plenty of unanswered questions begging to be addressed in a new batch of episodes.
In fact, in an interview with Looper published shortly after the series' premier on Netflix, "Warrior Nun" showrunner Simon Barry outright stated that not resolving the cliffhanger ending of Season 1 "would be just rude. As a viewer myself, an avenger, I would not be satisfied with that if I didn't get a resolution and a conclusion." Fortunately, Netflix ended up announcing the series' renewal that August.
Now, nearly two years later, Netflix has provided fans with their first look at the upcoming second season of "Warrior Nun" since its announcement, and shared a window for its release.
Warrior Nun looks to be going big for its second season
As a part of its annual Geeked Week, during which Netflix promotes what could be considered some of its nerdier projects, the streaming premiered its first trailer for "Warrior Nun" Season 2, effectively ending a nearly two-year-long drought of "Warrior Nun" news.
After a brief tease of a large-scale action sequence, the trailer opens with voiceover by series lead Ava Silva (Alba Baptista) recapping key events from Season 1, accompanied by footage flashing back the moments she mentions. This leads into a montage of quieter scenes between some of the show's main characters, before transitioning into a number of high-octane action sequences.
"Warrior Nun" fans are, unsurprisingly, stoked. One comment on YouTube by user dhmhtra375 reads, "Before this I was interested to see where they'd take the 2nd season, but now? Now I literally can't wait! Let's gooooooooo!!!" Meanwhile in response to the season's announcement on Reddit, user bimpeabdul wrote, "OMG... I've been waiting for this."
In an interview with Refinery29, Baptista promised that a shocking Season 1 moment in which Father Vincent (Tristan Ulloa)'s arm glows is part of the bigger Season 2 picture. "That's going to be a big, big reveal for an eventual season 2. It was well thought out. It wasn't just an accident," she said.
Fans can look forward to the resolution of this and other key plot points when "Warrior Nun" Season 2 premieres sometime during the Winter of 2022.