Hilary Swank Gets Bombarded With This Same Cobra Kai Question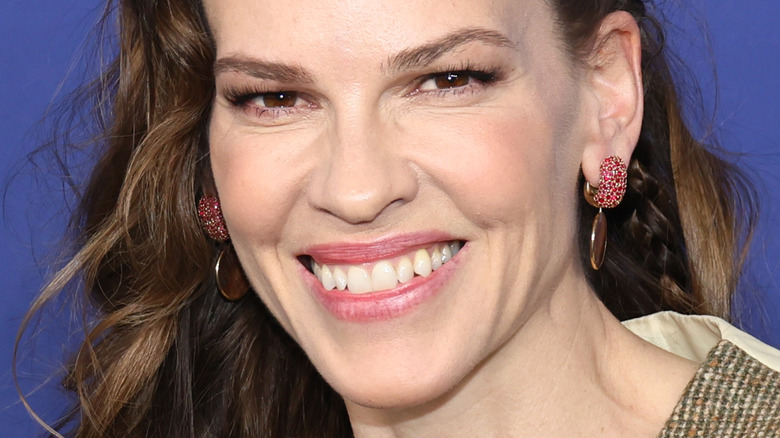 Dia Dipasupil/Getty Images
Despite boasting a career that spans more than 30 years, a résumé spotted with films helmed by major directors, and not one, but two Academy Award wins for best actress, it can feel like Hilary Swank no longer gets the roles she arguably deserves, let alone the respect. Yet, Swank continues to deliver whenever she does pop up in a project, whether it be the controversial thriller "The Hunt" or the short-lived Netflix space drama "Away." Of course, Swank tends to keep a lower profile than many in Tinseltown, and one rarely hears from her unless she's out promoting a new film or television series.
Even still, there is one specific circumstance in which Swank's name has been bandied about quite a bit online and in press circles over the past couple of years. That would be in relation to "Cobra Kai," Netflix's smash-hit sequel series to "The Karate Kid" franchise. And if you're wondering why Swank's name keeps coming up in the "Cobra Kai" conversation, it's because she joined said franchise with her starring turn in 1994's "The Next Karate Kid." It seems that even decades after she appeared in the film as Mr. Miyagi's (Pat Morita) new student Julie Pierce, fans of "The Karate Kid" flicks continue to identify her with the role. So much that the actor has apparently been bombarded with one specific question by "Cobra Kai" faithful of late.
Swank claims fans are relentless in asking when she's going to be on Cobra Kai
During an UPROXX interview promoting her 2019 sci-fi film "I Am Mother," interviewer Mike Ryan brought up the topic of a "Cobra Kai" cameo with Hilary Swank. Swank offered nothing solid in response to the possibility of reprising the role of Julie Pierce, even as other familiar faces from "Karate Kid" films past continue to turn up on "Cobra Kai." She did, however, claim she was being asked that same question on a regular basis, stating, "Oh my gosh, it's so funny. I didn't even know what that was and I kept getting people going, 'When are you going to do Cobra Kai?'"
Swank further admitted that she was initially confused by the inquiry because her dog's name is Kai, but added, "And then I finally got it. But I mean, the amount of people in a day that ask, 'Are you going to do Cobra Kai?,' is pretty fascinating." That may be a telling choice of words as it seems to imply Swank was at least intrigued by the popularity of "Cobra Kai," thus not wholly against the idea of joining the cast. Series co-creator Hayden Schlossberg even teased the possibility in some April 2022 comments to Deadline, offering, "I always say if you're a fan of 'The Next Karate Kid' and you want to see Julie Pierce ... we're the show to watch to see if that happens." 
The cast of Cobra Kai want to see Swank back in action as much as fans do
Hilary Swank was nowhere to be seen in the Season 5 trailer for "Cobra Kai." And barring a surprise cameo, fans may have to wait a little longer to see her franchise return. Still, Hayden Schlossberg continued to fan the proverbial fires in his Deadline statement by adding, "Julie Pierce is one of the toys in the toy chest so we'll see." That "we'll see" indeed looms large as the "Cobra Kai" team has already returned numerous legacy characters from the so-called "Miyagi-verse" to the Netflix series.
It seems "Cobra Kai" headliners William Zabka (Johnny Lawrence) and Ralph Macchio (Daniel LaRusso) are as game as anyone for Julie Price to appear on the show, with the former telling ETonline, "I would love it." In the same interview, Macchio stated the only stipulation to bringing Julie back is that it makes sense within the confines of the narrative. "It's whether the writing staff can figure out a way for these moments to be organic," he explained. 
Given that nobody really knows what became of Julie Pierce after the events of "The Next Karate Kid," it should be easy enough to bring her back, even if her story unfolded a long, long way from the San Fernando Valley. And if you want to see how, or if, Julie turns up in Season 5 of "Cobra Kai," it's slated to hit Netflix on September 9, 2022.