Why Aidy Bryant Was Scared To Talk To Lorne Michaels About Leaving SNL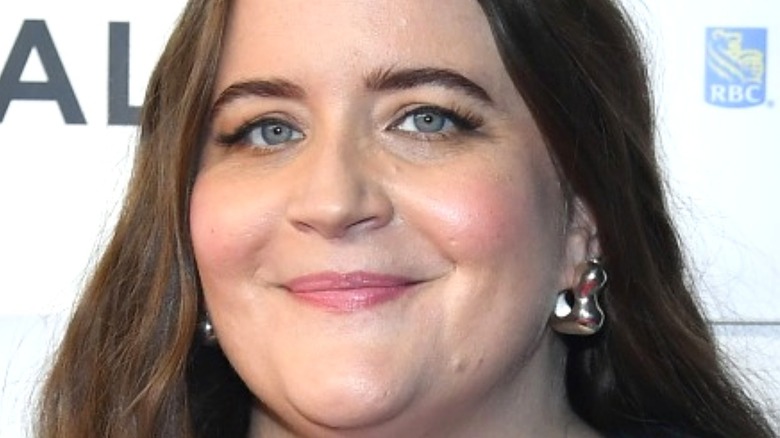 Roy Rochlin/Getty Images
The NBC sketch comedy show "Saturday Night Live" has produced a number of stars over the course of its multi-decade run. While some found fame after leaving the series, others have gained prominence from their extensive work on the show itself.
Aidy Bryant falls in the latter category. Making her debut in Season 38, which began in 2012, Bryant had an illustrious run on the series, becoming a memorable part of many famous sketches. Her work received critical acclaim, including three Primetime Emmy nominations, two of them for outstanding supporting actress.
After a decade on the series, Bryant left "Saturday Night Live" at the end of Season 47. The decision to leave, however, was not an easy one, for a number of reasons, including concerns about how her final sketch might be received. One thing she was particularly worried about, however, was the conversation she would need to have with Lorne Michaels, the man who has been in charge of the show for most of its decades-long run.
Bryant didn't want Michaels to think she was angry
In an interview with Variety, Aidy Bryant spoke about what the process was like to talk to Lorne Michaels about her departure. In particular, Bryant had a fear of how her departure would be perceived. She wanted to be clear that there was no malice, towards Michaels or the show, behind her intent to leave. "I was scared because I feel close to him and so grateful to him. I didn't want it to come off like I was leaving angrily. I am leaving with so much love," Bryant said.
Luckily for Bryant, Michaels saw the departure for what it was — the right decision for her at that stage of her career. She also highlighted that Michaels was the one who encouraged her to work on the Hulu series "Shrill," (in which she co-starred with her husband Conner O'Malley) while she was still on "Saturday Night Live." The working hours, however, ended up prompting her departure from the latter show.
"When I started 'Shrill,' I wasn't feeling I wanted to leave 'SNL.' I was like, 'This is a story I want to tell, and it flexes a different muscle,"" Bryant said. "It was Lorne's idea that I do both," Bryant expanded, "How could I say no? And then I didn't sleep for, like, three years."
She ended up working long hours during her time on SNL
Aidy Bryant went on to expand on what a hectic schedule she had while working on "Saturday Night Live" and "Shrill" at the same time. She pointed out that she would do full shifts on both shows, each of which would run 10 hours or more, causing her to work incredibly long hours on a daily basis.
"Those years, it wasn't uncommon for me to work a 12-hour day on 'Shrill' and then continue to work all day at 'SNL' — and all night! So it would be a 22-hour day. I can't do that anymore," Bryant expanded, in response to a question from Variety about what she felt she couldn't do during her time on the sketch comedy show. "Maybe I could in my 20s. But now I'm in my 30s, and I'm like, 'That's a wrap on those days.' "
The need to put her energy into two projects also made Bryant wonder about how her series "Shrill," which she also co-developed, was affected, and if it would have been different with her focus solely on it. The show also earned Bryant a fourth Primetime Emmy nomination, this time for outstanding lead actress.
Bryant concluded by saying that she would be up for hosting duties if she were ever asked back. She is currently working on a comedy for Peacock named "Cheeky," which is also executive produced by Lorne Michaels (via Deadline).