Why Aidy Bryant Was So Worried About Her Final SNL Sketch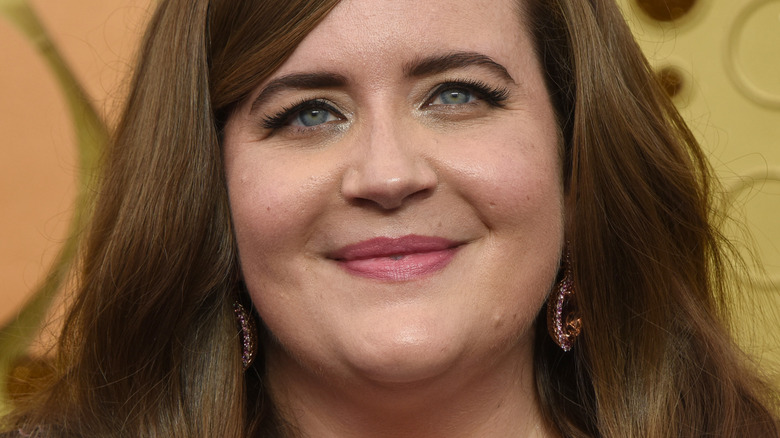 Kathy Hutchins/Shutterstock
When most people imagine quitting a job, their biggest worry concerns the last lines they'll toss over their shoulder at the boss they hate. However, picture for a moment how different it is to leave a job you like, or even love. It happens. People grow and change while life takes them in new directions. This is basically how Aidy Bryant decided to leave "Saturday Night Live," a gig she adored and succeeded in for a full decade.
Run-of-the-mill office jobs don't offer the same opportunity for a well-crafted exit as a sketch comedy show with a team of professional writers on hand. Bryant knew her last day at "Saturday Night Live" would be scripted — or at least her final sketch as a cast member would be. This had the comedian a little concerned. Didn't she trust the writers she'd worked side-by-side with for so long? What was she so worried about?
Bryant rocked some grey adult pigtails
Bryant's biggest fear was winding up in a sketch that was a major downer — and not the funny kind like those starring the classic "Saturday Night Live" character Debbie Downer (Rachel Dratch). "I was worried it would feel like I was at my own funeral," Bryant told Variety. "I was embarrassed about trying to do something big."
Instead, her last sketch was a parody commercial with Kate McKinnon, who was also leaving the show. As they'd done before in sketches like an apple picking ad (Season 45, Episode 1) and a commercial for choir fashion (Season 45, Episode 4), Bryant and McKinnon partnered as a specific type of middle-aged women. This time, dressed as aging hippies, they took viewers on a journey that explained the virtues of grey adult pigtails.
"You need a hairstyle that says, 'People are gonna be talking about me for years, after meeting me for five minutes,'" McKinnon drawled. "You want people to see you and think, 'Got it,'" Bryant chimed in.
By the end of the sketch, it was clear all the women featured in the ad (including cast member Heidi Gardner, host Natasha Lyonne, and Michelle Zauner of Japanese Breakfast) enjoyed an open relationship with the same man, Richard (Kyle Mooney), who happened to sport his own grey pigtails. It was a fine comedic finish, but this wasn't the moment that marked Bryant's exit from the "Saturday Night Live." She actually opted to say goodbye earlier in the show.
She may have felt like crying, but she didn't break character
Bryant was more comfortable with a low-key farewell to "Saturday Night Live," and that moment played out during "Weekend Update." Appearing as a trend forecaster with cast member Bowen Yang, she wore a bright blond wig, leather fascinator, cape, and sunglasses — not exactly an understated look. Together, they offered dramatic predictions concerning what's "in" regarding categories of fruit, greetings, and time. They also gave their ideas about what's "out," concluding each segment with the screamed tagline, "Go to bed b***h!" The setup for Bryant's goodbye was high energy, but when they reached their last category — future trends — the tone turned suddenly sentimental.
"In," Bryant said, taking Yang's hand, "ten nice years."
"In," Yang answered, "a friend I couldn't have done this without."
Bryant's voice seemed to wobble and she appeared to blink back tears, but she ended the bit fully in character, even as she commanded her "best guys" (Michael Che and Yang) to kiss her and called out, "Love you," as the camera moved away.
As difficult as it was for Bryant to leave the show, this was the ending she wanted. The time had come to move on to other projects, like her new Peacock show "Cheeky," based on Ariella Elovic's book "Cheeky: A Head-to-Toe Memoir" (via Deadline). She'd been worried the moment would feel like a funeral, but it didn't play out that way. "I don't feel like I'm dying," Bryant said of her final "Saturday Night Live" to Variety. "I'm onto the next thing."