The Real Reason Elizabeth Olsen Still Hasn't Seen Doctor Strange In The Multiverse Of Madness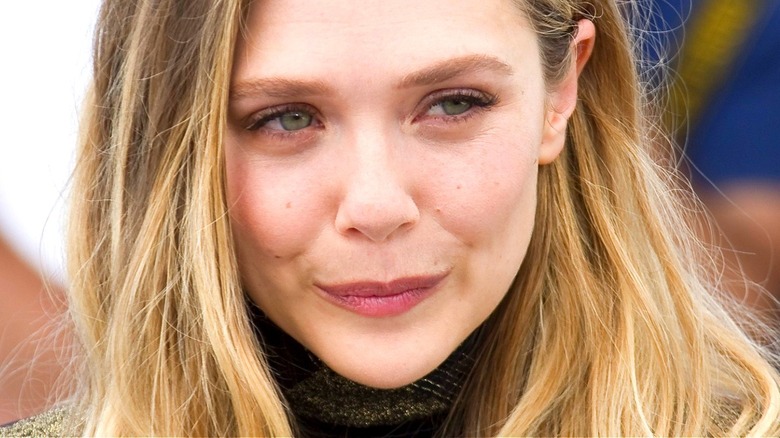 BAKOUNINE/Shutterstock
A mid-credits scene at the end of "Captain America: The Winter Soldier" first introduced Elizabeth Olsen's Wanda Maximoff, aka Scarlet Witch, to the Marvel Cinematic Universe when the film premiered in 2014. Olsen then reprised her role in a number of subsequent MCU movies and TV shows including "Avengers: Endgame," "WandaVision," and the recent "Doctor Strange in the Multiverse of Madness," in each of which her character plays a significant role.
Olsen, notably, has discussed certain sacrifices she has had to make for the sake of her MCU character at various points in time. For instance, Olsen shared that her biggest regret since becoming Scarlet Witch is that her Marvel contract has precluded her from accepting roles in projects more aligned with her own personal taste, including Yorgos Lanthimos' "The Lobster." On perhaps a smaller scale, Olsen also revealed that, while filming a scene opposite a group of children in "Multiverse of Madness," one of her scene partners hit her in the face with a prop, prompting her to respond harshly. Though Olsen didn't enjoy filming this "Doctor Strange" scene, she characterized her genuine reaction as heightening that moment's impact.
While the role of Wanda seems to have required some significant commitment from Olsen, she recently revealed that she hasn't yet seen "Multiverse of Madness" as of an interview televised on June 29.
Elizabeth Olsen is waiting for the right circumstances in which to watch her latest film
For an interview otherwise promoting a children's book she co-authored, Elizabeth Olsen appeared on the June 29 episode of "The Tonight Show Starring Jimmy Fallon," during which she discussed why she has yet to sit through "Doctor Strange in the Multiverse of Madness" in its entirety.
Initially, Fallon asked if she's the type of actor to avoid viewing her own work. In response, Olsen revealed that she is, in fact, the opposite, and prefers to dissect and analyze her own performances.
Olsen then explained that she had to sit out the film's red carpet premiere because she was feeling ill. Since she missed out on seeing it at that point in time, she requested a screener that she could watch at home instead. However, as is standard in such cases, her screener was watermarked with her name as a measure to counteract piracy. Ultimately, Olsen decided that she would rather not view the film for the first time with her name on-screen for its entire runtime.
Later on in the interview, Olsen promised to eventually watch "Multiverse of Madness," mentioning that she heard it's now available on streaming and therefore easily accessible in good quality. "Your name will be on it, just for a little bit, at the top," Fallon jokingly warned her. Fortunately, Olsen can simply choose to skip the opening credits and proceed to enjoy her latest Marvel film unimpeded.