Fans Are Left With One Major Question After Watching Netflix's Spiderhead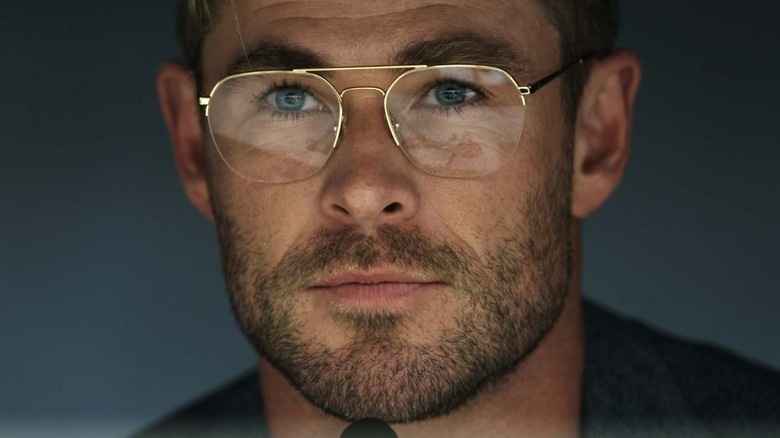 Netflix
Netflix's "Spiderhead" has been reeling in viewers since mid-June 2022, when the dystopian thriller was first dropped on the popular streaming app. But there's a major struggle that many people keep having with it. You see, after watching the adaptation of George Saunders' short story (via Los Angeles Times), many viewers have been asking themselves the same question — and it strangely has nothing to do with the film's many poor reviews, including Looper's review, which referred to "Spiderhead" as "a generic prescription."
For the millions of Netflix subscribers who probably missed it, "Spiderhead" is a Netflix-produced film centered on Steve Abnesti's (Chris Hemsworth) state-of-the-art Spiderhead penitentiary system, where inmates are subjected to mind-altering drug tests. Two of the prisoners, Jeff (Miles Teller) and Lizzy (Jurnee Smollett), end up falling for one another and eventually discover an evil truth about Steve and the Spiderhead facility. 
As of this writing, the Joseph Kosinski-directed film has a Tomatometer rating of 42% and an audience score of 32% on Rotten Tomatoes. Needless to say, don't expect the flick to win any awards. However, one thing you can look forward to is asking this one major question after watching it...
Where on Earth did this movie come from?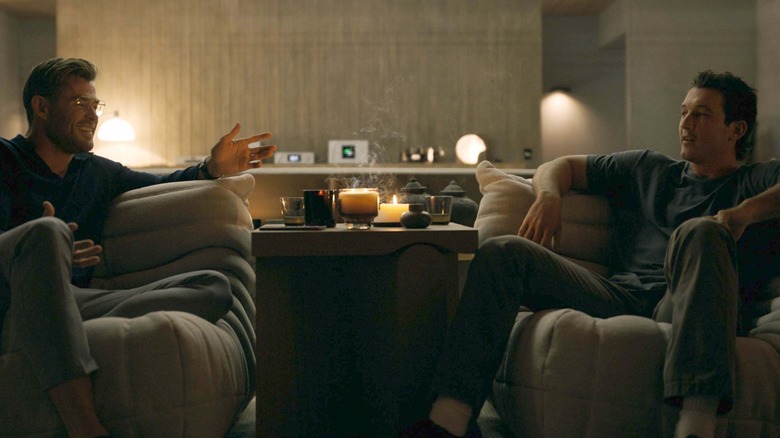 Netflix
It's what countless people have been wondering since first seeing "Spiderhead" drop into their Netflix "recommended for you" and "just released" sections — without any sort of advertising campaign or media teases whatsoever. Those who managed to catch wind of Joseph Kosinski's sci-fi flick in the days and weeks before it became available to stream were just as shocked by its randomness. 
"Oh, interesting a new Chris Hemsworth and Miles Teller movie by the director of 'Top Gun 2' just got dumped to Netflix with zero notice or promotion, I wonder if it's good," tweeted author Jason Pargin on June 14. Other Twitter users were also quickly dismissive of the product. "Netflix fumbling the bag yet again I see," wrote @dizzybink. "A new film from the director of 'Top Gun: Maverick' drops, starring Miles Teller and Chris Hemsworth, and I have to go manually look for it in the search function." Likewise, @h4ydns openly questioned Netflix's lack of marketing, writing, "Why is there no promotion for 'Spiderhead' that literally comes out THIS WEEK." 
Interestingly, much of the criticism surrounding Netflix's lack of promotion for "Spiderhead" stemmed from a tweet thread by Peter Atencio, a producer and director who used the film's limited attention to bring more awareness to streaming filmmakers and the app's ongoing job-cutting situation (via Variety).
Netflix's lack of promotion for Spiderhead proves the streaming giant has a business model problem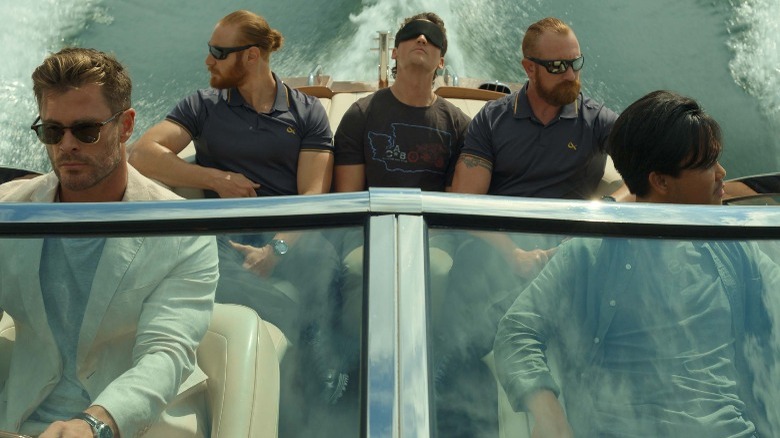 Netflix
According to Peter Atencio, if there's anything that the lack of promotion for "Spiderhead" has done, it's shown that there's a major problem with Netflix's business model — and that laying off hundreds of workers doesn't help matters. 
"A streaming service is releasing a $100 million+ movie starring one of the biggest movie stars on Earth and directed by a guy with a movie in theaters currently that is the biggest smash hit of the year," Atencio wrote. "Yet I can't recall seeing a single piece of advertising for it." Netflix released a single trailer for "Spiderhead" on May 17, but Atencio argued that the project was not promoted or propped up online sufficiently. Reportedly, the streaming giant began laying people off the very same day of the trailer's release (via Los Angeles Times). 
"There's a fundamental business model problem at Netflix and firing a bunch of low-level people to cut costs is never going to solve it," Atencio said, referencing the Netflix job cuts. "As a filmmaker, it pains me to see great work (and time and $$$) get poured into movies that have no lasting cultural impact."
Notably, despite these complaints, the film still managed to climb Netflix's Top 10 board, becoming the most streamed movie in 45 countries after its June 17 debut (via Forbes). Taking to his Instagram account on June 22, Chris Hemsworth wrote: "A MASSIVE thank you to everyone who streamed #Spiderhead and made it the #1 film on Netflix each day of its opening weekend in 45 countries and Top 10 in 93 countries!"