Read This Before You See Spiderhead
This content was paid for by Netflix and created by Looper.
The future is now in the eerie dystopian thriller "Spiderhead." The upcoming film centers on a state-of-the-art penitentiary system run by brilliant visionary Steve Abnesti (Chris Hemsworth), who performs serum experiments on inmates who volunteer for the project in exchange for sentence commutations. In the story, Abnesti uses these subjects to test out an array of mind-altering drugs that are designed to induce a litany of human emotions, from joy and laughter to downright agony.
Compared to other prisons, the facility might seem like something of a utopia, given the lack of bars, guards, or even locks. Plus, the living areas are permeated with soothing yacht rock music. It's far from a paradise, though, as Abnesti's experiments begin to take a twisty turn, and two subjects, Jeff (Miles Teller) and Lizzy (Jurnee Smollett) find themselves at the center of tests that become increasingly perilous and morally dubious. "Spiderhead" features a stellar cast and an accomplished visionary behind the lens and is based upon a celebrated piece of fiction. So, before the film arrives on Netflix on Friday, June 17, here's a look at everything you should know about "Spiderhead."
An adaptation for the ages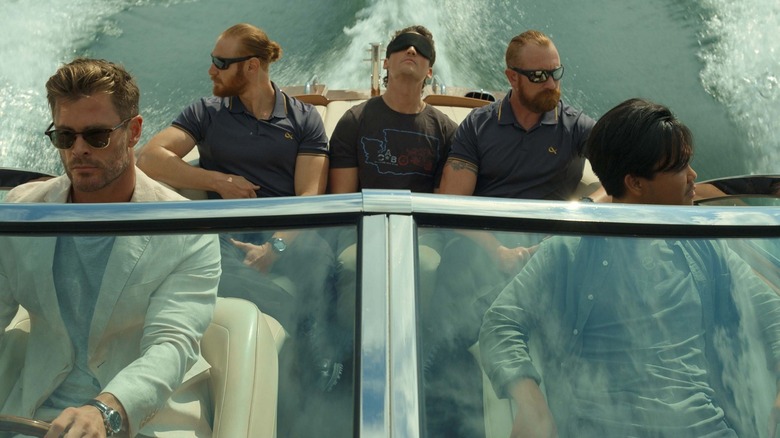 Netflix
"Spiderhead" is an adaptation of the original George Saunders short story "Escape from Spiderhead," which was first published in "The New Yorker" in 2010 and also appeared in his published collection "Tenth of December" in 2013. This short story collection received multiple honors, and "Escape from Spiderhead" became a fast favorite for screenwriters Rhett Reese and Paul Wernick, who previously collaborated on the scripts for hit films like "Zombieland," "Deadpool," and "6 Underground." The two spent nearly a decade working on their adaptation of the story into script form.
Taking the helm of "Spiderhead" is accomplished director Joseph Kosinski, whose sharp visual style has made him a standout in the sci-fi and action film spheres. Kosinski, who comes from the world of architecture, made his theatrical debut with 2010's "TRON: Legacy" before adapting his own ambitious graphic novel for 2013's sci-fi thrill ride "Oblivion." Kosinski then impressed again with 2017's "Only the Brave" — an action-drama based on an incredible true story — and he also directed the much-anticipated action sequel "Top Gun: Maverick."
Kosinki was drawn to the story of "Spiderhead" because of its thoughtful approach to the growing prevalence of technology in modern day life, saying, "I felt the story had an interesting way of addressing how we live today with our devices and this desire to control as much as we can with all this technology we surround ourselves with. But technology's not going to save us. There's no pill or app that's going to make us love each other more or behave better. Ultimately, it's up to ourselves to do that."
In addition to honoring the original themes and eerie atmosphere of the original story, the film also includes a bit of new writing from Saunders that will undoubtedly resonate with fans.
A committed cast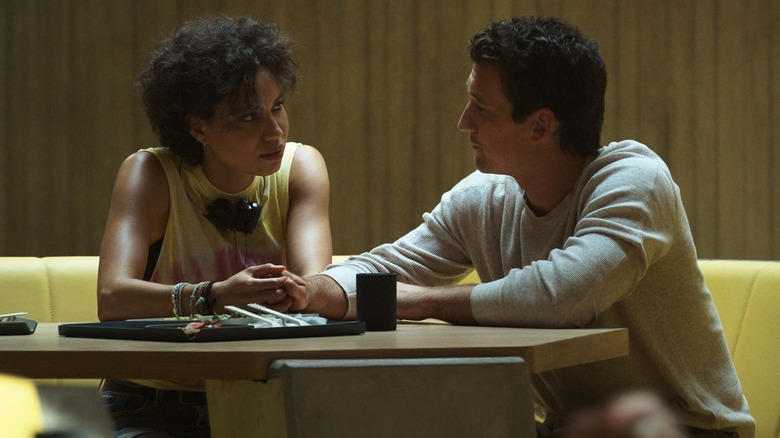 Netflix
The cast of "Spiderhead" is top-notch. For example, Chris Hemsworth is leading the film as the enigmatic, yacht rock-loving pharmaceutical genius Steve Abnesti. Hemsworth is the very definition of a movie star and is perhaps best known for his long-lived role as Thor in the Marvel Cinematic Universe. Hemsworth has also impressed with his work in other hit films such as "Bad Times at El Royale" and "Extraction." 
Like Kosinski, Hemsworth was drawn to the story because of its themes and the questions it raises, and he was particularly excited about playing Abnesti because, as he said, "I saw an opportunity to play a character who's neither a hero, nor a traditional villain. There's quite a bit of complexity in Abnesti in the sense that he does believe what he's doing is just and that it comes from a good place, but there's almost an unconscious naiveté about the consequences of his actions."
Plus, Miles Teller is starring as Jeff, the central subject of Abnesti's studies in the story. Teller has quite the working relationship with director Joseph Kosinski, as they previously teamed up on "Only the Brave" and "Top Gun: Maverick." Teller relished the uniqueness of the story in "Spiderhead," saying, "I've never done anything quite like this in tone before. I've certainly done some things set in the science fiction realm, but the core of this story is really about people who are carrying a lot of weight around with them. Weight they're trying to shed. It's a story about rehabilitation, an opportunity for transformation and rebirth."
Jurnee Smollett also stars in the film as Lizzy, a close friend to Jeff and fellow subject of the facility. Her journey in the story is what drew the actress to the role, as she explained, "I remember being so incredibly moved by Lizzy and Jeff's relationship. I think a lot of us can relate to the experience of finding love in a situation that isn't conducive to nurturing a romance. Their bond felt pure, like a seed that needs water, care, and sunlight to blossom and grow. I just loved the metaphor in their storyline. It's also kind of dope to tell their story within the confines of this crazy, mish-mash of a genre."
A one-of-a-kind atmosphere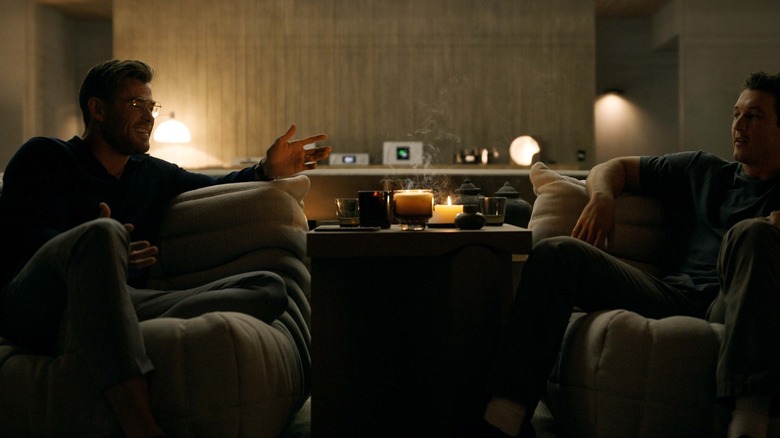 Netflix
In addition to boasting excellent talents on-screen and behind the scenes, "Spiderhead" also features a completely unique look and feel that will fully immerse audiences into the story. The picture was filmed in Queensland, Australia, and the Whitsunday Islands, and the eponymous prison setting was meticulously designed to match Kosinski's unique visions, as his background in architecture informed many of his style choices.
Specifically, the Spiderhead facility isn't meant to look like your usual prison in any way, shape, or form, save for the lack of windows to the outside. Kosinski was inspired by Brutalist architecture for the foreboding exterior of the place, but for the inside, he charged his team with the concept of, "What would a prison look like in Big Sur that was actually a spa?" Indeed, the serenity and modernity of this location has the desired effect of becoming rather eerie as the truth of what's going on within its wall becomes clearer throughout the story. The soundtrack is equally disarming, with vintage pop hits like Thomas Dolby's "She Blinded me with Science" and Hall & Oates' "You Make My Dreams" echoing amid the action.
In other words, prepare to enjoy something of a sensory explosion and some incredible creative work when "Spiderhead" arrives on Netflix on Friday, June 17.